September 17th, 2009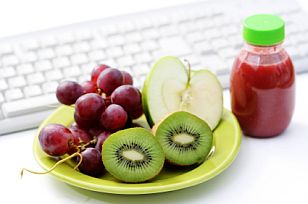 Sitting at a desk for nine hours a day is detrimental to your figure and it can be very easy to gain excess weight by eating unhealthily or snacking unnecessarily at work. All your willpower will be out the window once someone brings out the chocolates, cookies and potato chips. The hardest part of the day to resist these temptations is around 2pm, when your blood sugar levels have dipped. There are ways to combat the 'office spread' and here are some ideas and tips to help you on your way.
1. Eating breakfast before you go to work.
Although you may think that by skipping a meal you will lose weight, this is counter productive. Eating healthily first thing sets your metabolism for the day, and helps you to steer clear unhealthy snacks mid morning when your body craves sustenance.
2. Stay away from the doughnuts, muffin baskets and candy dishes.