1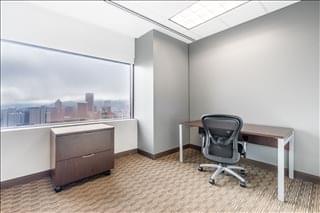 This business center is located in a landmark building standing tall on the Portland skyline. The largest class A building in the city, this 43-story tower is known both for its striking architecture and as one of the Northwest's premier locations in Portland's central business district. It was built as the Oregon headquarters for the US Bancorp Bank and... Read More >>
Serviced Offices - Call for latest price

This business center is located in a landmark building standing tall on the Portland skyline... Read More >>
US Bancorp Tower, OR 97204
---
2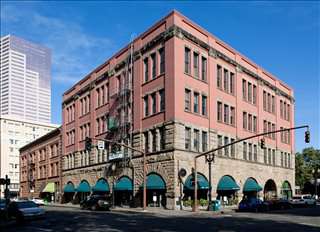 For all start-ups, small and mid-sized companies, freelancers, designers, engineers and entrepreneurs – this center provides a professionally furnished, fully equipped, conveniently located working environment for all your business needs. From the welcoming reception area to the materials resource library and meeting centers, the location provides... Read More >>
Serviced from $600 per person per month

For all start-ups, small and mid-sized companies, freelancers, designers, engineers and entrepreneurs – this center provides a professionally furnished, fully equipped, conveniently located working environment for all your business needs... Read More >>
Haseltine Building, OR 97204
---
3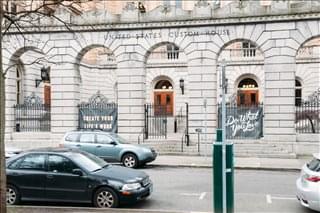 In a stately building dating from 1901, this Portland office space occupies what was once the U.S. Custom House. One of the city's most eye-catching spaces, three floors of coworking space blend traditional architectural features—a sweeping staircase, ionic columns, and lighting fixtures resembling old-fashioned gas lamps—with modern furnishings. There... Read More >>
Serviced from $500 per person per month
Coworking from $295 per person per month

In a stately building dating from 1901, this Portland office space occupies what was once the U.S... Read More >>
---
4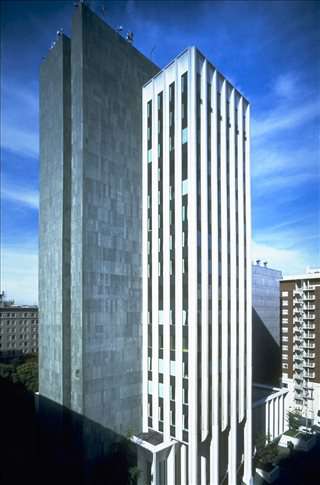 This beautiful downtown office space will elevate your small business or growing business in Portland. With 11th floor views across downtown Portland you'll enjoy the location and impress clients that come to visit. The offices come turn-key and include furniture, phone, Internet, printing, conference space and shared receptionist at no additional cost to... Read More >>
Serviced from $595 per person per month

This beautiful downtown office space will elevate your small business or growing business in Portland... Read More >>
707 SW Washington, OR 97205
---
5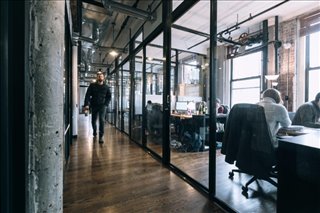 Occupying the whole top floor, this workspace takes full advantage of the beautiful architecture of the building with a atrium which fills the space with natural light. The space offers everything you could wish for from printing and copying facilities, private offices and conference rooms to spacious lounge areas and pet friendly areas. The space also... Read More >>
Serviced from $293 per person per month
Coworking from $295 per person per month

Occupying the whole top floor, this workspace takes full advantage of the beautiful architecture of the building with a atrium which fills the space with natural light... Read More >>
---
6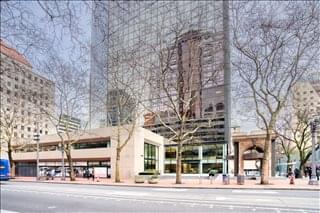 This center boasts elegant offices with majestic views of the Willamette River and Mount Hood. The center's professional and functional environment is enhanced with a well-appointed reception area and two equipped meeting rooms. Read More >>
Serviced Offices - Call for latest price

This center boasts elegant offices with majestic views of the Willamette River and Mount Hood... Read More >>
Congress Center, OR 97204
---
7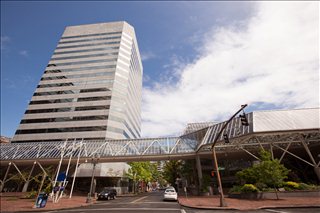 The center occupies the entire 11th floor of the main tower. This modern center offers an impressive range of facilities, including a cybercafé and a lounge area. Read More >>
Serviced Offices - Call for latest price

The center occupies the entire 11th floor of the main tower... Read More >>
World Trade Center, OR 97204
---
8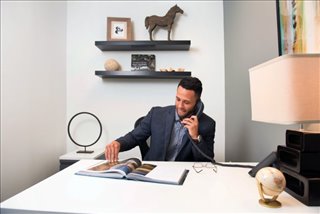 This Pearl District center on Irving Street offers traditional workspace to lease as well as the full-furnished executive suites and co-working areas of the center, making the center open to any unique requests that you may have for your business. Start-ups will love the informal feel and contemporary style that this center has to offer, plus the networking... Read More >>
Serviced Offices - Call for latest price
Coworking - Call for latest price
Virtual - Call for latest price

This Pearl District center on Irving Street offers traditional workspace to lease as well as the full-furnished executive suites and co-working areas of the center, making the center open to any unique requests that you may have for your business... Read More >>
---
9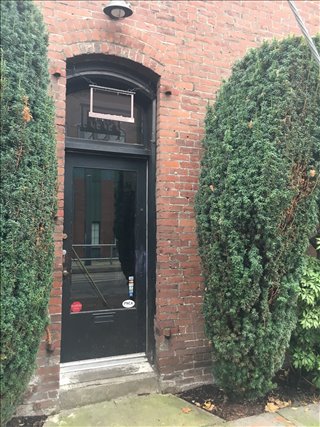 This centre offers a large creative space in a great location, close to shopping, fitness centres, restaurants, coffee houses, art galleries and the Bridgeport Brew Pub. The space is just across the street from the LA fitness centre and the train station. There are 3 separate rooms with desk space for those that like to work collaboratively or you can rent... Read More >>
Serviced from $200 per person per month
Coworking - Call for latest price

This centre offers a large creative space in a great location, close to shopping, fitness centres, restaurants, coffee houses, art galleries and the Bridgeport Brew Pub... Read More >>
1336 NW Northrup St, OR 97209
---
10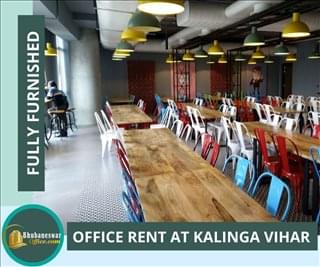 This business center location is a fully equipped place for business, bringing together everything you need to get things done. But things don't make business work - people do. That's why this smart tower is designed to give you the space, light and comfort you need to work at your best. From the 16th floor, you'll enjoy panoramic views of the Lloyd... Read More >>
Serviced Offices - Call for latest price

This business center location is a fully equipped place for business, bringing together everything you need to get things done... Read More >>
650 NE Holladay St, OR 97232
---
11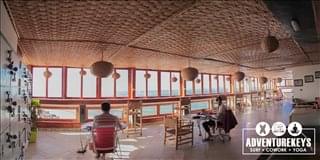 This is a spectacular business address, positioned just south of Portland and offering breathtaking views over the Willamette River and beachfront. The rolling green spaces of Sellwood Riverfront Park are just around the corner. The stunning work areas inside the modern low-rise building include large windows, some with full-size arches, letting in plenty... Read More >>
Serviced from $600 per person per month

This is a spectacular business address, positioned just south of Portland and offering breathtaking views over the Willamette River and beachfront... Read More >>
River Park Center, OR 97202
---
---
Expand search to view more listings in and around Portland.
Portland Office Space : Shared & Coworking Space Portland OR
We have private office space, shared and coworking spaces in Portland OR that is available now, on flexible short term contracts, at affordable rental rates. Located in fantastic sites downtown and in other major office markets throughout Portland, the office spaces we feature include a huge range of modern facilities, state-of-the-art technology, friendly environments and professional support services. All of this for a single monthly rental rate.
We are experts in helping companies find the office space they need no matter what requirements they have, how many offices or workstations they want or how long they want to rent it for.
To get started have a look at the private office, shared and coworking spaces listed above, view the photos and let us know which ones you like best by adding them to your quick quotes form shortlist. Or just call us now on 1-877-693-6433 and tell us what you're looking for and we'll find it for you.
Office Space Costs and Prime Locations in Portland
There is approximately 45 million square feet of office and coworking space in Portland, divided into three main office sub-markets:
Central Business District office space
Portland East office space
Portland West office space
The town of Vancouver (located 10 miles away from the downtown area across the Columbia River) is often considered a suburban office sub-market part of Greater Portland.
Prime Office Space and Coworking Locations: Within the central business district, the largest concentration of office buildings is in North of Market / Yamhill and East Broadway. Outside of the central business district, the largest office sub-markets are Lake Oswego / Kruse Way, I-5, Highway 217, and Close-In Eastside.
Office Space Costs: The most noticeable trends in the Portland office space market are steady gains in occupancy rates and leasing activity, as well as rising rents, which average of $26 / sq ft / year. Class A office space rents are at their highest in North of Yamhill, Close-In Northwest, and Lloyd District (above $40 / sq ft / year), and average asking rates for Class A offices in Vancouver are $24 / sq / ft year.
Vacancy Rates: Vacancy rates for office and coworking space are just above 10 percent in Greater Portland but can be significantly lower in Lloyd District, Wilsonville, Clackamas, and Sunnyside. On the other hand, office space availability is high in Washington Square, Tualatin, and North of Yamhill (2017 data).
New Office and Coworking Spaces: Construction data suggest that the Portland office market will keep expanding at moderate rates, and particularly so in areas like Close-In Northwest, Yamhill, and Close-In Eastside, where several office towers are being built.
Finding Office & Coworking Spaces in Portland OR
We feature office space, shared and coworking spaces in prime locations throughout Portland including the downtown area. To find out more about a particular office or coworking space you can click the picture to read more about it, submit the form to receive information or just give us a call on 1-877-693-6433.
Why You Should Rent Office / Coworking Space in Portland
Portland has a metropolitan area population over 2 million people, and the city's demographic makeup is one of its most important assets. Portland is considered one of the hottest job markets in the United States and attracts young professionals with its active employment market and high livability rankings.
The city of Portland is located in the heart of a region that is rich in natural resources, a fact that has been paramount to the city's growth throughout the early 20th century. Nowadays, the local industry base is sustained by the clean energy, shipping, and transportation sectors, along with sports and footwear manufacturing, healthcare, wholesale trade, and education.
Major Employers: The Port of Portland is one of the largest facilities of its kind in the West Coast of the United States and provides nearly 30,000 jobs. Other important employers in the Greater Portland area include Intel, Nike, Daimler Trucks, Xerox, Columbia Sportswear, Adidas, Boeing, Precision Castparts, Leatherman Tools, and Iberdrola.
Important Industries: The largest occupational groups are sales, office and admin support, manufacturing, trade, logistics, construction, building maintenance, education, leisure, management, business, and finance, and tech job creation rates are among the nation's highest. In fact, Portland is one of the top destinations for qualified tech professionals, and many are choosing to relocate here from San Francisco and the Bay Area, meaning that the availability of specialized talent is high, especially in areas like hardware and software development, online gaming, and e-commerce.
Business Incentives: Portland has one of the top 10 most business-friendly tax climates in the United States and offers several government-funded initiatives to support the establishment and growth of small and medium-sized businesses. Tax incentives are available in the form of property tax abatements, business expansion loans, and job creation tax credits, although these are just some of the support schemes available.
Let Us Help You Search for Portland Office and Coworking Space
Our experts are on hand to help you through the process of trying to find the perfect workspace in Portland, OR whether you need downtown coworking space or fully serviced, professional office space in Portland's Pearl District. Call us now on 1-877-693-6433 and let us help you find your perfect office or coworking spaces in Portland, OR.
Featured Portland Business Locations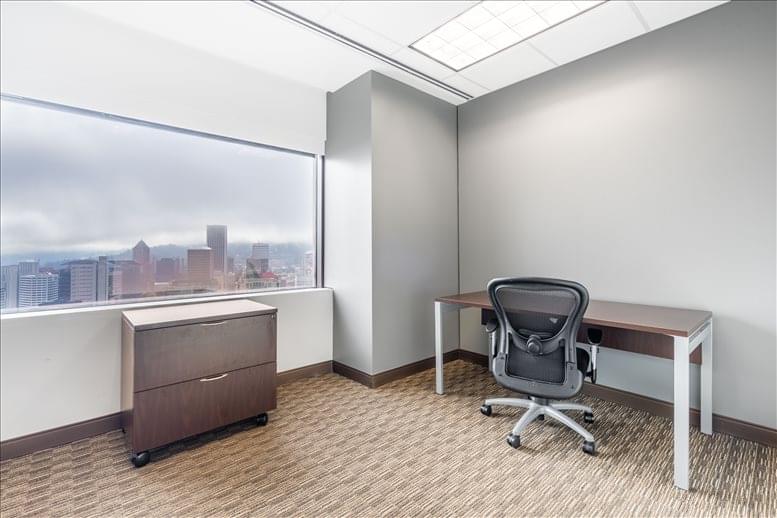 US Bancorp Tower
Portland Office Space
This business center is located in a landmark building standing tall on the Portland skyline. The largest class A building in the city, this 43-story tower is known both for its striking architecture... Read More >>
Haseltine Building
Portland Office Space
For all start-ups, small and mid-sized companies, freelancers, designers, engineers and entrepreneurs – this center provides a professionally furnished, fully equipped, conveniently located working... Read More >>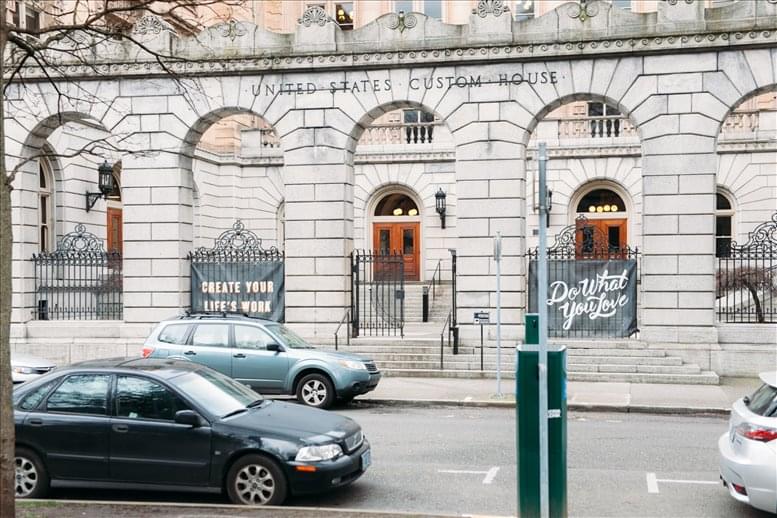 Custom House
Portland Office Space
In a stately building dating from 1901, this Portland office space occupies what was once the U.S. Custom House. One of the city's most eye-catching spaces, three floors of coworking space blend... Read More >>