View listings for other types of office space in and around Nashville.
See more offices in and around Nashville.
Coworking Space in Nashville, Tennessee
Tennessee's second largest city has experienced a renaissance and is now considered one of the top up-and-coming cities in the United States. This status is backed up by ongoing employment gains that draw thousands of new residents to the city every month, as well as a vibrant street scene, and quality housing and entertainment options that make it especially attractive to Millennials and young professionals looking to relocate.
Over the years, Nashville has welcomed businesses in sectors as diverse as healthcare, finance, fashion, and technology, with the latter playing a significant role driving the city's economy forward and helping create a strong entrepreneurial community in a short period of time. This community is formed by a mix of startups, independent contractors, and established companies, although it is the dynamism of the city's small business sector that has contributed the most to the growth of the local coworking industry.
Several survey findings confirm the predominant feeling of optimism among owners of small businesses in Nashville, while at the same time revealing that growing real estate costs are the main concern of owners of small business. This combination of factors has created the ideal conditions for the emergence of the local coworking scene.
Shared Office Space & Coworking in Nashville
For several years, the Nashville office market has been attracting investment due to its dynamism and pro-business environment, but this also means that rental rates for traditional office space have experienced constant increases and reached record highs that in some cases have pushed tenants out of the market, especially in prime locations like downtown, Green Hills, West End, and Cool Springs.
As a result, demand for alternative and more affordable forms of office space has grown, especially in Downtown Nashville, Midtown, and Wedgewood / Houston. Some landmark office buildings (like One Nashville / R2 Tower) have been turned into flexible office space and are now home to one of the largest coworking hubs in the city occupying 4 floors.
East Nashville (which is considered one of the city's startup neighborhoods) is another prime coworking location. Here, many former warehouses and industrial properties are being redeveloped into creative shared / maker space, especially around the Five Points / Maxwell Area. Another area where coworking is set to expand is the large-scale commercial development at Nashville Yards, a project that has already attracted tenants of the caliber of Amazon and that will feature at least two creative office spaces once completed.
Options & Costs for Nashville Coworking Space
Leading the provision of coworking space in Nashville are national operators like Serendipity Labs, Industrious, Regus, and WeWork, as well as local operators such as E-Spaces, Deavor, The Skillery, and InDo. Some of the locally owned spaces are in fact hybrid office units that combine shared space and private office suites that offer tenants the chance to switch between these two accommodation options as needed and without needing to relocate.
Overall, and considering Nashville's booming creative sector, its status as a boomtown, and the growing inflow of professionals that move to the city, it seems clear that the local coworking scene still has much to offer to the city's business community.
The approximate costs of workspace in coworking hubs are as follows:
Part-time or drop-in access for a specific number of days every month starts at $100 and goes up to $200 depending on the number of hours required.
Full-time 24/7access on a hot desk modality ranges from $200 to $300 / month.
Day passes can be found for $20.
Dedicated or reserved desks usually range between $400 and $600, and most of them also include access to meeting space for a number of hours every month.
Private office space in coworking hubs starts at $650 / one person and goes to more than $2,000 for a team of 5. Bigger teams can also be accommodated in private suites.
Coworking Space Nashville, TN
Offices.net can help you find shared workspace throughout Nashville, Tennessee. If you don't see what you want above give us a call on 972-913-2742. Our shared office space search service is free and our experts know the local coworking market well. We've got coworking space in Nashville to suit every budget and requirement and we look forward to helping you find the perfect shared office space in Nashville, TN.
Featured Nashville Business Locations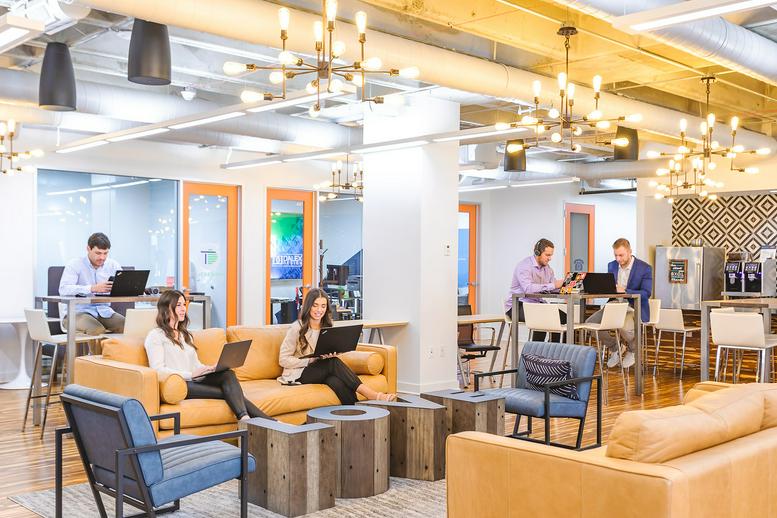 501 Union St
Nashville Office Space
This ultra modern business center features an exceptional selection of services and facilities that include fully equipped conference rooms, high end furnishings and fittings, professional admin and... Read More >>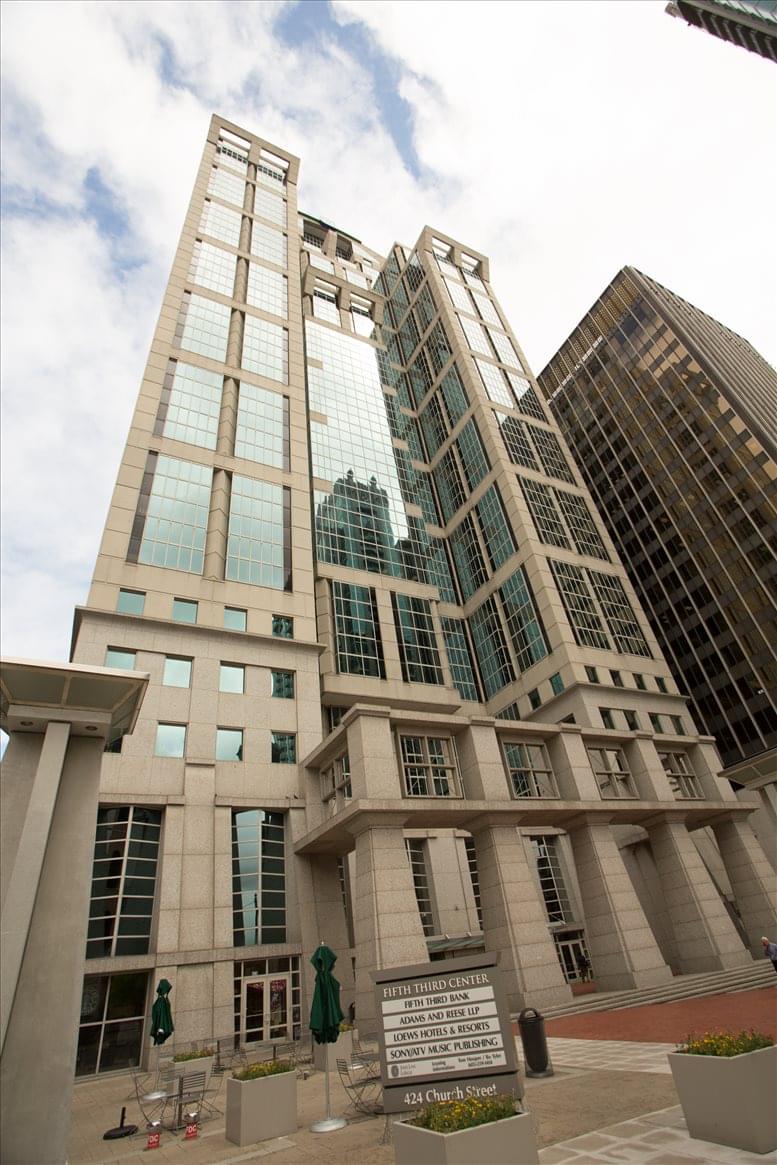 Fifth Third Center
Nashville Office Space
Fifth Third Center is a landmark office tower at 424 Church St, Nashville TN. Boasting stunning views from every floor, this impressive building houses a superior selection of executive office suites... Read More >>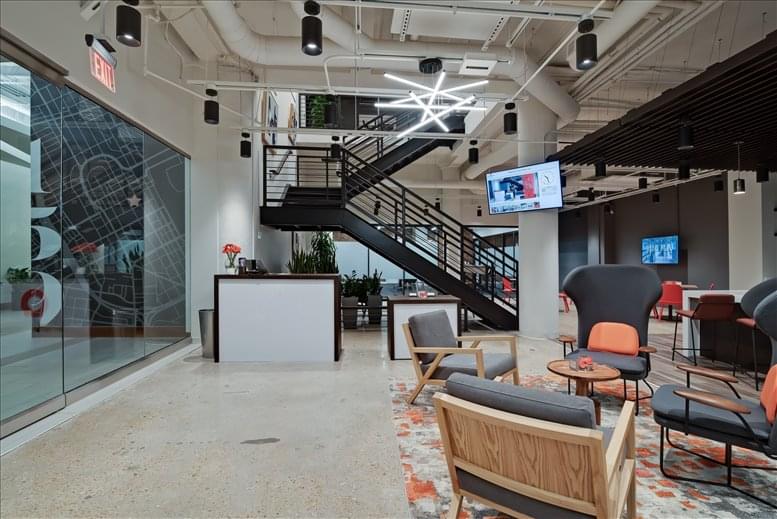 159 4th Avenue North
Nashville Office Space
The workspace offers a great and modern working office space with all the required instruments for seamless working. This upscale, modern space features a ground-floor lounge and private offices... Read More >>