1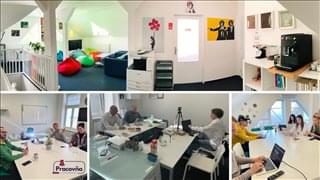 Offering flexible term, fully furnished office space this business center has everything you need to work at your optimum. With various sized meeting rooms and a room fully equipped with videoconferencing technology you can connect with clients from around the globe easily without the need to travel. There is also a business lounge, ideal for casual team... Read More >>
Serviced Offices - Call for latest price
Coworking - Call for latest price
Virtual - Call for latest price

Offering flexible term, fully furnished office space this business center has everything you need to work at your optimum. With various sized meeting rooms and a room fully equipped with videoconferencing technology you can connect with clients from around the globe easily without the need to travel... Read More >>
1010 Lake Street, Suite 200
---
Expand search to view more listings in and around Oak Park.
See more offices in and around Oak Park.
Oak Park Office Space & Coworking Spaces
We have a wide range of office space currently available for immediate occupation in Oak Park IL, including private office suites, serviced workspace, shared spaces and virtual address solutions. Many of the business centers and commercial office properties we feature offer easy, short term, flexible rental contracts, meaning that your business can gain the benefits of an extensive range of facilities and a prestigious address in Oak Park, without being locked in to a multi-year lease.
No matter what size your company is or what business requirements you have, we have the workspace to suit your needs. Many of the business centers come inclusive of a wide range of amenities and services, with friendly reception staff, security and onsite IT personnel, WiFi and internet services. Many of the office buildings also provide video conferencing facilities, spacious conference rooms, and kitchens.
With flexible contracts and a range of professional business support services and amenities included, the above listed workspace is a great fit for any company. Select your preferred center and fill out the quick quote form or call us now on 1-877-693-6433 and let us assist you in searching for the perfect Oak Park office space.
Oak Park Office Market
Prime Locations: The Oak Park office market is divided into 12 different business districts:
1. Downtown Oak Park
2. The Arts District
3. Madison
4. Harlem
5. Ridgeland - Austin
6. Garfield
7. Hemingway District
8. Lake - Ridgeland
9. North - Austin
10. Roosevelt
11. Pleasant District
12. Southtown
The Madison Street Corridor offers more modern space (usually built in the 2000s), and attracts tenants in the medical industry and public sector agencies, whereas the Arts District (and particularly the area between Columbus Park and the Chicago - Kansas Expressway) is a hub for firms involved in the creative sector.
Several areas are being redeveloped with a focus on mixed-used developments. The most relevant developments for businesses in search of office space include The Bend, located on Madison Street, which will add some 13,000 square feet of Class A space, and some smaller developments in the area between Wesley Avenue and South Oak Park.
Average Costs: Price-wise, Oak Park workspace is much more affordable than what is available in the Chicago core. Average asking prices range between $18 and $22 / sq ft / year, although some of the most modern units can reach $30 / sq ft / year in areas like North Harlem Avenue, North Oak Park, and North Marion. The lowest priced offices tend to be in South Oak Park and areas south of Madison Street, whereas the best sub-markets for mid-range options are the Arts District and Harrison Street (2017 data).
Click on any of the well situated Oak Park commercial properties listed above. The workspaces we feature on this site are all located in prime business areas, and are available to rent on competitive, flexible rental terms to suit your company's needs.
Oak Park's Business Environment and Economy
The village of Oak Park is situated approximately 10 miles west of downtown Chicago, half way between O'Hare International and Chicago Midway. This is a densely populated urban center and one of the largest municipalities in the state of Illinois. Although Oak Park was initially developed as a suburban residential area for people who worked in Chicago, today the village has its own business community that makes the most of the village's location and proximity to the city.
According to the local chamber of commerce, there are approximately 2,000 businesses based in Oak Park. The village also has a renowned arts scene that draws tourists and daytime visitors, as well as a strong industry base where the predominant sectors are retail, food and beverages, recreation, healthcare services, and wellness. The largest employer is Rush Oak Park Hospital (with nearly 1,000 employees), followed by the Village of Oak Park, Oak Park District Office, Fenwick High School, and retailers like Target and Jewel Osco.
Factors contributing to Oak Park's forward-looking business environment include:
a local labor market that is characterized by high educational attainment levels - nearly 65% of the working age population has a bachelors or a graduate degree;
excellent connectivity with downtown Chicago via public transit system and road links;
having two major airports within a short drive;
a high income population base;
and the support offered by the local council to new businesses in designated areas and Tax Increment Finance Districts.
Some Oak Park companies may be eligible to receive performance-based incentives of both a financial and a non-monetary nature, alongside other forms of support irrespective of size or industry sector. More information is available from the Business Services Division at Oak Park Council, the Oak Park - River Forest Chamber of Commerce, and the Oak Park Economic Development Corporation.
Contact Offices.net
We have more workspace available for rent than ever before with prices to suit every budget. Call us and we will do everything we can to help you find the perfect private, shared or virtual office space in Oak Park IL.
Offices.net is here to help
Contact Offices.net
We have more workspace available for rent than ever before with prices to suit every budget. Call us and we will do everything we can to help you find the perfect private, shared or virtual office space in Oak Park IL.