View listings for other types of office space in and around Scottsdale.
See more offices in and around Scottsdale.
Coworking Space Scottsdale
Although located only 12 miles away from Phoenix, and despite being considered a suburb of Arizona's capital city, Scottsdale has a startup scene of its own and a thriving business community. Both have been key drivers of the rise and growth of the city's coworking market, which shows great dynamism despite being relatively young.
Starting in the early 2010s, Scottsdale began to be considered an emerging tech destination with strengths in e-commerce, mobile software, health tech, and digital advertising. A few years later, in 2015, the city was listed as one of the top places to launch a startup in Arizona, and in subsequent years, Scottsdale's startups have drawn the attention of venture capitalists and angel investors, setting a solid base for the local coworking scene to develop.
Coworking spaces have quickly proliferated in Scottsdale and the greater Valley area to the point that the coworking model is considered a clear disruptor within the commercial real estate market. Adding to the popularity of coworking in Scottsdale is Arizona's reputation as one of the top 5 best states for freelancers and self-employed professionals, which is likely to contribute to future market expansion.
The popularity and growth of coworking stands in stark contrast with the general office market in the city and in Maricopa County, which is often described as slow, with very few new developments, and having vacancy rates in the double digits.
Coworking Scottsdale, AZ
Where can you find coworking spaces in Scottsdale?:
The bulk of coworking spaces are in the downtown / Old Town areas of Scottsdale, mainly between Fashion Square and Hacht Mott Macdonald station, and some of the local coworking hubs are in prestigious business locations, such as Galleria. Shared office space in Scottsdale is not only available in office buildings, but also in other types of commercial venues that have been adapted to office use. For example, a vacant store unit at one of Scottsdale's most well-known shopping malls is now taken up by coworking operator Industrious.
Who are Scottsdale's coworking operators?:
Regus is the largest operator in the city and has several locations. Other well-known coworking providers are Industrious, Spaces, and a handful of smaller venues like Cross Campus, AZ Cowork, and DeskHub. Existing venues that now offer coworking facilities to professionals in specific industries include Scottsdale's Creative Center (which has a strong focus on the arts sector), and Viva MedSuites (which caters to medical and healthcare professionals). There are also some coworking spaces exclusively available to female entrepreneurs.
What does Scottsdale coworking space cost?

Hot desk memberships average $200 to $250 / month in the city centre, and can be found for approximately $100 / month in other areas.
Reserved or dedicated desk space averages $400 / month, but lower priced options exist for approximately $300 / month.
Private offices in coworking spaces start at around $600 / month for single occupancy and can go up to $3,000 for medium-sized teams.
In addition, there is an initiative that allows Scottsdale coworking users to access hubs in other locations throughout Arizona, with a multi-location pass known as the Arizona Coworking Visa. Pricing starts at $99 / month.
Find Coworking Spaces in Scottsdale AZ
Offices.net can help you find shared workspace throughout Scottsdale, Arizona. If you don't see what you want above give us a call on 972-913-2742. Our flexible office finder service is free and our experts know the local market well. We look forward to helping you find the perfect coworking space in Scottsdale.
Featured Scottsdale Business Locations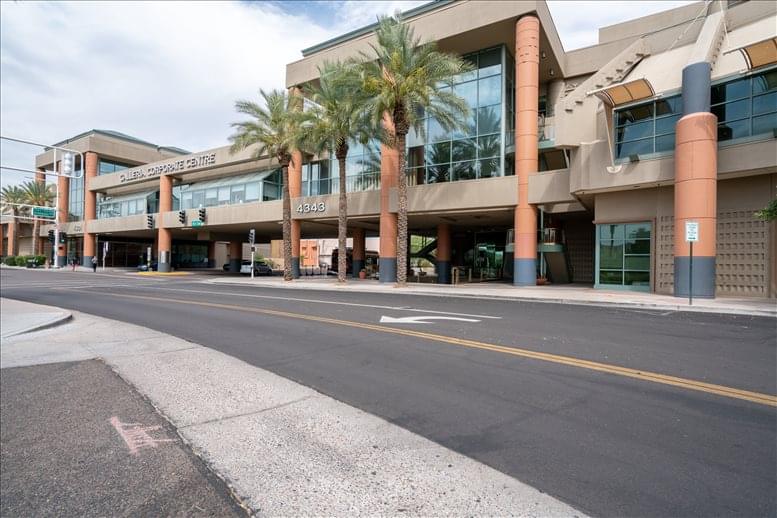 4343 N Scottsdale Rd
Scottsdale Office Space
This center in Old Town Galleria is in the prestigious Old Town neighborhood adding to its elegant environment and professional atmosphere. This is a very dynamic community with exciting... Read More >>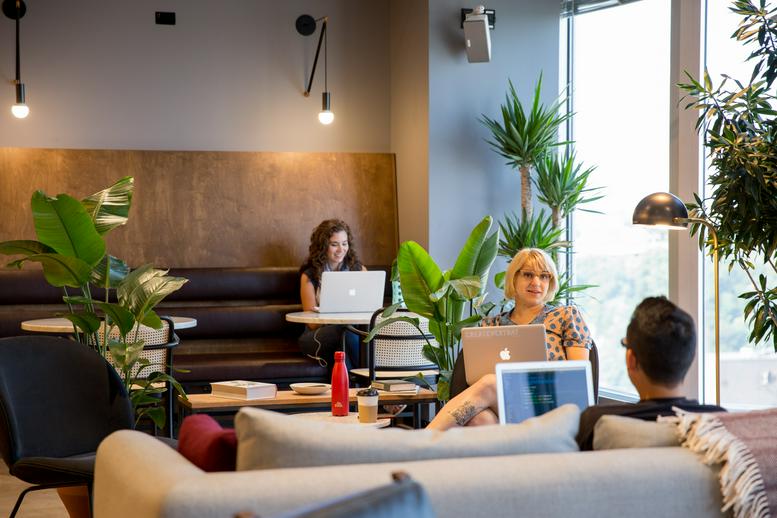 4520 N Drinkwater Blvd
Scottsdale Office Space
Enjoy the local coffee, artisanal pastries, fresh fruit, and more to keep your team going. There are gorgeous common areas and spacious private offices, with phone booths, conference space, a cafe,... Read More >>
Scottsdale Fashion Square Office Building
Scottsdale Office Space
Choose between an office space or the convenience of a prime business card virtual address at this modern Scottsdale office centre in heart of the CBD on Camelback Road. The office center boasts an... Read More >>