1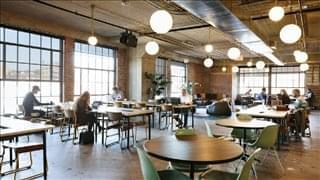 This prestigious and contemporary workspace center is located in a former garment factory, newly renovated and giving a creative twist to the usual Kansas City office space, this center offers hot-desking and private office spaces with fantastic on-site amenities and state of the art technological facilities. Members benefit from access to fully functional,... Read More >>
Executive & Private Offices
Flex Space & Coworking

This prestigious and contemporary workspace center is located in a former garment factory, newly renovated and giving a creative twist to the usual Kansas City office space, this center offers hot-desking and private office spaces with fantastic on-site amenities and state of the art technological facilities. Members benefit from access to fully functional, well equipped and technically advanced conferencing rooms, private phone booths where confidential calls can be made and the electric vehicle charging stations... Read More >>
Corrigan Station, 1828 Walnut St
---
Expand search to view more listings in and around Kansas City.
See more offices in and around Kansas City.
Find Flexible Office Space for Rent in Kansas City, KS
Offices.net has office buildings and commercial real estate with a selection of temporary office space now available in Kansas City, Kansas. This prestigious business space offers flexible terms to help you avoid costly long term commitments and the included furnishings, services and facilities help to make the transition as easy as possible. The Offices.net service is designed to find and locate the perfect office available to rent that your business needs as quickly and easily as possible, and we will be happy to assist in any way.
Find Office Space For Lease In Kansas City, KS
Simply choose any of the offices for rent in Kansas City shown on this page. Every one of the offices and executive office suite boasts a prime business position in Kansas City, on flexible terms to suit your flexible office space needs. Haven't got time to search? Simply contact us on 972-913-2742 and we'll be happy to show you some offices to rent in and around Kansas City, KS. Whether you require coworking space, retail space, private offices, virtual office solutions, commercial space, medical office solutions, executive suites, shared office space, vacation rentals or flexible office spaces available for lease - we'd love to hear from you.
Finding Commercial Property: Kansas City Office Space for Rent
Although the real estate market in Kansas City is mainly residential with Kansas City MO having most of the office space inventory, there is a dedicated business area in the western side of the city, near the Kansas Speedway and the intersection between the I-70 and I-435 roads. This area is known as the Fairfax District and is home to more than 100 companies. There is also a small downtown core situated on the opposite side of the city, near the state border. Other areas where flexible office space is usually available are Edwardsville and Bonner Springs, where several industrial and business parks are located.
All in all, there are approximately 4.7 million square feet of office space in Kansas City, half of which is Class B space. Average rental prices remain under $20 / sq ft / year and vacancy rates have a tendency to increase in the downtown Kansas City core, as many firms are relocating to suburban offices. Asking rents for Class B space average $15 / sq ft / year, and Class C offices are below $13 / sq ft / year. New developments are still lagging behind, so any expansion is most likely to take place in suburban markets across the state line.
Office Space for Rent in Kansas City, KS
Our mission is to provide your company with professional executive office suites and office space for lease in Kansas City, Kansas, suitable for your individual business needs. With a fantastic selection of services and support services available, and flexible rental agreements, you will be assured of an easy move to your new Kansas City business premises.
Kansas City KS Office Space Features
Many of the business centers and offices to rent come inclusive of a range of office services, with friendly reception staff, event space, security and onsite IT personnel, immediate access, WiFi and internet services. Some of the office buildings also provide video conferencing facilities, conference rooms, and kitchens.
Why Businesses Choose Kansas City, KS
Kansas City is the county seat of Wyandotte County, one of the most populous areas in the state of Kansas. The city has a total population of approximately 150,000 people and is part of a large metropolitan area that includes neighboring Kansas City in Missouri.
The local industry base is mainly driven by automotive and aerospace manufacturing, although retail trade, leisure, recreation, and motor sports also help keep local economy moving forward. This is in addition to public sector institutions involved in healthcare and education, which are the largest employment providers in the city. County-wide industry specializations include furniture manufacturing and sales, trucking, warehousing, and waste management.
The University of Kansas Hospital and Medical Center are the largest employers in Kansas City, with more than 10,000 employees, followed by General Motors, the Government of Wyandotte County, Cerner Corporation, Kansas City Public Schools, Nebraska Furniture Mart, FedEx, United Parcel Service, Hollywood Casino, and Associated Wholesale Grocers.
Despite its relatively small size, the labor market in Kansas City is well positioned and characterized by its excellent outlook. Kansas City is one of the top 10 of US cities creating high-paying jobs, and Wyandotte County job creation rates are double the national average. In addition, approximately 83 percent of local employers rate the stability of the local workforce as average to excellent. The jobs with highest demand include sales, industrial maintenance, commercial drivers, and warehouse staff / management. The 10-year forecast in employment growth is set at nearly 10 percent, which is significantly higher than national average of 6.5 percent.
Kansas City is a convenient business location, as the city is well communicated with other urban centers by road and has an international airport barely 20 miles away. Other benefits of setting up a business here include affordable living and business costs. In fact, Kansas is the fifth most business-friendly state and local business owners have access to a range of incentives the go from tax abatements on property developments to 5-year discounts on utilities, tax exemptions, and workforce training programs. More information is available from the Kansas City Chamber of Commerce and from World Trade Center Kansas City.
Contact Offices.net
Most of the business centers and business parks that we feature offer Kansas City KS office space for lease that are fully furnished and equipped with easy access to major road networks. Some of the serviced office space for rent can be configured to meet the needs of your business. Many office providers will customize the commercial space for you and allow you to decorate to give you more control over your environment and branding.
If you'd like to find out more about Offices.net's short term flexible office rental solutions in Kansas City, select your preferred offices for lease from the list above to add them to the inquiry form. The temporary office space, executive suites, coworking spaces, virtual office solutions, serviced offices and shared office spaces available are situated in prime locations throughout Kansas City, Kansas, and are available for rent at competitive rates, on flexible terms to suit your individual requirements.