1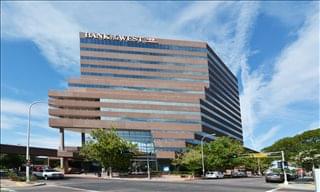 This contemporary office space is move in ready and comes fully furnished. The furnishings are tailored for whatever your business needs and can be modified at any time. This can be done by simply contacting the building staff. The types of offices available are window offices, interior offices, office suites, and co-working. All have been designed with a... Read More >>
Serviced Offices - Call for latest price

This contemporary office space is move in ready and comes fully furnished... Read More >>
Bank of The West Tower, NM 87102
---
2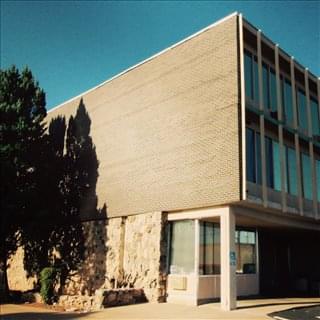 This contemporary executive office facility is designed with attention to detail in mind. All tenants have access to the on-site reception, secretarial and administrative support personnel. These are all employees of the building who have been professionally trained in their fields. It will save you the hassle of searching and hiring someone else who may... Read More >>
Serviced from $600 per person per month

This contemporary executive office facility is designed with attention to detail in mind... Read More >>
120 Madeira Dr NE, NM 87108
---
3
This contemporary office space is 6,500 sq. ft. in total. You can either rent it out as is, or it can be divided into five different offices. This will create a building of office suites, perfect for consultations or small businesses. The offices, once divided, will be approximately 1,300 sq. ft. and can fit nine - fourteen workstations. The building... Read More >>
Serviced from $50 per person per month
Virtual from $100

This contemporary office space is 6,500 sq... Read More >>
5600 Domingo Rd NE, NM 87108
---
4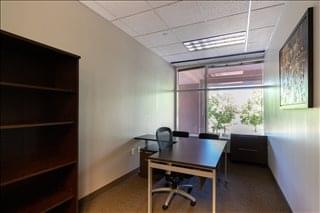 This Class A office building is located in a prestigious neighborhood of Albuquerque at 6565 Americas Parkway NE in the landmark Two Park Square Business center. This contemporary office space is energy star rated and features an on-site management team. They will be able to assist you with any problems that may arise during the work day. The office... Read More >>
Serviced Offices - Call for latest price

This Class A office building is located in a prestigious neighborhood of Albuquerque at 6565 Americas Parkway NE in the landmark Two Park Square Business center. This contemporary office space is energy star rated and features an on-site management team... Read More >>
Two Park Square, NM 87109
---
5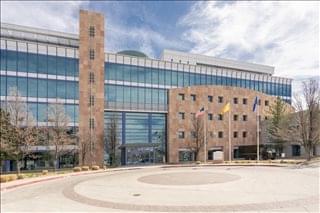 The office and coworking space within this contemporary building come move in ready, and fully furnished. They are one hundred percent tailored to fit your company's needs and can be modified at any time. The office styles available here are office suite, window office, interior office, and coworking. All are designed with a modern touch and to ensure a... Read More >>
Serviced Offices - Call for latest price
Coworking - Call for latest price
Virtual - Call for latest price

The office and coworking space within this contemporary building come move in ready, and fully furnished... Read More >>
---
---
Expand search to view more listings in and around Albuquerque.
Coworking & Office Space for Rent in Albuquerque NM
Offices.net features office centers in Albuquerque NM that currently offer a range of temporary office and coworking spaces available for immediate occupation on flexible rental terms. These business centers and dedicated cowork spaces are situated in prime locations throughout Albuquerque and include a wide range of business services, high spec facilities and amenities.
Regardless of the size of your company or what business requirements you have, Offices.net has an excellent selection of workspace. With flexible rental contracts and a range of professional business support services and amenities included, the above listed Albuquerque offices and coworking space is ready and available to suit you.
Need help with your search? Get in touch by calling us on 1800 038 940 and we'll be happy to help you find the perfect workspace in Albuquerque.
Finding Workspace in Albuquerque
The local office market is fairly spread out and features a considerable amount of new office buildings, since many properties dating from the 1960s and 1970s were demolished as part of the City's Planned Growth Strategy. The most well-known office buildings are Albuquerque Plaza, Compass Bank Building, 505 Marquette, and Bank of the West Tower Building.
Albuquerque is divided into 11 office sub-markets:
Uptown - most expensive
Mesa del Sol - most expensive
Downtown Albuquerque
North I-25
Far Northeast Heights
Southeast Heights
Northeast Heights
Rio Rancho
West Mesa
Airport - least expensive
University - least expensive
All these amount to more than 14 million square feet of office space, the majority of which is Class B. Vacancy rates are relatively high and hover at around 20 percent, although they are down to single digit rates in Northeast and Southeast Heights. By contrast, they can exceed 30 percent in the airport area or West Mesa.
These figures are above the US average, but are in line with other secondary markets in the South West, and are posed to decrease given a tendency for tenants to move into new premises instead of renewing their lease.
Direct asking rates average $17 / sq ft / year across all sub-markets, with the priciest properties being in Mesa del Sol and Uptown ($23 and $19 respectively), and the lowest in Airport and University (2017 data). The Albuquerque Economic Development Corporation keeps a list of all sites available.
Albuquerque for Business
New Mexico's largest city has a rich history that goes back several centuries, although the city was only founded as such in 1706. Due to its strategic location by the Rio Grande and near the Mexican border, defense and transportation always had a strong presence in the city. As the economy continued to diversify, Albuquerque grew in population and in the mid 2000s it was one of the fastest-growing cities in the United States.
Albuquerque is located at the heart of New Mexico's Technology Corridor, which extends from Santa Fe to the Mexican border. As part of the corridor, the city is a high-tech hub with a focus on renewable energy and solar technology. Other notable industry clusters include aerospace, advanced manufacturing, nanotechnology, IT, semi-conductors, and digital media.
The largest employers in the city include a mix of manufacturers, technology firms, and public / government institutions, such as Kirtland Air Force Base, the University of New Mexico, the local public schools system, Sandia Laboratories, Presbyterian Hospital, The City of Albuquerque, the State of New Mexico, Intel, Honeywell, General Mills, and Schott Solar.
Albuquerque's labor market favors the recruitment of employees for roles that require college education, as there are more than 60,000 students in the city. However, vacancies in construction, waste management, admin, wholesale trade, and healthcare hard to fill due to a shortage of candidates with specialized skills. Nevertheless, there are workforce development programs to help employers acquire and improve their skill base. These are offered by the Central New Mexico Workforce Training Center, the Department of Workforce Solutions, and the University of New Mexico Continuing Education.
Local authorities work to turn Albuquerque into one of New Mexico's most favorable cities to entrepreneurial activity. Eligible business owners can access the already existing range of incentives targeting job creation in specific sectors like aerospace, manufacturing, technology, alternative energy, and film production.
Contact Offices.net
Most of the business centers that we feature offer offices that are fully furnished and equipped, making setting up a very simple process. Some of the serviced offices can be configured to meet the needs of your business. Many office providers will customize the space for you and allow you to decorate to give you more control over your environment and branding.
If you'd like to find out more about Offices.net's short term office rental solutions in Albuquerque, select your preferred offices from the list above to add them to the inquiry form. The temporary office space, business suites, coworking & and shared work spaces we feature are situated in prime locations throughout Albuquerque, and are available for rent at competitive rates, on flexible terms to suit your individual requirements.
Featured Albuquerque Business Locations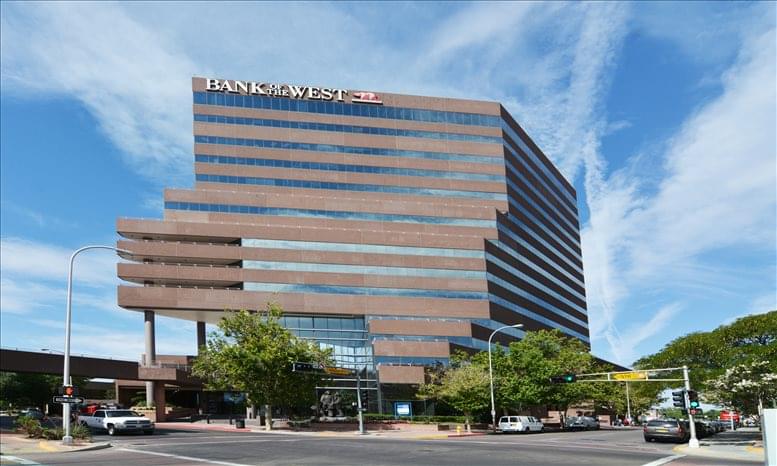 Bank of The West Tower
Albuquerque Office Space
This contemporary office space is move in ready and comes fully furnished. The furnishings are tailored for whatever your business needs and can be modified at any time. This can be done by simply... Read More >>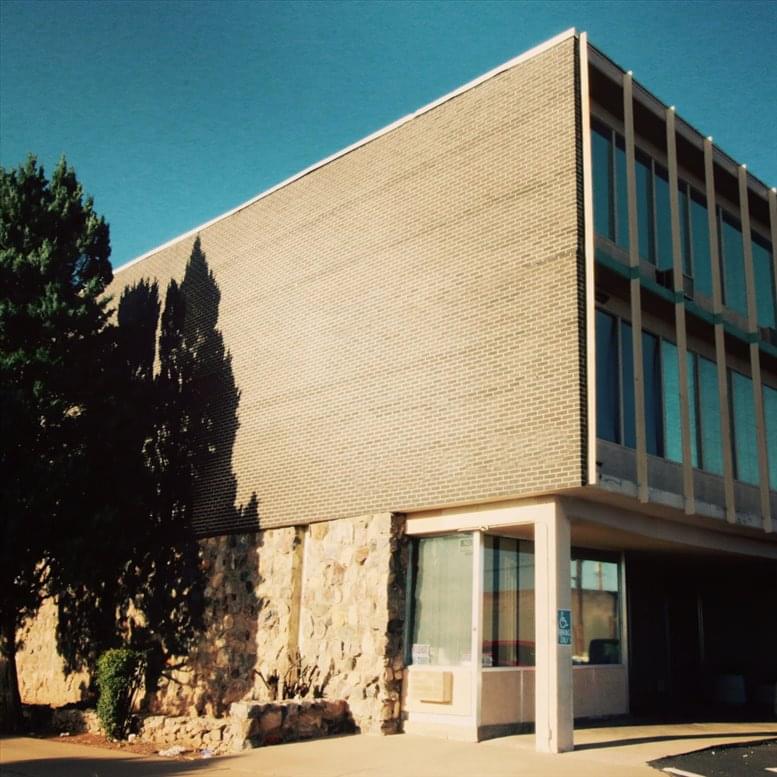 120 Madeira Dr NE
Albuquerque Office Space
This contemporary executive office facility is designed with attention to detail in mind. All tenants have access to the on-site reception, secretarial and administrative support personnel. These are... Read More >>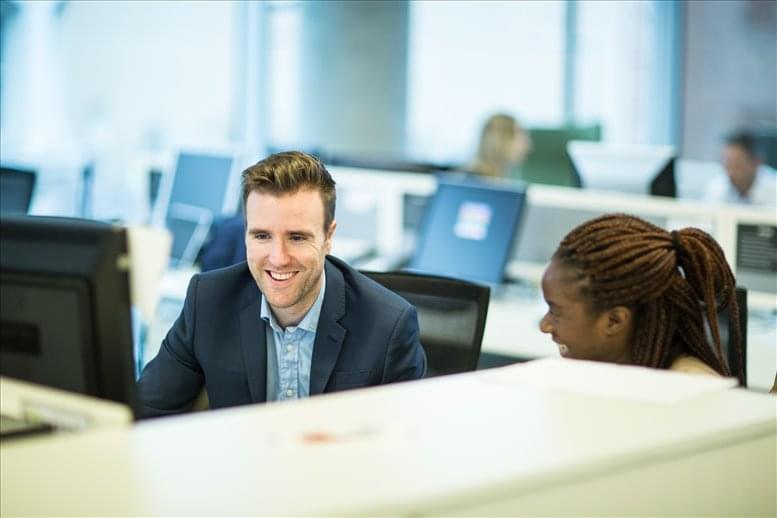 5600 Domingo Rd NE
Albuquerque Office Space
This contemporary office space is 6,500 sq. ft. in total. You can either rent it out as is, or it can be divided into five different offices. This will create a building of office suites, perfect for... Read More >>