1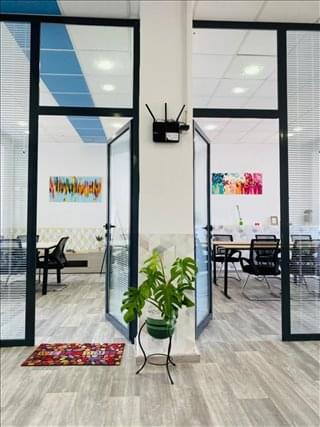 This business center is a modern low-rise block with highly upgraded lobbies, in the heart of Downtown Decatur, surrounded by all kinds of amenities, and within walking distance of the local MARTA rail station. Decatur is home to businesses across a wide range of industries, including advertising and marketing, aerospace, agriculture, IT, consumer... Read More >>
Serviced Offices - Call for latest price

This business center is a modern low-rise block with highly upgraded lobbies, in the heart of Downtown Decatur, surrounded by all kinds of amenities, and within walking distance of the local MARTA rail station. Decatur is home to businesses across a wide range of industries, including advertising and marketing, aerospace, agriculture, IT, consumer electronics, defense, financial services, food manufacture, machinery, media, medical equipment pharmaceuticals, textiles, transportation and shipping... Read More >>
One West Court Square, 158 W Ponce De Leon Ave
---
Expand search to view more listings in and around Decatur.
See more offices in and around Decatur.
Office Space for Rent Decatur GA | Executive Offices | Coworking
Offices.net is pleased to present exceptional office buildings, situated in a highly sought after Decatur, GA location. These office suites are available on flexible contracts with the option for immediate access and all the business services you need, without the hassle of a long term conventional office space lease.
All you need to do is to choose any of the offices for rent in Decatur on this page. Each executive office space boasts an excellent business position in Decatur, on flexible rental terms to suit your work requirements.
Decatur Commercial Real Estate: Office Space
There are three distinct business districts within Decatur: the downtown area, which comprises a mix of retail and office space in low-rise buildings; Oakhurst, and College Avenue Corridor, where most new office developments are likely to be based.
Office Space Price Range: Decatur is a relatively small market in terms of inventory, as total office space amounts to approximately 1.5 million square feet. However, this is a very active market with vacancy rates significantly lower than anywhere else in the Atlanta metropolitan area, and average rental values going from $20 to $27 / sq ft / year, decreasing to $18 / sq ft / year for Class B space (2017 data).
Decatur Office Market Outlook: Although new office construction is limited, the local office inventory is expected to grow by 2019. This is mainly due to the growth of the creative sector in Atlanta's suburban areas, which has brought increased demand for suitable office space in Decatur, with some options available near Agnes Scott College and eastern side of Ponce de Leon Avenue.
Find Decatur Office Space
Offices.net offers businesses of any size the simplest, fastest and most affordable way to secure professional office space in Decatur, Georgia. Our office space and business premises come with an extensive range of facilities included, and flexible contracts that are made to suit you. We work hard to ensure that the process is as simple as possible for our clients.
Most of the office buildings provide receptions, state-of-the-art print and scanning facilities, internet and network wiring, telecommunications set up, office administration, and furniture. A number of the business centers also provide on site IT support, meeting rooms, video conferencing, 24/7 access and other professional services and amenities.
Why You Should Rent Office Space in Decatur GA
Located only 7 miles away from downtown Atlanta, Decatur is a small city that serves as the county seat for DeKalb County. The local economy boomed during the last few decades of the 20th century thanks to connectivity and infrastructure improvements, and today, public administration, health services, and education are the leading industry sectors in Decatur, along with professional, scientific and tech services, information, manufacturing, and retail trade.
Key Industries: The city's major employers are mostly public sector organizations like the US Postal Service, DeKalb County, the Decatur Board of Education, DeKalb Medical Center, and the City of Decatur, but also non-government companies such as Wells Fargo, McCurdy & Candler, Kroger, Home Depot, and Publix Supermarkets .
Labor Market: Local talent is mostly drawn from higher education institutions such as Emory University and Georgia State University, which are well known for the caliber of their graduates in areas like business administration, economics, biology, accounting, and finance. On the whole, local employers have access to an educated workforce known to boast some of the highest educational attainment levels in the Atlanta metropolitan area, with more than 70 percent of working age residents having a college or university degree.
Business Support & Incentives: Setting up a business in Decatur affords many advantages, since the city enjoys frequent mass transit connections with Atlanta and is located a 30-minute drive from Hartsfield-Jackson International Airport, one of the world's busiest air facilities. Other benefits of being based in Decatur include competitively priced real estate, a close-knit business community, and a comprehensive range of workforce development programs, including Georgia Quick Start and WorkSource Georgia. Financial incentives include tax credits for job creation, tax exemptions, property tax incentives, and abatements for businesses that establish themselves in designated Opportunity Zones.
Find Executive, Shared & Small Office Space in Decatur, Georgia
We have a selection of flexible office space available for rent in prime business locations in Decatur, Atlanta and in a number of other cities throughout Georgia.
Offices.net is here to help
We have a selection of flexible office space available for rent in prime business locations in Decatur, Atlanta and in a number of other cities throughout Georgia.