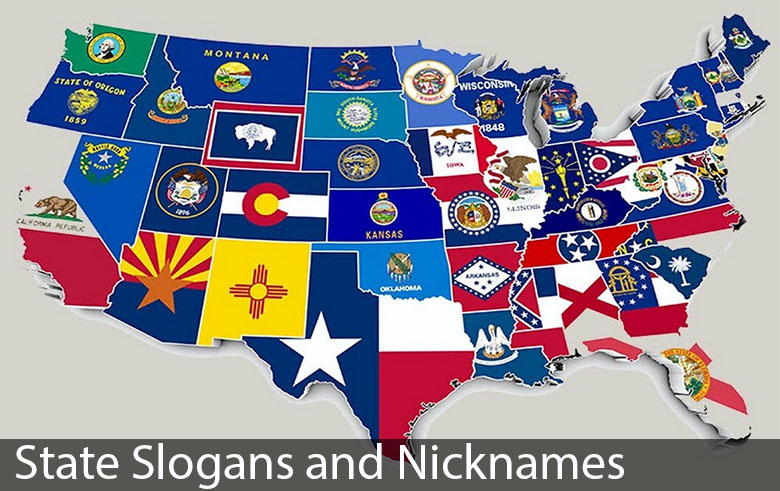 We're all aware that each State has its own official slogan and some States are lucky enough to have been granted quasi-official nicknames. These are easily found on Wikipedia and the State's website and various other places online.
What is unique about the list below, however, is that we've not only used the official slogans - mixed in are the States' unofficial slogans and nicknames of all kinds. When the unofficial join the sanctioned, Arizona alone boasts 10 slogans and nicknames.
Are we missing any? Tell us about them.
Link to this page
Copy the HTML from the box below into your site to link to the page

A | B | C | D | E | F | G | H | I | J | K | L | M | N | O | P | Q | R | S | T | U | V | W | X | Y | Z
A
Alabama
aka Lizard State
Alabama
aka The Yellowhammer State
Alabama
aka Camellia State
Alabama
aka The Cotton State
Alabama
aka The Last Frontier
Alabama
aka The Heart of Dixie
Alaska
aka Great Land
Alaska
aka Seward's Folly
Alaska
aka Land of the Midnight Sun
Arizona
aka Valentine State
Arizona
aka Sand Hill State
Arizona
aka Baby State
Arizona
aka The Grand Canyon State
Arizona
aka Sunset State
Arizona
aka Copper State
Arizona
aka Apache State
Arizona
aka Sweetheart State
Arizona
aka Italy of America
Arizona
aka Aztec State
Arkansas
aka Razorback State
Arkansas
aka Bowie State
Arkansas
aka Toothpick State
Arkansas
aka Hot Springs State
Arkansas
aka The Natural State
Arkansas
aka Wonder State
Arkansas
aka Land of Opportunity
Arkansas
aka Bear State
C
California
aka Grape State
California
aka The Golden State
California
aka Land of Milk and Honey
California
aka El Dorado State
California
aka The Eureka State
California
aka Golden West
Colorado
aka Rocky Mountain State
Colorado
aka Lead State
Colorado
aka Colorful Colorado
Colorado
aka The Centennial State
Colorado
aka Silver State
Colorado
aka Mother of Rivers
Colorado
aka Columbine State
Colorado
aka Buffalo Plains State
Colorado
aka Switzerland of America
Colorado
aka Rocky Mountain Empire
Colorado
aka Highest State
Colorado
aka Centennial State
Connecticut
aka Provisions State
Connecticut
aka Freestone State
Connecticut
aka The Constitution State
Connecticut
aka Land of Steady Habits
Connecticut
aka Blue Law State
Connecticut
aka Nutmeg State
Connecticut
aka Brownstone State
D
Delaware
aka Corporate Capital
Delaware
aka Small Wonder
Delaware
aka Home of Tax Free Shopping
Delaware
aka Diamond State
Delaware
aka The First State
Delaware
aka Uncle Sam's Pocket Handkerchief
Delaware
aka New Sweden
Delaware
aka Blue Hen State or Blue Hen Chicken State
Delaware
aka Chemical Capital
Delaware
aka Peach State
Delaware
aka First State
F
Florida
aka Peninsula State or Peninsular State
Florida
aka Hurricane State
Florida
aka Flower State
Florida
aka Alligator State
Florida
aka Sunshine State
Florida
aka Manatee State
Florida
aka God's Waiting Room
Florida
aka Citrus State
Florida
aka Tropical State
Florida
aka Orange State
Florida
aka Gulf State
Florida
aka Everglade State
Florida
aka The Sunshine State
G
Georgia
aka Yankee-land of the South
Georgia
aka The Peach State
Georgia
aka Goober State
Georgia
aka Cracker State
Georgia
aka Empire State of the South
H
Hawaii
aka Youngest State
Hawaii
aka Paradise of the Pacific
Hawaii
aka Pineapple State
Hawaii
aka Rainbow State
Hawaii
aka The Aloha State
I
Idaho
aka Little Ida
Idaho
aka Spud State
Idaho
aka The Gem State
Idaho
aka Gem of the Mountains
Illinois
aka Sucker State
Illinois
aka Land of Lincoln
Illinois
aka Garden of the West
Illinois
aka Corn State
Illinois
aka Inland Empire State
Illinois
aka The Prairie State
Indiana
aka The Hoosier State
Iowa
aka Land of the Rolling Prairie
Iowa
aka The Hawkeye State
Iowa
aka Corn State
Iowa
aka Tall Corn State
Iowa
aka Cyclone State
Iowa
aka Hawkeye State
K
Kansas
aka Wheat State
Kansas
aka The Sunflower State
Kansas
aka Bleeding Kansas
Kansas
aka Jayhawk State
Kentucky
aka Tobacco State
Kentucky
aka Corn-cracker State
Kentucky
aka The Dark and Bloody Ground State
Kentucky
aka The Bluegrass State
Kentucky
aka Hemp State
Kentucky
aka Bluegrass State
L
Louisiana
aka Holland of America
Louisiana
aka Child of the Mississippi
Louisiana
aka Pelican State
Louisiana
aka Creole State
Louisiana
aka The Pelican State
Louisiana
aka Sugar State
Louisiana
aka Fisherman's Paradise
Louisiana
aka Sportsman's Paradise
M
Maine
aka The Border State
Maine
aka Vacationland
Maine
aka The Pine Tree State
Maryland
aka Terrapin State
Maryland
aka Old Line State
Maryland
aka Crab State
Maryland
aka America in Miniature
Maryland
aka Oyster State
Maryland
aka Free State
Maryland
aka Chesapeake State
Maryland
aka Queen State
Maryland
aka Monumental State
Maryland
aka Cockade State
Maryland
aka The Old Line State
Massachusetts
aka Old Colony State
Massachusetts
aka Baked Bean State
Massachusetts
aka Pilgrim State
Massachusetts
aka The Bay State
Massachusetts
aka The Bay State
Massachusetts
aka Taxachusetts
Massachusetts
aka The Commonwealth
Massachusetts
aka The Spirit of America
Michigan
aka Winter Water Wonderland
Michigan
aka The Great Lakes State
Michigan
aka Wolverine State
Michigan
aka The Great Lakes State
Michigan
aka The Birthplace of Automotives
Michigan
aka Mitten State
Minnesota
aka State of Hockey
Minnesota
aka Land of Lakes
Minnesota
aka The North Star State
Minnesota
aka Land of Sky-Blue Waters
Minnesota
aka Gopher State
Minnesota
aka North Star State
Minnesota
aka Land of 10,000 Lakes
Mississippi
aka Ozark State
Mississippi
aka Gateway State
Mississippi
aka Puke State
Mississippi
aka Bellwether State
Mississippi
aka Bullion State
Mississippi
aka The Magnolia State
Mississippi
aka Lead State
Mississippi
aka Cave State
Mississippi
aka Hospitality State
Missouri
aka The Show Me State
Montana
aka The Last Best Place
Montana
aka Treasure State
Montana
aka Big Sky Country
N
Nebraska
aka Beef State
Nebraska
aka Tree Planter's State
Nebraska
aka The Cornhusker State
Nevada
aka Battle Born State
Nevada
aka Sagebrush State
Nevada
aka The Silver State
New Hampshire
aka Mother of Rivers
New Hampshire
aka White Mountain State
New Hampshire
aka The Granite State
New Jersey
aka The Crossroads of the Revolution
New Jersey
aka The Tomato State
New Jersey
aka The Garden State
New Mexico
aka Cactus State
New Mexico
aka The Outer Space State
New Mexico
aka The Colorful State
New Mexico
aka Land of Sunshine
New Mexico
aka The Land of Enchantment
New Mexico
aka The Spanish State
New Mexico
aka New Andalusia
New York
aka The Empire State
North Carolina
aka Tar Heel State
North Carolina
aka Turpentine State
North Carolina
aka The Tar Heel State
North Carolina
aka Variety Vacationland
North Carolina
aka Old North State
North Dakota
aka Flickertail State
North Dakota
aka Rough Rider State
North Dakota
aka Sioux State
North Dakota
aka The Peace Garden State
O
Ohio
aka The Buckeye State
Ohio
aka Birthplace of Aviation
Ohio
aka Mother of Modern Presidents
Oklahoma
aka The Sooner State
Oklahoma
aka Native America
Oklahoma
aka Land of the Red Man
Oregon
aka Sunset State
Oregon
aka The Beaver State
Oregon
aka Union State
Oregon
aka Pacific Wonderland
P
Pennsylvania
aka Independence State
Pennsylvania
aka Quaker State
Pennsylvania
aka The Keystone State
Pennsylvania
aka Liberty Bell State
R
Rhode Island
aka Little Rhody
Rhode Island
aka Ocean State
Rhode Island
aka Plantation State
Rhode Island
aka The Ocean State
S
South Carolina
aka The Palmetto State
South Carolina
aka Sandlapper State
South Carolina
aka Iodine Products State
South Dakota
aka Coyote State
South Dakota
aka Mount Rushmore State
South Dakota
aka Land of Infinite Variety
South Dakota
aka Artesian State
South Dakota
aka Sunshine State
South Dakota
aka Blizzard State
T
Tennessee
aka Hog and Hominy State
Tennessee
aka The Volunteer State
Tennessee
aka The Mother of Southwestern Statesmen
Tennessee
aka Big Bend State
Tennessee
aka Butternut State
Texas
aka Friendship State
Texas
aka The Lone Star State
U
Utah
aka Friendly State
Utah
aka Greatest Snow on Earth
Utah
aka The Beehive State
Utah
aka Mormon State
V
Vermont
aka The Green Mountain State
Virginia
aka The Old Dominion State
W
Washington
aka The Evergreen State
West Virginia
aka Panhandle State
West Virginia
aka The Mountain State
Wisconsin
aka America's Bread Basket
Wisconsin
aka The Badger State
Wisconsin
aka America's Dairyland
Wyoming
aka Park State
Wyoming
aka The Equality
Wyoming
aka Cowboy State
Link to this page
Copy the HTML from the box below into your site to link to the page