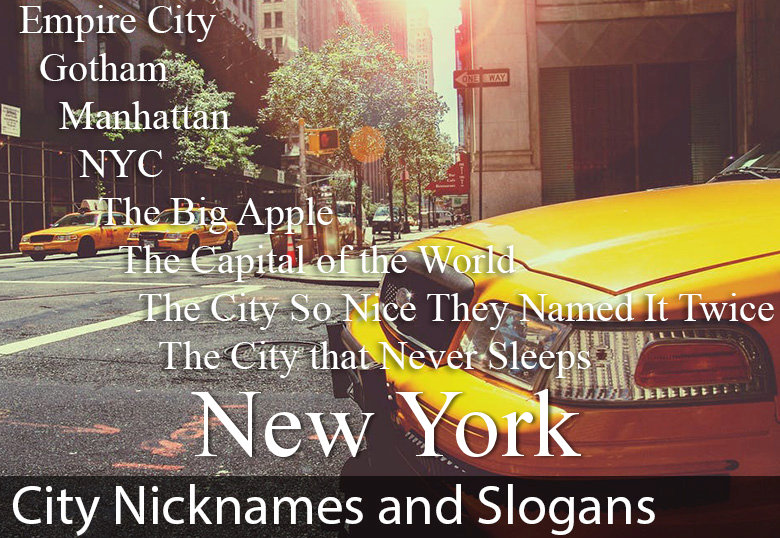 Ever wondered where California's armpit was? Did you ever rack your brain trying to remember what city was the pinto bean capital of the world or home of the world's largest pecan? Fear not! We can help you win those tough trivia rounds.

America's concerned citizens and sarcastic city dwellers alike are to be thanked for their contributions to the following list of City Nicknames and Slogans. After months of scouring websites, forums and social networking sites we have compiled the web's most exhaustive list of US city slogans and nicknames and we are happy to share it with you in the hope that you will enjoy it as much as we have.

Whether it's Bellingham, WA saying "Let us surprise you" (is that a good thing?) or Thomasville, NC's claim to fame as "Chair City" (ok...) we're sure you'll find the list both insightful and entertaining.

As always, if we're missing anything please send us a note.
A | B | C | D | E | F | G | H | I | J | K | L | M | N | O | P | Q | R | S | T | U | V | W | X | Y | Z
A
Abbeville
aka Wild Hog Capital of Georgia
(Georgia, GA)
Adamsville
aka The Biggest Little Town In Tennessee
(Tennessee, TN)
Alabaster
aka The City For Families
(Alabama, AL)
Alamosa
aka Hub of the San Luis Valley
(California, CA)
Albany
aka Cradle of the Union
(New York, NY)
Albany
aka Grass Seed Capital of the World
(Oregon, OR)
Albertville
aka The Fire Hydrant Capital of the World
(Alabama, AL)
Algona
aka City of the Great Blue Heron
(Washington, WA)
Algona
aka Home of the World's Largest Cheeto
(Iowa, IA)
Algonquin
aka Gem of the Fox River
(Illinois, IL)
Algonquin
aka The Gem of the Fox River
(Illinois, IL)
Allentown
aka Band City USA
(Pennsylvania, PA)
Allentown
aka Peanut City
(Pennsylvania, PA)
Allentown
aka Truck Capital of the World
(Pennsylvania, PA)
Alma
aka Spinach Capital of the World
(Arkansas, AR)
Anchorage
aka Air Crossroads of the World
(Alaska, AK)
Anchorage
aka Anchortown
(Alaska, AK)
Anchorage
aka Hanging Basket Capital of the World
(Alaska, AK)
Anchorage
aka The City of Lights and Flowers
(Alaska, AK)
Andover
aka Where the People are Warm Even When the Weather Isn't
(Kansas, KS)
Ann Arbor
aka Tree Town
(Michigan, MI)
Annapolis
aka Crabtown
(Maryland, MD)
Anoka
aka Halloween Capital of the World
(Minnesota, MN)
Anthony
aka Leap Year Capital of the World
(New Mexico, NM)
Antioch
aka Gateway to the Delta
(California, CA)
Apache Junction
aka Gateway to Legends, Lakes, Leisure, And Lost Treasure
(Arizona, AZ)
Apache Junction
aka Home of the Superstition Mountains
(Arizona, AZ)
Apex
aka Peak of Good Living
(North Carolina, NC)
Artesia
aka Johnson Grass Capital of the World
(Mississippi, MS)
Arvada
aka Celery Capital of the World
(Colorado, CO)
Ash Fork
aka Flagstone Capital of the United States
(Arizona, AZ)
Ashburn
aka Peanut Capital of the World
(Georgia, GA)
Ashton
aka Seed Potato Capital
(Idaho, ID)
Aspen
aka America's Canary City
(Colorado, CO)
Athens
aka The Classic City
(Georgia, GA)
Athol
aka Tool Town
(Massachusetts, MA)
Atlanta
aka A-Town
(Georgia, GA)
Atlanta
aka Dogwood City
(Georgia, GA)
Atlanta
aka Hotlanta
(Georgia, GA)
Atlanta
aka The Big A
(Georgia, GA)
Atlanta
aka The Big Peach
(Georgia, GA)
Atlanta
aka The City Too Busy to Hate
(Georgia, GA)
Atlantic City
aka America's Playground
(New Jersey, NJ)
Atlantic City
aka Always Turned On
(New Jersey, NJ)
Atlantic City
aka Do AC
(New Jersey, NJ)
Auburn
aka Loveliest Village on the Plains
(Alabama, AL)
Auburn
aka The Loveliest Village on the Plains
(Alabama, AL)
Auburn
aka Endurance Capital of the World
(California, CA)
Auburn
aka More Then You Imagined
(Washington, WA)
Ault
aka A Unique Little Town
(Colorado, CO)
Aurora
aka Gateway to the Rockies
(Colorado, CO)
Austin
aka Spamtown
(Minnesota, MN)
Austin
aka Live Music Capital of the World
(Texas, TX)
B
Bakersfield
aka B Town
(California, CA)
Bakersfield
aka Bakers
(California, CA)
Bakersfield
aka Bako
(California, CA)
Bakersfield
aka B-Town
(California, CA)
Bakersfield
aka California's Country Music Capital
(California, CA)
Bakersfield
aka The Armpit of California
(California, CA)
Baltimore
aka America's Comback City
(Maryland, MD)
Baltimore
aka B-More
(Maryland, MD)
Baltimore
aka Bodymore
(Maryland, MD)
Baltimore
aka Charm City
(Maryland, MD)
Baltimore
aka Crab Cake Capital
(Maryland, MD)
Baltimore
aka Harm City
(Maryland, MD)
Baltimore
aka Mobtown
(Maryland, MD)
Baltimore
aka Monument City
(Maryland, MD)
Baltimore
aka The City of Firsts
(Maryland, MD)
Baltimore
aka The City of Reads
(Maryland, MD)
Baltimore
aka The Greatest City In America
(Maryland, MD)
Bandera
aka Cowboy Capital of the World
(Texas, TX)
Bangor
aka The Queen City of the East
(Maine, ME)
Bardstown
aka Bourbon Capital of the World
(Kentucky, KY)
Barre
aka Granite Capital of the World
(Vermont, VT)
Batavia
aka The Windmill City
(Illinois, IL)
Bath
aka The City of Ships
(Maine, ME)
Baxter Springs
aka First Cowtown In Kansas
(Kansas, KS)
Bayou La Batre
aka Seafood Capital of Alabama
(Alabama, AL)
Beattie
aka Milo Capital of the World
(Kansas, KS)
Beaver
aka Cow Chip Capital of the World
(Oklahoma, OK)
Belding
aka Apple Capital
(Michigan, MI)
Belding
aka Apple Capital
(Minnesota, MN)
Bellevue
aka City In A Park
(Washington, WA)
Bellingham
aka Let Us Surprise You
(Washington, WA)
Bemidji
aka First City On the Mississippi
(Minnesota, MN)
Berea
aka Folk Arts and Crafts Capital of Kentucky
(Kentucky, KY)
Berkeley
aka Athens of the West
(California, CA)
Berkeley
aka Berezerkeley
(California, CA)
Berkeley
aka The People's Republic of Berkeley
(California, CA)
Berlin
aka Geographic Center of Connecticut
(Connecticut, CT)
Berlin
aka The City that Trees Built
(New Hampshire, NH)
Berrien Springs
aka Christmas Pickle Capital of the World
(Michigan, MI)
Berryville
aka Turkey Capital
(Arkansas, AR)
Berthoud
aka Garden Spot of Colorado
(Colorado, CO)
Bertram
aka Home of the Oatmeal Festival
(Texas, TX)
Bessemer
aka Marvel City
(Alabama, AL)
Bethany Beach
aka The Quiet Resorts
(Delaware, DE)
Bethlehem
aka The Christmas Town
(Connecticut, CT)
Bethlehem
aka Christmas City
(Pennsylvania, PA)
Biloxi
aka The Playground of the South
(Mississippi, MS)
Birmingham
aka The Pittsburgh of the South
(Alabama, AL)
Bishop
aka Mule Packer Capital of the World
(California, CA)
Black Hawk
aka City of Mills
(Colorado, CO)
Blackfoot
aka Potato Capital of the World
(Idaho, ID)
Blacksburg
aka The Iron City
(South Carolina, SC)
Bloomington
aka The Evergreen City
(Illinois, IL)
Bluefield
aka Nature's Air Conditioned City
(West Virginia, WV)
Boone
aka Firefly Capital of the World
(North Carolina, NC)
Boston
aka Athens of America
(Massachusetts, MA)
Boston
aka City of Notions
(Massachusetts, MA)
Boston
aka Hub
(Massachusetts, MA)
Boston
aka Puritan City
(Massachusetts, MA)
Boston
aka The Hub
(Massachusetts, MA)
Bothell
aka For A Day Or A Lifetime
(Washington, WA)
Boulder
aka The People's Republic of Boulder
(Colorado, CO)
Bozeman
aka Bozone
(Montana, MT)
Braham
aka Homemade Pie Capital
(Minnesota, MN)
Breaux Bridge
aka Crayfish Capital of the World
(Louisiana, LA)
Breckenridge
aka The Kingdom of Brekenridge
(Colorado, CO)
Bridgeport
aka The Park City
(Connecticut, CT)
Brinkley
aka Home of the Ivory-billed Wood Pecker
(Arkansas, AR)
Bristol
aka Clock City
(Connecticut, CT)
Bristol
aka The Birthplace of Country Music
(Virginia, VA)
Brooklyn
aka The Borough of Trees
(New York, NY)
Brunswick
aka Home of the Worlds Largest Pecan
(Missouri, MO)
Buena Park
aka Capital of the South Land
(California, CA)
Buhl
aka Trout Capital
(Idaho, ID)
Butte
aka The Richest Hill On Earth
(Montana, MT)
Byram Township
aka The Township of Lakes
(New Jersey, NJ)
Byram Township
aka Township of Lakes
(New Jersey, NJ)
C
Calabash
aka The Graveyard of the Atlantic
(North Carolina, NC)
Caldwell
aka Kolache Capital of Texas
(Texas, TX)
Campbell
aka The Orchard City
(California, CA)
Canon
aka The Big Gun
(Georgia, GA)
Canon City
aka Climate Capital of Colorado
(Colorado, CO)
Carbondale
aka Ultimate Rocky Mountain Hideout
(Colorado, CO)
Carrboro
aka Paris of the Piedmont
(North Carolina, NC)
Carthage
aka The Maple Leaf City
(Missouri, MO)
Castroville
aka Artichoke Center of the World
(California, CA)
Cawker City
aka Home of the World's Largest Ball of Twine
(Kansas, KS)
Cedar Bluff
aka Crappie Capital of the World
(Alabama, AL)
Cedar Rapids
aka The City of Five Seasons
(Iowa, IA)
Cedaredge
aka Southern Gateway to the Grand Mesa
(Colorado, CO)
Central City
aka Richest Square Mile On Earth
(Colorado, CO)
Chandler
aka High-Tech Oasis of the Silicon Desert
(Arizona, AZ)
Charleston
aka Palmetto City
(South Carolina, SC)
Charleston
aka The Big Sweet Grass Break
(South Carolina, SC)
Chatsworth
aka San Pornando
(California, CA)
Chattanooga
aka Dynamo of Dixie
(Tennessee, TN)
Chattanooga
aka The Scenic City
(Tennessee, TN)
Cheshire
aka Bedding Plant Capital of Connecticut
(Connecticut, CT)
Chester
aka Home of Popeye
(Illinois, IL)
Chester
aka The Home of Popeye
(Illinois, IL)
Cheyenne
aka The Magic City of the Plains
(Wyoming, WY)
Chicago
aka Chi-Town
(Illinois, IL)
Chicago
aka City in a Garden
(Illinois, IL)
Chicago
aka The Second City
(Illinois, IL)
Chicago
aka The Windy City
(Illinois, IL)
Chico
aka Almond Capital of the World
(California, CA)
Chico
aka Where Everything Grows
(California, CA)
Chula Vista
aka Beautiful View
(California, CA)
Churubusco
aka Turtle Town
(Indiana, IN)
Cincinnati
aka CIN
(Ohio, OH)
Cincinnati
aka Cinci
(Ohio, OH)
Cincinnati
aka Cincy
(Ohio, OH)
Cincinnati
aka Paris of America
(Ohio, OH)
Cincinnati
aka Porkopolis
(Ohio, OH)
Cincinnati
aka The Blue Chip City
(Ohio, OH)
Cincinnati
aka The Queen of the West
(Ohio, OH)
Circleville
aka Round Town
(Ohio, OH)
Clark
aka Potato Capital of the South Dakota
(South Dakota, SD)
Clarksville
aka Gateway to the New South
(Tennessee, TN)
Clarksville
aka Tennessee's Top Spot
(Tennessee, TN)
Claxton
aka Fruitcake Capital of the World
(Georgia, GA)
Cleveland
aka America's North Coast
(Ohio, OH)
Cleveland
aka The Best Location In the Nation
(Ohio, OH)
Cleveland
aka The Mistake On the Lake
(Ohio, OH)
Clifton
aka Norwegian Capital of Texas
(Texas, TX)
Clovis
aka Gateway to the Sierra
(California, CA)
Coachella
aka City of Eternal Sunshine
(California, CA)
Coachella
aka Gateway to the Salton Sea
(California, CA)
Coconut Creek
aka Butterfly Capital of the World
(Florida, FL)
Cody
aka Rodeo Capital of the World
(Wyoming, WY)
Colonial Beach
aka Oyster Capital of Potomac
(Virginia, VA)
Colorado Springs
aka C Springs
(Colorado, CO)
Colorado Springs
aka C.Springs
(Colorado, CO)
Colorado Springs
aka Little London
(Colorado, CO)
Colorado Springs
aka Newport In the Rockies
(Colorado, CO)
Colorado Springs
aka The Springs
(Colorado, CO)
Colquitt
aka Mayhaw Capital of the World
(Georgia, GA)
Columbia
aka The Capital of Southern Hospitality
(South Carolina, SC)
Columbia
aka Mule Capital of the World
(Tennessee, TN)
Columbia
aka The Next America
(Maryland, MD)
Columbus
aka Athens of the Prairie
(Indiana, IN)
Columbus
aka C-Bus
(Ohio, OH)
Columbus
aka Somaliwood
(Ohio, OH)
Columbus
aka Test Market
(Ohio, OH)
Columbus
aka The Arch City
(Ohio, OH)
Colville
aka Washington's Most Livable City
(Washington, WA)
Concord
aka The Capital City
(New Hampshire, NH)
Concord
aka The City In A Coma
(New Hampshire, NH)
Conway
aka Home of Colleges
(Arkansas, AR)
Cooperstown
aka Birthplace of Baseball
(New York, NY)
Coral Springs
aka The City In the Country
(Florida, FL)
Cordova
aka Clam Town
(Alaska, AK)
Cordova
aka Razor Clam Capital
(Alaska, AK)
Corinth
aka Snowshoe Capital of the World
(New York, NY)
Corning
aka Olive City
(California, CA)
Corning
aka The Crystal City
(New York, NY)
Corona
aka Circle City
(California, CA)
Corona
aka The Circle City
(California, CA)
Corsicana
aka Fruit Cake Capital of the World
(Texas, TX)
Cortland
aka The Crown City
(New York, NY)
Cosmopolis
aka City of the World
(Washington, WA)
Cottonwood Heights
aka City Between the Canyons
(Utah, UT)
Cozad
aka Alfafa Capital of the World
(Nebraska, NE)
Cranford
aka The Venice of New Jersey
(New Jersey, NJ)
Crawford
aka Deer Capital of Nebraska
(Nebraska, NE)
Creede
aka There Is No Night In Creede
(Colorado, CO)
Crested Butte
aka Colorado's Last Great Ski Town
(Colorado, CO)
Crested Butte
aka Wildflower Capital of Colorado
(Colorado, CO)
Crisfield
aka Seafood Capital of the World
(Maryland, MD)
Crystal Lake
aka A Good Place to Live
(Illinois, IL)
Cut Bank
aka Coldest Spot In the Nation
(Montana, MT)
D
Dallas
aka Big D
(Dallas, TX)
Dalton
aka Carpet Capital of the World
(Georgia, GA)
Daly City
aka Gateway to the Peninsula
(California, CA)
Daly City
aka Little Manila
(California, CA)
Danbury
aka Hat City
(Connecticut, CT)
Dannebrog
aka Danish Capital of Nebraska
(Nebraska, NE)
Davis
aka People's Republic of Davis
(California, CA)
Davison
aka City of Flags
(Michigan, MI)
Dawsen
aka Spanish Peanut Capital of the World
(Georgia, GA)
Dayton
aka Birthplace of Aviation
(Ohio, OH)
Dayton
aka The Gem City
(Ohio, OH)
Decatur
aka Home of America's First Wave Pool
(Alabama, AL)
Decatur
aka The Ballooning Capital of Alabama
(Alabama, AL)
Decatur
aka The Chicago of the South
(Alabama, AL)
Deer Trail
aka Home of the World's First Rodeo
(Colorado, CO)
DeKalb
aka Barbed Wire Capital of the World
(Illinois, IL)
Deland
aka The Athens of Florida
(Florida, FL)
Delphos
aka America's Friendliest City
(Ohio, OH)
Demopolis
aka City of the People
(Alabama, AL)
Denver
aka Mile High City
(Colorado, CO)
Denville
aka Hub of Morris Country
(New Jersey, NJ)
Derby
aka Connecticuts Smallest City
(Connecticut, CT)
Derry
aka Space Town
(New Hampshire, NH)
Des Allemands
aka Catfish Capitals
(Louisiana, LA)
Des Moines
aka Hartford of the West
(Iowa, IA)
Detroit
aka Amityville
(Michigan, MI)
Detroit
aka City of the Straits
(Michigan, MI)
Detroit
aka Motor City
(Michigan, MI)
Detroit
aka Motown
(Michigan, MI)
Detroit
aka The Paris of the Midwest
(Michigan, MI)
Detroit
aka The Renaissance City
(Michigan, MI)
Dinuba
aka Raisinland
(California, CA)
Dodge City
aka Queen of the Cowtowns
(Kansas, KS)
Dodge City
aka The Wickedest Little City in America
(Kansas, KS)
Dothan
aka The Peanut Capital of the World
(Alabama, AL)
Douglas
aka City of Eagles
(Alabama, AL)
Douglas
aka Jackalope Capital of the World
(Wyoming, WY)
Dove Creek
aka Pinto Bean Capital of the World
(Colorado, CO)
Dover
aka The City that Means Well
(Delaware, DE)
Drumright
aka Town of Oil Repute
(Oklahoma, OK)
Dubach
aka Dogtrot Capital of the World
(Louisiana, LA)
Duluth
aka The Twin Ports
(Minnesota, MN)
Duluth
aka The Zenith City
(Minnesota, MN)
Duluth
aka Twin Ports
(Minnesota, MN)
Dumas
aka Home of the Ding Dong Daddy
(Arkansas, AR)
Durango
aka Durango Rocks
(Colorado, CO)
Dyersville
aka Farm Toy Capital of the World
(Iowa, IA)
E
Eagle Lake
aka Goose Hunting Capital of the World
(Texas, TX)
Eaton
aka Garden of Eaton
(Colorado, CO)
Eau Claire
aka Cherry Pit Spitting Capital of the World
(Michigan, MI)
Edgewater
aka City of Choice
(Colorado, CO)
El Dorado
aka Arkansas' Original Boomtown
(Arkansas, AR)
El Paso
aka The City With A Legend
(Texas, TX)
El Reno
aka The Onion Fried Burger of America
(Oklahoma, OK)
Elberton
aka The Granite City
(Georgia, GA)
Elgin
aka Home of the Catfish Stomp
(South Carolina, SC)
Elgin
aka Sausage Capital of Texas
(Texas, TX)
Elizabethton
aka City of Power
(Tennessee, TN)
Elk River
aka Where City and Country Flow Together
(Minnesota, MN)
Elkhart
aka RV Capital
(Indiana, IN)
Ellijay
aka Georgia's Apple Capital
(Georgia, GA)
Emerson
aka The Biggest Little Town in Arkansas
(Arkansas, AR)
Emmetsburg
aka Iowa's Irish Capital
(Iowa, IA)
Enumclaw
aka The Gateway to Mount Rainer
(Washington, WA)
Erie
aka The Flagship City
(Pennsylvania, PA)
Erwin
aka Denim Capital of the World
(North Carolina, NC)
Eufaula
aka Bas Capital of the World
(Alabama, AL)
Eugene
aka Tracktown
(Oregon, OR)
Eustis
aka The City of Bright Tomorrows
(Florida, FL)
F
Fairbanks
aka The Golden Heart City
(Alaska, AK)
Fairfield
aka Silicon Valley
(Iowa, IA)
Fairplay
aka The Real South Park
(Colorado, CO)
Fall River
aka Scholarship City
(Massachusetts, MA)
Fallbrook
aka Avocado Capital of the World
(California, CA)
Fallbrook
aka City of Youth And Ambition
(California, CA)
Fallon
aka The Oasis of Nevada
(Nevada, NV)
Farmington
aka Earmuff Capital of the World
(Maine, ME)
Fayetteville
aka Hog Country
(Arkansas, AR)
Fayetteville
aka Track Capital of the World
(Arkansas, AR)
Fayetteville
aka All American City
(North Carolina, NC)
Fayetteville
aka Fayettenam
(North Carolina, NC)
Fayetteville
aka Tar Heel Town
(North Carolina, NC)
Fayetteville
aka Torture Town
(North Carolina, NC)
Fernandina Beach
aka Sharks Tooth Capital of the World
(Florida, FL)
Flagstaff
aka City In the Pines
(Arizona, AZ)
Flagstaff
aka City of the Seven Wonders
(Arizona, AZ)
Flagstaff
aka Flag Town
(Arizona, AZ)
Flagstaff
aka The Mile-and-a-Quarter-High City
(Arizona, AZ)
Flagstaff
aka The Staff
(Arizona, AZ)
Flint
aka The Birthplace of General Motors
(Michigan, MI)
Flint
aka Vehicle City
(Michigan, MI)
Florida
aka The Onion Capital of the World
(New York, NY)
Forestville
aka Poison Oak Capital of the World
(California, CA)
Forks
aka The Logging Capital of the World
(Washington, WA)
Fort Collins
aka Fort Fun
(Colorado, CO)
Fort Collins
aka The Choice City
(Colorado, CO)
Fort Collins
aka The Napa Valley
(Colorado, CO)
Fort Dodge
aka Mineral City
(Iowa, IA)
Fort Lauderdale
aka Venice of America
(Florida, FL)
Fort Lee
aka The Birthplace of the Motion Picture Industry
(New Jersey, NJ)
Fort Myers
aka The City of Palms
(Florida, FL)
Fort Payne
aka Sock Capital of the World
(Alabama, AL)
Fort Thompson
aka Paddlefish Capital of the World
(South Dakota, SD)
Fort Valley
aka Peach Capital of Georgia
(Georgia, GA)
Fort Walton Beach
aka Billfish Capital of the World
(Florida, FL)
Fort Walton Beach
aka Emerald Coast
(Florida, FL)
Fort Wayne
aka City that Saved Itself
(Indiana, IN)
Fort Wayne
aka Summit City
(Indiana, IN)
Fort Worth
aka Cowtown
(Texas, TX)
Fort Worth
aka Panther City
(Texas, TX)
Fort Worth
aka Queen City of the Prarie
(Texas, TX)
Fort Worth
aka Where the West Begins
(Texas, TX)
Fortescue
aka Weakfish Capital of the World
(New Jersey, NJ)
Freeport
aka Pretzel City
(Illinois, IL)
Fruita
aka Home of Mike the Headless Chicken
(Colorado, CO)
G
Gainesville
aka Hogtown
(Florida, FL)
Gainesville
aka Poultry Capital of the World
(Georgia, GA)
Galilee
aka Tuna Capital of the World
(Rhode Island, RI)
Gallup
aka Drunk Driving Capital of America
(New Mexico, NM)
Galveston
aka Oleander
(Texas, TX)
Garden City
aka Cutting Horse Capital
(Kansas, KS)
Garden Grove
aka Big Strawberry
(California, CA)
Gardner
aka Furniture Capital of New England
(Massachusetts, MA)
Gary
aka City of the Century
(Indiana, IN)
Gaylord
aka The Alpind Village
(Michigan, MI)
Genoa
aka Home of the Candy Dance
(Nevada, NV)
Gilroy
aka Garlic Capital of the World
(California, CA)
Girard
aka Printing Capital of the Nation
(Kansas, KS)
Glendale
aka The Jewel City
(California, CA)
Glendive
aka Good People Surrounded By Badlands
(Montana, MT)
Goleta
aka The Good Land
(California, CA)
Gonzales
aka Jambalaya Capital of the World
(Louisiana, LA)
Gordo
aka Fat City
(Alabama, AL)
Grand Junction
aka Colorado's Wine Country
(Colorado, CO)
Grand Rapids
aka Furniture City
(Michigan, MI)
Granville
aka Slate Capital of the World
(New York, NY)
Greeley
aka James Michener's Home In the West
(Colorado, CO)
Greeley
aka Sayyid Qutb's Sodom and Gomorrah
(Colorado, CO)
Green Forest
aka Tomato Capital
(Arkansas, AR)
Green River
aka The World's Watermelon Capital
(Utah, UT)
Greenfield
aka Broccoli Capital of the World
(California, CA)
Greenville
aka The Camellia City
(Alabama, AL)
Greenville
aka Textile Capital of the World
(South Carolina, SC)
Greenwood
aka Cotton Capital of the World
(Mississippi, MS)
Gridley
aka Kiwi Fruit Capital of the World
(California, CA)
Griffin
aka Iris City
(Georgia, GA)
Grinnell
aka Jewel of the Prairie
(Iowa, IA)
Groton
aka Submarine Capital of the World
(Connecticut, CT)
Groton
aka The Submarine Capital of the World
(Connecticut, CT)
Gueydan
aka Duck Capital of the World
(Louisiana, LA)
Gulfport
aka Root Beer Capital of the World
(Mississippi, MS)
Gulfport
aka Where Your Ship Comes In
(Mississippi, MS)
H
Hacienda Heights
aka Heights
(California, CA)
Hacienda Heights
aka The Heights
(California, CA)
Hagerstown
aka Maryland's Gateway to the West
(Maryland, MD)
Haines
aka Eagle Capital of America
(Alaska, AK)
Haines City
aka The Heart of Florida
(Florida, FL)
Haleyville
aka Home of 911
(Alabama, AL)
Hamden
aka Land of the Sleeping Giant
(Connecticut, CT)
Hamilton
aka Dove Capital of Texas
(Texas, TX)
Hammondsport
aka Cradle of Aviation
(New York, NY)
Hannibal
aka The Bluff City
(Missouri, MO)
Hanover
aka Snack Capital of the World
(Pennsylvania, PA)
Hartford
aka Insurance City
(Connecticut, CT)
Hartselle
aka The City of Southern Hospitality
(Alabama, AL)
Hastings
aka Birthplace of Kool-Aid
(Nebraska, NE)
Hastings
aka Queen City of the Plains
(Nebraska, NE)
Hatch
aka Chili Pepper of the World
(New Mexico, NM)
Haverstraw
aka Bricktown
(New York, NY)
Haysville
aka Peach Capital of Kansas
(Kansas, KS)
Helena
aka Queen City of the Rockies
(Montana, MT)
Hercules
aka The Dynamic City On the Bay
(California, CA)
Hershey
aka Chocolate Capital of the World
(Pennsylvania, PA)
Hershey
aka Chocolate Town
(Pennsylvania, PA)
Hershey
aka The Sweetest Place On Earth
(Pennsylvania, PA)
Hialeah
aka City of Progress
(Florida, FL)
High Point
aka Furniture Capital of the World
(North Carolina, NC)
Holtville
aka The Carrot Capital of the World
(California, CA)
Holyoke
aka Paper City
(Massachusetts, MA)
Homer
aka Halibut Capital of the World
(Alaska, AK)
Honaker
aka Redbud Capital of the World
(Virginia, VA)
Honolulu
aka The Big Pineapple
(Hawaii, HI)
Hot Springs
aka Spa City
(Arkansas, AR)
Houston
aka Bayou City
(Texas, TX)
Houston
aka H Town
(Texas, TX)
Houston
aka H-Town
(Texas, TX)
Houston
aka Space City
(Texas, TX)
Hueytown
aka Home of the Alabama Gang
(Alabama, AL)
Huntington Beach
aka Surf City
(California, CA)
Huntley
aka Friendly Village With Country Charm
(Illinois, IL)
Huntley
aka The Friendly Village With Country Charm
(Illinois, IL)
Huntsville
aka Huntsvegas
(Alabama, AL)
Huntsville
aka The Rocket City
(Alabama, AL)
Huntsville
aka Watercress Capital of the World
(Alabama, AL)
Huntsville
aka Execution Capital of the World
(Texas, TX)
Huntsville
aka Prison City of Texas
(Texas, TX)
I
Ilwaco
aka By Land Or By Sea
(Washington, WA)
Independance
aka Where the Trails Start and the Buck Stops
(Missouri, MO)
Indiana
aka Christmas Tree Capital of the World
(Pennsylvania, PA)
Indianapolis
aka Circle City
(Indiana, IN)
Indianapolis
aka Indy
(Indiana, IN)
Indianapolis
aka Naptown
(Indiana, IN)
Indianapolis
aka Railroad City
(Indiana, IN)
Indio
aka Date Capital of the World
(California, CA)
Inola
aka Hay Capital of the World
(Oklahoma, OK)
International Falls
aka Icebox of the United States
(Minnesota, MN)
International Falls
aka The Icebox of the United States
(Minnesota, MN)
J
Jackson
aka Birthplace of the Republican Party
(Michigan, MI)
Jackson
aka Chimneyville
(Mississippi, MS)
Jackson
aka City With Soul
(Mississippi, MS)
Jacksonville
aka Gem of the Hill
(Alabama, AL)
Jacksonville
aka Bold New City of the South
(Florida, FL)
Jacksonville
aka Jax
(Florida, FL)
Jacksonville
aka Where Florida Begins
(Florida, FL)
Jamestown
aka The Buffalo City
(North Dakota, ND)
Jasper
aka Elk Capital of Arkansas
(Arkansas, AR)
Jennings
aka Czech Us Out
(Kansas, KS)
Jennings
aka Cradle of Louisiana Oil
(Louisiana, LA)
Jerome
aka America's Most Vertical City
(Arizona, AZ)
Jersey City
aka The Sixth Borough
(New Jersey, NJ)
Jersey City
aka Wall Street West
(New Jersey, NJ)
Johnson City
aka Little Chicago of the South
(Tennessee, TN)
Johnstown
aka The Flood City
(Pennsylvania, PA)
Joliet
aka City of Champions
(Illinois, IL)
Joliet
aka City of Steel
(Illinois, IL)
Joliet
aka City of Stone
(Illinois, IL)
Jonesboro
aka The City of Churches
(Arkansas, AR)
Jonesboro
aka The Crepe Myrtle City
(Arkansas, AR)
Jonesborough
aka Tennessee's Oldest Town
(Tennessee, TN)
Juneau
aka Capital of Alaska
(Alaska, AK)
Juneau
aka City of Best
(Alaska, AK)
Juneau
aka New York of Alaska
(Alaska, AK)
K
Kalamazoo
aka Bedding Plant Capital of the World
(Michigan, MI)
Kalamazoo
aka Celery City
(Michigan, MI)
Kalamazoo
aka Mall City
(Michigan, MI)
Kalamazoo
aka The Paper City
(Michigan, MI)
Kalispell
aka Hub of the Valley
(Montana, MT)
Kannapolis
aka City of Looms
(North Carolina, NC)
Kansas City
aka Heart of America
(Kansas, KS)
Kansas City
aka BBQ Capital of the World
(Missouri, MO)
Kansas City
aka City of Fountains
(Missouri, MO)
Kansas City
aka Jazz Capital of the World
(Missouri, MO)
Kansas City
aka Killa City
(Missouri, MO)
Kansas City
aka Paris of the Plains
(Missouri, MO)
Kaufman
aka Red Tail Hawk Capital
(Texas, TX)
Keansburg
aka Gem of Bayshore
(New Jersey, NJ)
Keene
aka Elm City
(New Hampshire, NH)
Keizer
aka Iris Capital of the World
(Oregon, OR)
Kelso
aka City of Friendly People
(Washington, WA)
Kenai
aka The Village With A Past the City With A Future
(Alaska, AK)
Kennesaw
aka K Town
(Georgia, GA)
Kennesaw
aka K-Town
(Georgia, GA)
Kent
aka The Tree City
(Ohio, OH)
Keokuk
aka Gate City
(Iowa, IA)
Ketchikan
aka King Salmon Capital of the World
(Alaska, AK)
Kewanee
aka Hog Capital of the World
(Illinois, IL)
Kingman
aka Heart of Route 66
(Arizona, AZ)
Kingsville
aka Gem City of the South West
(Texas, TX)
Kirkland
aka Gateway to Seattle
(Washington, WA)
Kirkwood
aka The Green Tree City
(Missouri, MO)
Kirwin
aka Goose Capital
(Kansas, KS)
Knik
aka Dog-Mushing Center of the World
(Alaska, AK)
Kodiak
aka King Crab Capital
(Alaska, AK)
L
Lafayatte
aka The Heart of Acadiana
(Louisiana, LA)
Lake Benton
aka Windpower Capital
(Minnesota, MN)
Lake Oswego
aka Lake No-Negro
(Oregon, OR)
Laramie
aka Gem City of the Plains
(Wyoming, WY)
Las Vegas
aka Gambling Capital of the World
(Nevada, NV)
Las Vegas
aka Glitter Gulch
(Nevada, NV)
Las Vegas
aka Lost Wages
(Nevada, NV)
Las Vegas
aka Sin City
(Nevada, NV)
Le Mars
aka Ice cream Capital of the World
(Iowa, IA)
Lebanon
aka Appalachian Square Dance Capital of the World
(Tennessee, TN)
Lecompte
aka Pie Capital of Louisiana
(Louisiana, LA)
Lenoir City
aka Lakeway to the Smokies
(Tennessee, TN)
Leola
aka Rhubarb Capital of the World
(South Dakota, SD)
Leoti
aka Pinto Bean Capital of the World
(Kansas, KS)
Lewes
aka First Town In the First State
(Delaware, DE)
Lexington
aka Horse Capital of the World
(Kentucky, KY)
Lexington
aka The Birthplace of American Liberty
(Massachusetts, MA)
Liberal
aka The Land of Oz
(Kansas, KS)
Limon
aka The Hub City of the Plains
(Colorado, CO)
Lincoln
aka The Motorsports City
(Alabama, AL)
Lincoln
aka Hartford of the West
(Nebraska, NE)
Lindsborg
aka Little Sweden
(Kansas, KS)
Lithonia
aka City of Granite
(Georgia, GA)
Little Rock
aka River City
(Arkansas, AR)
Lockport
aka Lockport City
(New York, NY)
Lodi
aka Tokay Grape Capital of the World
(California, CA)
Lombard
aka The Lilac Village
(Illinois, IL)
Lompac
aka Flower Seed Capital of the World
(California, CA)
Long Beach
aka The International City
(California, CA)
Long Branch
aka America's First Seaside Resort
(New Jersey, NJ)
Los Angeles
aka City of Angels
(California, CA)
Los Angeles
aka City of Flowers And Sunshine
(California, CA)
Los Angeles
aka La-La Land
(California, CA)
Los Angeles
aka The Big Orange
(California, CA)
Los Angeles
aka The Entertainment Capital of the World
(California, CA)
Los Angeles
aka Tinseltown
(California, CA)
Louisville
aka The Fall City
(Kentucky, KY)
Louisville
aka The Ville
(Kentucky, KY)
Loup City
aka Polish Capital of Nebraska
(Nebraska, NE)
Lowell
aka A Town with a Past
( A City with a Future,Arkansas, AR)
Lowell
aka City of Spindles
(Massachusetts, MA)
Lynchburg
aka City of the Seven Hills
(Virginia, VA)
Lynchburg
aka The Hill City
(Virginia, VA)
M
Machester
aka ManchVega
(New Hampshire, NH)
Madison
aka Where Progress Meets Preservation
(Alabama, AL)
Madison
aka The Rose City
(New Jersey, NJ)
Madison
aka Mad City
(Wisconsin, WI)
Maggie Valley
aka Clogging Capital of the World
(North Carolina, NC)
Malvern
aka Brick Capital of the World
(Arkansas, AR)
Manchester
aka Silk City
(Connecticut, CT)
Manhattan
aka The Little Apple
(Kansas, KS)
Mannford
aka Striped Bass Capital
(Oklahoma, OK)
Marysville
aka Gateway to the Gold Fields
(California, CA)
Marysville
aka Black Squirrel Capital
(Kansas, KS)
Matton
aka Bagel Capital of the World
(Illinois, IL)
McAllen
aka Square Dance Capital of the World
(Texas, TX)
McAllen
aka The Texas Tropics
(Texas, TX)
McCloud
aka Blackberry Capital of the World
(California, CA)
McMinnville
aka Nursery Capital of the World
(Tennessee, TN)
Medfield
aka The Whitest Town On Earth
(Massachusetts, MA)
Melbourne
aka The Harbor City
(Florida, FL)
Memphis
aka Barbecued Pork Capital of the World
(Tennessee, TN)
Memphis
aka Birthplace of Rock'n Roll
(Tennessee, TN)
Memphis
aka Bluff City
(Tennessee, TN)
Memphis
aka Home of the Blues
(Tennessee, TN)
Merced
aka Gateway to Yosemite
(California, CA)
Meredith
aka Latchkey to the White Mountains
(New Hampshire, NH)
Meriden
aka Silver City
(Connecticut, CT)
Merseilles
aka Best Little City By A Dam Site
(Illinois, IL)
Mesick
aka Mushroom Capital of the World
(Michigan, MI)
Metropolis
aka Home of Superman
(Illinois, IL)
Metropolis
aka The Home of Superman
(Illinois, IL)
Midlothian
aka Cement And Steel Capital of Texas
(Texas, TX)
Milpitas
aka Crossroads of Silicon Valley
(California, CA)
Milton-Freewater
aka Muddy Frogwater Country
(Oregon, OR)
Milwaukee
aka Brew City
(Wisconsin, WI)
Milwaukee
aka Cream City
(Wisconsin, WI)
Minneapolis
aka City of Flour And Sawdust
(Minnesota, MN)
Minneapolis
aka City of Lakes
(Minnesota, MN)
Minneapolis
aka First City of the West
(Minnesota, MN)
Minneapolis
aka Mill City
(Minnesota, MN)
Minneapolis
aka Murderapolis
(Minnesota, MN)
Minneapolis
aka The Mini Apple
(Minnesota, MN)
Mishawaka
aka Peppermint Capital of the World
(Indiana, IN)
Mishawaka
aka Princess City
(Indiana, IN)
Missoula
aka The Garden City
(Montana, MT)
Mobile
aka The Azalea City
(Alabama, AL)
Mobile
aka The City of Six Flags
(Alabama, AL)
Mobile
aka The Home of Mardi Gras
(Alabama, AL)
Modesto
aka Water Wealth Contentment Health
(California, CA)
Moline
aka Plow Capital of the World
(Illinois, IL)
Monterey
aka The Cradle of History
(California, CA)
Montgomery
aka Capital of the South
(Alabama, AL)
Montgomery
aka The Cradle of the Confederacy
(Alabama, AL)
Montgomery
aka Kolacky Capital of the World
(Minnesota, MN)
Monticello
aka Little Mountain
(Minnesota, MN)
Mount Ida
aka Quartz Crystal Capital of the World
(Arkansas, AR)
Mount Pleasant
aka Bass Capital of Texas
(Texas, TX)
Mountain Iron
aka Taconite Capital of the World
(Minnesota, MN)
Mountain View
aka Folk Music Capital of the World
(Arkansas, AR)
Muskegon
aka Lumber Queen of the World
(Michigan, MI)
Muskegon
aka Port City
(Michigan, MI)
Muskegon
aka The Beer Tent Capital of the World
(Michigan, MI)
Muskegon
aka The Riviera of the Midwest
(Michigan, MI)
N
Naperville
aka Golden City
(Illinois, IL)
Naperville
aka The Golden City
(Illinois, IL)
Nashua
aka The Gate City
(New Hampshire, NH)
Nashville
aka Peach Capital
(Arkansas, AR)
Nashville
aka Athens of the South
(Tennessee, TN)
Nashville
aka City of Rocks
(Tennessee, TN)
Nashville
aka Music City
(Tennessee, TN)
Nashville
aka The Athens of the South
(Tennessee, TN)
Nashville
aka The Protestant Vatican
(Tennessee, TN)
Naugatauk
aka Rubber City
(Connecticut, CT)
Nederland
aka Home of the Frozen Dead Guy
(Colorado, CO)
Neosho
aka Flower Box City
(Missouri, MO)
New Britain
aka Hard-hittin' New Britain
(Connecticut, CT)
New Britain
aka Hardware City
(Connecticut, CT)
New Brunswick
aka Health Care City
(New Jersey, NJ)
New Castle
aka Fireworks Capital
(Pennsylvania, PA)
New London
aka The Whaling City
(Connecticut, CT)
New Orleans
aka America�s Most European City
(Louisiana, LA)
New Orleans
aka America's European Masterpiece
(Louisiana, LA)
New Orleans
aka America's Favorite City
(Louisiana, LA)
New Orleans
aka America's International City
(Louisiana, LA)
New Orleans
aka America's Most Interesting City
(Louisiana, LA)
New Orleans
aka Birthplace of Jazz
(Louisiana, LA)
New Orleans
aka City of Festivals
(Louisiana, LA)
New Orleans
aka City of Mystery
(Louisiana, LA)
New Orleans
aka City of the Chefs
(Louisiana, LA)
New Orleans
aka Mardi Gras City
(Louisiana, LA)
New Orleans
aka Paris of the South
(Louisiana, LA)
New Orleans
aka Queen City of the South
(Louisiana, LA)
New Orleans
aka Saint City
(Louisiana, LA)
New Orleans
aka Super Bowl City
(Louisiana, LA)
New Orleans
aka The Big Easy
(Louisiana, LA)
New Orleans
aka The City that Care Forgot
(Louisiana, LA)
New Orleans
aka The Crescent City
(Louisiana, LA)
New Orleans
aka The Gateway to the Americas
(Louisiana, LA)
New Orleans
aka The Paris of Americas
(Louisiana, LA)
New Orleans
aka The Queen of the Mississippi
(Louisiana, LA)
New Rochelle
aka Queen City of the Sound
(New York, NY)
New Rochelle
aka The City of Huguenots
(New York, NY)
New Rochelle
aka The City of Parks
(New York, NY)
New York
aka Empire City
(New York, NY)
New York
aka Gotham
(New York, NY)
New York
aka Manhattan
(New York, NY)
New York
aka NY
(New York, NY)
New York
aka NYC
(New York, NY)
New York
aka The Big Apple
(New York, NY)
New York
aka The Capital of the World
(New York, NY)
New York
aka The City So Nice They Named It Twice
(New York, NY)
New York
aka The City that Never Sleeps
(New York, NY)
Newark
aka Brick City
(New Jersey, NJ)
Newberry
aka Moose Capital of Michigan
(Michigan, MI)
Newburyport
aka Clipper City
(Massachusetts, MA)
Newman
aka City of Homes
(Georgia, GA)
Newport
aka America's First Resort
(Rhode Island, RI)
Newport
aka Sailing Capital of the World
(Rhode Island, RI)
Niagara Falls
aka Cataract City
(New York, NY)
Niles
aka Garden City
(Michigan, MI)
Niles
aka The City of Four Flags
(Michigan, MI)
Norco
aka Horse Town
(California, CA)
Norman
aka Football Town
(Oklahoma, OK)
North Adams
aka The Tunnel City
(Massachusetts, MA)
North Loup
aka Popcorn Capital
(Nebraska, NE)
North Tonawanda
aka Lumber City
(New York, NY)
Northampton
aka Hamp
(Massachusetts, MA)
Northampton
aka Noho
(Massachusetts, MA)
Northfield
aka Cows
( Colleges and Contentment ,Minnesota, MN)
Norton
aka Pheasant Capital of Kansas
(Kansas, KS)
Norwich
aka Rose City
(Connecticut, CT)
O
Oak Ridge
aka America's Secret City
(Tennessee, TN)
Oak Ridge
aka The Atomic City
(Tennessee, TN)
Oakland
aka Bright Side of the Bay
(California, CA)
Oakland
aka Detroit of the West
(California, CA)
Oakland
aka O Town
(California, CA)
Oakland
aka Oaktown
(California, CA)
Oakland
aka O-Town
(California, CA)
Oakland
aka Swedish Capital of Nebraska
(Nebraska, NE)
Ocean City
aka A Moral Seaside Resort
(New Jersey, NJ)
Ocean City
aka America's Greatest Family Resort
(New Jersey, NJ)
Ocoee
aka The Center of Good Living
(Florida, FL)
Ogdensburg
aka The Maple City
(New York, NY)
Ogdensburg
aka The New York of the North
(New York, NY)
Okeechobee
aka Speckled Perch Capital of the World
(Florida, FL)
Olathe
aka Cowboy of Boot Capital
(Kansas, KS)
Omaha
aka Rare Well Done
(Nebraska, NE)
Omaha
aka The Big O
(Nebraska, NE)
Onaway
aka Sturgeon Capital of Michigan
(Michigan, MI)
O'Neill
aka Nebraska's Irish Capital
(Nebraska, NE)
Orem
aka Family City USA
(Utah, UT)
Orlando
aka City Beautiful
(Florida, FL)
Orlando
aka The City Beautiful
(Florida, FL)
Ormond Beach
aka Birthplace of Speed
(Florida, FL)
Oroville
aka City of Gold
(California, CA)
Ouray
aka Switzerland of America
(Colorado, CO)
Owensboro
aka Babecued Mutton Capital of the World
(Kentucky, KY)
Oxford
aka The Literary Center of the South
(Mississippi, MS)
Oxford
aka The Little Easy
(Mississippi, MS)
Oxnard
aka Lima Bean Capital of the World
(California, CA)
Ozark
aka The Home of Fort Rucker
(Alabama, AL)
P
Pacifica
aka Fog Capital of the World
(California, CA)
Paducah
aka Quilt City
(Kentucky, KY)
Palisade
aka Peach Capital of Colorado
(Colorado, CO)
Palm Springs
aka Golf Capital of the World
(California, CA)
Palmdale
aka The Aerospace Capital of America
(California, CA)
Panama City Beach
aka The Worlds Most Beautiful Beaches
(Florida, FL)
Parsons
aka Purple Martin Capital
(Kansas, KS)
Pasadena
aka City of Roses
(California, CA)
Pawtucket
aka The Bucket
(Rhode Island, RI)
Peabody
aka Leather City
(Massachusetts, MA)
Pearsonville
aka Hubcap Capital of the World
(California, CA)
Pekin
aka Celestial City
(Illinois, IL)
Pekin
aka Marigold Capital of the World
(Illinois, IL)
Pensacola
aka City of Five Flags
(Florida, FL)
Peoria
aka Whiskeytown
(Illinois, IL)
Peru
aka Circus Capital of the World
(Indiana, IN)
Phelps
aka Sauerkraut
(New York, NY)
Philadelphia
aka City of Brotherly Love
(Pennsylvania, PA)
Philadelphia
aka City of Homes
(Pennsylvania, PA)
Philadelphia
aka Pilly
(Pennsylvania, PA)
Philadelphia
aka Quaker City
(Pennsylvania, PA)
Philadelphia
aka The Big Scrapple
(Pennsylvania, PA)
Pikeville
aka The City that Moves Mountains
(Kentucky, KY)
Pittsburg
aka Fried Chicken Capital
(Kansas, KS)
Pittsburgh
aka Birmingham of America
(Pennsylvania, PA)
Pittsburgh
aka Iron City
(Pennsylvania, PA)
Pittsburgh
aka The Burgh
(Pennsylvania, PA)
Pittsburgh
aka The Smoky City
(Pennsylvania, PA)
Pittsburgh
aka The Steel City
(Pennsylvania, PA)
Placerville
aka Hangtown
(California, CA)
Plano
aka Play No Games
(Texas, TX)
Plant City
aka Winter Strawberry Capital of the World
(Florida, FL)
Plymouth
aka America'a Hometown
(Massachusetts, MA)
Pocatello
aka Poky
(Idaho, ID)
Port Clinton
aka Walleye Capital of the World
(Ohio, OH)
Port Gibson
aka The Town Too Beautiful to Burn
(Mississippi, MS)
Portland
aka Bridgetown
(Oregon, OR)
Portland
aka Stumptown
(Oregon, OR)
Pratville
aka The Fountain City
(Alabama, AL)
Pratville
aka The Preferred City
(Alabama, AL)
Presque Isle
aka The Star City
(Maine, ME)
Preston
aka America's Trout Capital
(Minnesota, MN)
Providence
aka America's Renaissance City
(Rhode Island, RI)
Providence
aka Beehive of Industry
(Rhode Island, RI)
Provincetown
aka Like Nowhere Else
(Massachusetts, MA)
Pueblo
aka Home of Heroes
(Colorado, CO)
Pueblo
aka Pride City
(Colorado, CO)
Pueblo
aka Steel City of the West
(Colorado, CO)
Punxsutawney
aka Weather Capital of the World
(Pennsylvania, PA)
Q
Quincy
aka Gem City
(Illinois, IL)
Quinter
aka Half Mile High City
(Kansas, KS)
Quitman
aka Big Brass Capital of Texas
(Texas, TX)
R
Radford
aka The New River City
(Virginia, VA)
Raleigh
aka The City of Oaks
(North Carolina, NC)
Randolph
aka Honey Capital of the Nation
(Nebraska, NE)
Rapid City
aka Gateway to the Black Hills
(South Dakota, SD)
Rapid City
aka Real. America. Up Close
(South Dakota, SD)
Rapid City
aka Star of the West
(South Dakota, SD)
Ray
aka Grain Palace City
(North Dakota, ND)
Rayne
aka Frog Capital of the World
(Louisiana, LA)
Reading
aka Baseballtown
(Pennsylvania, PA)
Reading
aka Pretzel Capital of the World
(Pennsylvania, PA)
Redmond
aka Bicycle Capital of the Northwest
(Washington, WA)
Redwood City
aka Climate Best By Government Test
(California, CA)
Redwood City
aka Deadwood City
(California, CA)
Reedley
aka The World's Fruit Basket
(California, CA)
Rehoboth Beach
aka The Nation's Summer Capital
(Delaware, DE)
Renfro Valley
aka Kentucky's Country Music Capital
(Kentucky, KY)
Reno
aka The Biggest Little City In the World
(Nevada, NV)
Reno
aka The Neon Babylon
(Nevada, NV)
Rhineback
aka Anemone Capital of the World
(New York, NY)
Roanoke
aka Star City of the North
(Virginia, VA)
Rochester
aka Lilac City
(New Hampshire, NH)
Rochester
aka Ra-Cha-Cha
(New York, NY)
Rochester
aka The Flour City
(New York, NY)
Rochester
aka The Flower City
(New York, NY)
Rochester
aka Young Lion of the West
(New York, NY)
Rockland
aka Lobster Capital of the World
(Maine, ME)
Roscoe
aka Trout Town
(New York, NY)
Roselawn
aka Naked City
(Indiana, IN)
Roswell
aka Alien Capital of the World
(New Mexico, NM)
Rumney
aka Crutch Capital of the World
(New Hampshire, NH)
Russell Springs
aka Cow Chip Capital of Kansas
(Kansas, KS)
S
Sacramento
aka Almond Capital
(California, CA)
Sacramento
aka Big Tamato
(California, CA)
Sacramento
aka Camellia
(California, CA)
Sacramento
aka Sacraotomato
(California, CA)
Sacramento
aka Sacto
(California, CA)
Sacramento
aka Sactown
(California, CA)
Saint Paul
aka Pig's Eye
(Minnesota, MN)
Saint Paul
aka Saintly City
(Minnesota, MN)
Salem
aka City of Witches
(Massachusetts, MA)
Salem
aka The Witch City
(Massachusetts, MA)
Salem
aka Charcoal Capital of the World
(Missouri, MO)
Salem
aka Gateway to New Hampshire
(New Hampshire, NH)
Salem
aka The Cherry City
(Oregon, OR)
Salina
aka Heart of Kansas
(Kansas, KS)
Salina
aka Smoky Hill River City
(Kansas, KS)
Salinas
aka Lettuce Capital of the World
(California, CA)
Salt Lake City
aka City of the Saints
(Utah, UT)
Salt Lake City
aka Crossroads of the West
(Utah, UT)
San Angelo
aka Queen City of Central West Texas
(Texas, TX)
San Angelo
aka Texas' Biggest Small Town
(Texas, TX)
San Angelo
aka The End of the Rainbow
(Texas, TX)
San Angelo
aka Wool Capital
(Texas, TX)
San Diego
aka America's Finest City
(California, CA)
San Diego
aka City In Motion
(California, CA)
San Diego
aka Plymouth of the West
(California, CA)
San Diego
aka Silicon Beach
(California, CA)
San Francisco
aka Baghdad By the Bay
(California, CA)
San Francisco
aka Everybody's Favorite City
(California, CA)
San Francisco
aka Fog City
(California, CA)
San Francisco
aka Frisco
(California, CA)
San Francisco
aka Golden City
(California, CA)
San Francisco
aka The City By the Bay
(California, CA)
San Francisco
aka The City that Knows How
(California, CA)
San Francisco
aka The Golden Gate City
(California, CA)
San Jose
aka The Capital of Silicon Valley
(California, CA)
Sandersville
aka Kaolin Capital of the World
(Georgia, GA)
Sanger
aka Christmas Tree City
(California, CA)
Sansom Park
aka City On the Move
(Texas, TX)
Santa Cruz
aka Surf City
(California, CA)
Santa Fe
aka The Different City
(New Mexico, NM)
Santa Monica
aka Dogtown
(California, CA)
Santa Monica
aka Home of the Homeless
(California, CA)
Santa Monica
aka People's Republic of Santa Monica
(California, CA)
Santa Monica
aka Soviet Monica
(California, CA)
Santa Paula
aka Citrus Capital of the World
(California, CA)
Santa Rosa
aka The Scuba Capital of the Northwest
(New Mexico, NM)
Sarasota
aka Paradise
(Florida, FL)
Saratoga
aka Where the Trout Leap In the Main Street
(Wyoming, WY)
Saratoga Springs
aka The Spa City
(New York, NY)
Savannah
aka Turf Grass Capital of the World
(Georgia, GA)
Schenectady
aka Electric City
(New York, NY)
Schenectady
aka The City that Lights And Hauls the World
(New York, NY)
Scottsdale
aka The West's Most Western Town
(Arizona, AZ)
Seaford
aka The Nylon Capital of the World
(Delaware, DE)
Seaside Heights
aka Your Home For Family Fun
(New Jersey, NJ)
Seattle
aka City of Flowers
(Washington, WA)
Seattle
aka Emerald City
(Washington, WA)
Seattle
aka Jet City
(Washington, WA)
Sedalia
aka The Queen City of the Prairie
(Missouri, MO)
Sedona
aka Red Rock Country
(Arizona, AZ)
Selma
aka Raisin Capital of the World
(California, CA)
Senatobia
aka The Five Star City
(Mississippi, MS)
Severance
aka Where the Geese Fly And the Bulls Cry
(Colorado, CO)
Seward
aka Nebraska's 4th of July City
(Nebraska, NE)
Shelbyville
aka Pencil City
(Tennessee, TN)
Shelbyville
aka Walking Horse Capital of the World
(Tennessee, TN)
Show Low
aka Named for the Turn of a Card
(Arizona, AZ)
Sierra Vista
aka Hummingbird Capital of the United States
(Arizona, AZ)
Siloam Springs
aka City of fountains and parks and bridges
(Arkansas, AR)
Sioux Falls
aka Gateway to the Plains
(South Dakota, SD)
Sitka
aka First City of Alaska
(Alaska, AK)
Sitka
aka Natural Place to Visit
(Alaska, AK)
Sitka
aka The Natural Place to Visit
(Alaska, AK)
Slocomb
aka The Tomato Capital of the World
(Alabama, AL)
Smith River
aka Lily Growing Capital of the World
(California, CA)
Soldiers Grove
aka America's First Solar Village
(Wisconsin, WI)
Solvang
aka Danish Capital of America
(California, CA)
Solvang
aka The Industrial City
(California, CA)
Somerville
aka Slummerville
(Massachusetts, MA)
Speedway
aka Racing Capital of the World
(Indiana, IN)
Spencer
aka Opal Capital of the World
(Idaho, ID)
Spokane
aka Spoklahoma
(Washington, WA)
Spokane
aka Spotucky
(Washington, WA)
Spokane
aka The Lilac City
(Washington, WA)
Spring Lake
aka The Irish Riveria
(New Jersey, NJ)
Springfield
aka Flower City
(Illinois, IL)
Springfield
aka Birthplace to Basketball
(Massachusetts, MA)
Springfield
aka Birthplace of Route 66
(Missouri, MO)
Springfield
aka Queen City of the Ozarks
(Missouri, MO)
Springville
aka Art City
(Utah, UT)
St. Albans
aka Rail City
(Vermont, VT)
St. Cloud
aka Cloudy
(Minnesota, MN)
St. Cloud
aka Granite City
(Minnesota, MN)
St. Louis
aka Gateway to the West
(Missouri, MO)
St. Louis
aka Mound City
(Missouri, MO )td>
St. Louis
aka The Lou
(Missouri, MO)
St. Martinville
aka Birthplace of Acadiana
(Louisiana, LA)
St. Petersburg
aka Always In Season
(Florida, FL)
St. Petersburg
aka St. Pete
(Florida, FL)
St. Petersburg
aka Sunshine City
(Florida, FL)
St.Louis Park
aka St. Jewish Park
(Minnesota, MN)
Stamford
aka Lock City
(Connecticut, CT)
Staten Island
aka The Borough of Parks
(New York, NY)
Staten Island
aka The Forgotten Borough
(New York, NY)
Steamboat Springs
aka Ski Town USA
(Colorado, CO)
Steamboat Springs
aka The Boat
(Colorado, CO)
Sterling
aka A Colorado Treasure
(Colorado, CO)
Stilwell
aka Strawberry Capital
(Oklahoma, OK)
Stockton
aka Asparagus Capital of the World
(California, CA)
Strong
aka Toothpick Capital of the World
(Maine, ME)
Strongsville
aka Crossroads of the Nation
(Ohio, OH)
Stuttgart
aka Rice and Duck Capital of the World
(Arkansas, AR)
Sugar Land
aka The 281
(Texas, TX)
Sugar Land
aka The Shug
(Texas, TX)
Sugarcreek
aka The Little Switzerland of Ohio
(Ohio, OH)
Summer
aka Wild Goose Capital of the World
(Missouri, MO)
Summerdale
aka The Sunshine City
(Alabama, AL)
Sumner
aka Rhurbarb Pie Capital
(Washington, WA)
Sun Prairie
aka The Ground Hog Capital of the World
(Wisconsin, WI)
Sunnyvale
aka The Heart of Silicon Valley
(California, CA)
Syracuse
aka Salt City
(New York, NY)
T
Tacoma
aka The City of Destiny
(Washington, WA)
Takoma Park
aka Azalea City
(Maryland, MD)
Talent
aka Our Name Speaks For Itself
(Oregon, OR)
Tallahassee
aka Tally
(Florida, FL)
Tampa
aka America's Next Greatest City
(Florida, FL)
Tampa
aka Big Guava
(Florida, FL)
Tampa
aka Cigar Capital of the World
(Florida, FL)
Tampa
aka Cigar City
(Florida, FL)
Tampa
aka Lightning Capital of the World
(Florida, FL)
Tampa
aka The Big Guava
(Florida, FL)
Taos
aka Soul of the Southwest
(New Mexico, NM)
Tarpon Springs
aka Sponge Capital of the World
(Florida, FL)
Tauton
aka Silver City
(Massachusetts, MA)
Tauton
aka The Christmas City
(Massachusetts, MA)
Tauton
aka The Silver City
(Massachusetts, MA)
Telluride
aka To-hell-you-ride
(Colorado, CO)
Teringua
aka Chili Capital of the World
(Texas, TX)
Terre Haute
aka Crossroads of America
(Indiana, IN)
Terre Haute
aka Pittsburgh of the West
(Indiana, IN)
Terre Haute
aka Prairie City
(Indiana, IN)
Terre Haute
aka Queen City of the Wabash
(Indiana, IN)
Texarkana
aka Twice as Nice
(Arkansas, AR)
The Colony
aka City By the Lake
(Texas, TX)
Thomasville
aka Chair City
(North Carolina, NC)
Thomson
aka The Melon Capital of Thw World
(Illinois, IL)
Toledo
aka Corn City
(Ohio, OH)
Tombstone
aka The Town Too Tough to Die
(Arizona, AZ)
Towner
aka Cattle Capital of North Dakota
(North Dakota, ND)
Troy
aka The Collar City
(New York, NY)
Tulsa
aka Oil Capital of the World
(Oklahoma, OK)
Tuscaloosa
aka The Druid City
(Alabama, AL)
Tuscon
aka The Old Pueblo
(Arizona, AZ)
Tuscon
aka The Sunshine Factory
(Arizona, AZ)
Tuskegee
aka The Pride of the Swift-Growing South
(Alabama, AL)
Tyler
aka Rose Capital of the World
(Texas, TX)
V
Valdosta
aka Title Town
(Georgia, GA)
Valley City
aka Frog Jump Capital of Ohio
(Ohio, OH)
Valparaiso
aka Vale of Paradise
(Indiana, IN)
Vicksburg
aka Red Carpet City of the South
(Mississippi, MS)
Vicksburg
aka Take Me to the River
(Mississippi, MS)
Vicksburg
aka The Gibraltar of America
(Mississippi, MS)
Victoria
aka The Crossroads of South Texas
(Texas, TX)
Vidalia
aka Sweet Onion Capital of the World
(Georgia, GA)
Vineland
aka Dandelion Capital of the World
(New Jersey, NJ)
W
Waco
aka The Buckle of the Bible Belt
(Texas, TX)
Walla Walla
aka The City Was So Nice They Named It Twice
(Washington, WA)
Wallace
aka Silver Capital of the World
(Idaho, ID)
Waltham
aka Watch City
(Massachusetts, MA)
Warrensburg
aka Burg
(Missouri, MO)
Warrensburg
aka The Burg
(Missouri, MO)
Warsaw
aka Orthopedic Capital of the World
(Indiana, IN)
Wartrace
aka Cradle of the Tennessee Walking Horse
(Tennessee, TN)
Warwick
aka The Grits Capital of Georgia
(Georgia, GA)
Warwick
aka Crossroads of Rhode Island
(Rhode Island, RI)
Wasco
aka Rose Growing Capital of the World
(California, CA)
Washington
aka Corn Cob Pipe Capital of the World
(Missouri, MO)
Waterbury
aka The Brass City
(Connecticut, CT)
Waterville
aka The University City of Maine
(Maine, ME)
Waynesboro
aka Bird Dog Capital of the World
(Georgia, GA)
Waynesville
aka Antique Capital of the Midwest
(Ohio, OH)
Weatherford
aka Cutting Horse Capital of the World
(Texas, TX)
Weatherford
aka Peach Capital of the World
(Texas, TX)
Weirton
aka Forged By Steel
(West Virginia, WV)
Weirton
aka Nail City
(West Virginia, WV)
Wellington
aka Wheat Capital of the World
(Kansas, KS)
West Haven
aka Connecticuts Friendliest City
(Connecticut, CT)
Westfield
aka The Whip City
(Massachusetts, MA)
Westfield
aka Grape Juice Capital of the World
(New York, NY)
Wetumpka
aka Rumbling Waters
(Alabama, AL)
Wichita
aka Air Capital of the World
(Kansas, KS)
Wickenburg
aka Dude Ranch Capital of the World
(Arizona, AZ)
Wickenburg
aka The Dude Ranch Capital of the World
(Arizona, AZ)
Willard
aka City of Bolssoms
(Ohio, OH)
Williamsburg
aka The Berg
(Virginia, VA)
Williamsburg
aka The Colonial Capital
(Virginia, VA)
Willimantic
aka Thread City
(Connecticut, CT)
Willits
aka Gateway to the Redwoods
(California, CA)
Willits
aka Heart of Mendocino City
(California, CA)
Willits
aka Solar Energy Capital of the World
(California, CA)
Willow Creek
aka Bigfoot Capital of the World
(California, CA)
Wills Point
aka Bluebird Capital of Texas
(Texas, TX)
Wilmington
aka Chemical Capital of the World
(Delaware, DE)
Wilmington
aka Dubtown
(Ohio, OH)
Wilmington
aka Wilmy
(Ohio, OH)
Wilson
aka Czech Capital of Kansas
(Kansas, KS)
Winconsin Dells
aka Waterpark of the World
(Wisconsin, WI)
Windom
aka Covered Dish Capital of the World
(Kansas, KS)
Winfield
aka City On the Move
(Alabama, AL)
Winnemucca
aka City of Paved Streets
(Nevada, NV)
Winooski
aka The Onion City
(Vermont, VT)
Worcester
aka City of Seven Hills
(Massachusetts, MA)
Worcester
aka Wormtown
(Massachusetts, MA)
X
Xenia
aka Twine City
(Ohio, OH)
Y
Yakima
aka The Palm Springs of Washington
(Washington, WA)
Yorba Linda
aka Land of Gracious Living
(California, CA)
Yuba City
aka Prune Capital
(California, CA)
Yuma
aka Experience Our Sense of Yuma
(Arizona, AZ)
Z
Zanesville
aka City of Natural Advantages
(Ohio, OH)
Zanesville
aka Clay City
(Ohio, OH)
aka Twin City
( Camel City ,North Carolina, NC)
aka Wilmywood
(North Carolina, NC)
Link to this page
Copy the HTML from the box below into your site to link to the page

>