12 Office Buildings in Brooklyn, New York
1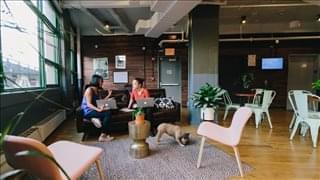 This fun, lively and collaborative environment is the perfect place for your new office space. In an industrial-style building this nine floor coworking space offers so much more than just your average office. With stuffing views of the Manhattan skyline and Williamsburg bridge from the upper floors, and beautiful full length wall murals, the space is... Read More >>
Serviced from $206 per person per month
Coworking from $450 per person per month

This fun, lively and collaborative environment is the perfect place for your new office space... Read More >>
---
2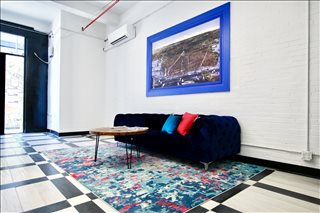 With private offices, gorgeous event space, artistically curated conference rooms and a state-of-the-art recording studio planned - this center is an entrepreneur's dream! This beautifully artistic designed space offers large windows that provide lots of natural sunlight. Whether you thrive working in a quiet, private office or in a vibrant, open desk area,... Read More >>
Coworking from $550 per person per month

With private offices, gorgeous event space, artistically curated conference rooms and a state-of-the-art recording studio planned - this center is an entrepreneur's dream! This beautifully artistic designed space offers large windows that provide lots of natural sunlight... Read More >>
7 Marcus Garvey Blvd, NY 11206
---
3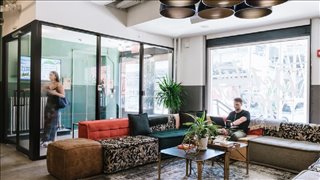 This collaborative workspace is based in a newly renovated garment warehouse, incorporating an industrial vibe through all seven floors of coworking and office space. Based in the one of Brooklyn's most popular neighborhoods, the centre has some amazing amenities, such as a wellness room for new mothers, an in-house coffee bar with its very own barista, and... Read More >>
Serviced from $576 per person per month
Coworking from $350 per person per month

This collaborative workspace is based in a newly renovated garment warehouse, incorporating an industrial vibe through all seven floors of coworking and office space... Read More >>
---
4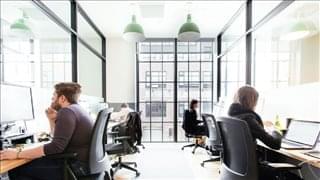 This modern workspace in the heart of Williamsburg occupies the entire second floor of this modern building and benefits from floor-to-ceiling windows which flood the space with natural light. The space also features two rows of private offices, a large communal area and shared work desk area. This contemporary space offers fantastic amenities including... Read More >>
Serviced from $464 per person per month
Coworking from $475 per person per month

This modern workspace in the heart of Williamsburg occupies the entire second floor of this modern building and benefits from floor-to-ceiling windows which flood the space with natural light... Read More >>
---
5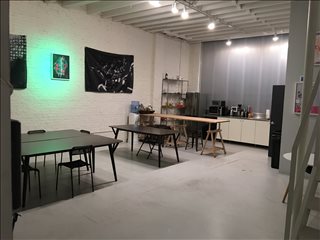 Loft space for a team of around 40 people in the heart of Williamsburg. The build has three tiers, a full kitchen, a spacious basement for storage, and a large roof deck. Private room upstairs great for large meetings. You'd join a community of seasoned entrepreneurs scaling their businesses - founders and leaders of Virgin Mobile, Foursquare, Buzzfeed,... Read More >>
Serviced Offices - Call for latest price

Loft space for a team of around 40 people in the heart of Williamsburg... Read More >>
---
6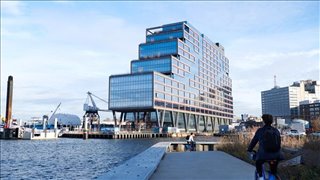 Looking for a space with all the flexibility you can imagine? This one has it. With a range of facilities, including unlimited coffee and fruit water, plus a vibrant selection of custom-designed lounge areas, this center is ideal if you're looking for somewhere to build your business empire. The on-site staff are available to cater to needs you didn't even... Read More >>
Serviced Offices - Call for latest price
Coworking - Call for latest price

Looking for a space with all the flexibility you can imagine? This one has it... Read More >>
Brooklyn Navy Yard, NY 11205
---
7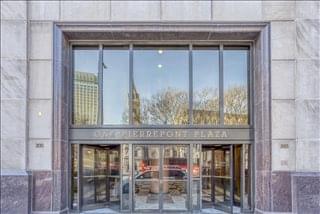 First impressions count and this business center puts your business in a bold, imposing building that commands attention from the street. This high-visibility center is in the heart of Brooklyn's busy central business district (CBD), on the 12th floor of a postmodern 19-story high-rise. And while it looks great from the outside, the view from within is... Read More >>
Serviced Offices - Call for latest price

First impressions count and this business center puts your business in a bold, imposing building that commands attention from the street... Read More >>
1 Pierrepont Plaza, NY 11201
---
8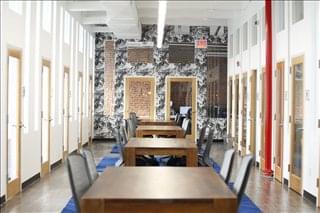 Workspace. When You Need It. This is a new co-working community to join the Prospect-Lefferts Gardens neighborhood. Laid-back, member-focused environment where you get what you need, when you need it! Located in one of Brooklyn's most dynamic and rapidly growing neighborhoods. This beautifully designed space offers large windows that provide lots of... Read More >>
Serviced from $475 per person per month
Coworking from $150 per person per month

Workspace... Read More >>
495 Flatbush Ave, NY 11225
---
9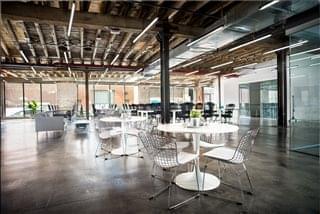 Open ceilings, original wood beams, and raw walls nod to the building's industrial past, while thoughtfully curated furniture divides the Brooklyn space into distinct areas for multiple uses. Serving as a collaborative space for entrepreneurs and creatives within the production, media and tech industries (among others) the uniquely diverse Gowanus... Read More >>
Serviced from $709 per person per month
Coworking from $350 per person per month

Open ceilings, original wood beams, and raw walls nod to the building's industrial past, while thoughtfully curated furniture divides the Brooklyn space into distinct areas for multiple uses... Read More >>
---
10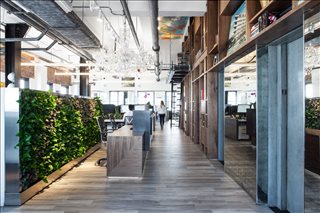 This space is a 2,868 square foot designer office in the penthouse of this building located in Downtown Brooklyn. Available is 900 square feet of shared creative office space available for lease which includes an additional 1,020 square feet of shared common spaces for the tenant's use including conference rooms, informal meeting spaces,... Read More >>
Serviced from $525 per person per month
Sublease from $525 per person per month

This space is a 2,868 square foot designer office in the penthouse of this building located in Downtown Brooklyn... Read More >>
---
11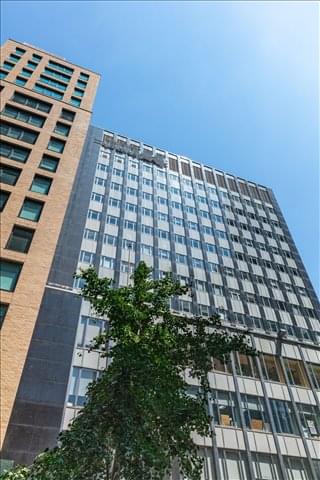 This workspace occupies four floors of this period building in Brooklyn Heights. With stunning views of the Brooklyn Bridge, Empire State Building and the Statue of Liberty, the space offers a peaceful and relaxing work environment. While remaining relaxed there is an energetic atmosphere, to create the perfect productive working environment. Furthermore... Read More >>
Serviced from $300 per person per month
Coworking from $300 per person per month

This workspace occupies four floors of this period building in Brooklyn Heights... Read More >>
195 Montague St, NY 11201
---
12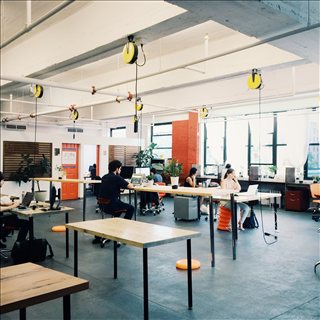 This centre believes that comfort brings true productivity, and creativity gets fueled by being around other inspiring entrepreneurs and freelancers. Rather than creating a space that is sterile, it opted for creating a space that encourages you to be yourself. Located just around the corner from the Prospect Park, the building also houses Bikram Yoga,... Read More >>
Coworking from $225 per person per month

This centre believes that comfort brings true productivity, and creativity gets fueled by being around other inspiring entrepreneurs and freelancers... Read More >>
1120 Washington Ave, NY 11225
---
---
Offices.net is pleased to present 12 of office buildings with business space available in Brooklyn. This office space is available right away, and offers flexible rental terms to make the transition as simple as possible. Our service is designed to get you into the office space your business needs as quickly and simply as possible, and we will be happy to assist in any way.
Our goal is to provide your business with exceptional executive office suites and office space in Brooklyn, New York, suitable for your individual business needs. With a fantastic selection of facilities and support services available, and flexible rental agreements, you will be assured of an easy move to your new Brooklyn business premises.
A number of the office buildings provide receptions, state-of-the-art print and scanning amenities, internet and network wiring, telecommunications set up, office administration, and furniture. Most of the business centers also provide on site IT support, meeting rooms, day and night access and other professional services and amenities.
Just select any of the offices for rent in Brooklyn displayed above. Each office and executive office suite boasts a prime business position in Brooklyn, with flexible terms to suit your work requirements.
With more office space available than ever and prices to suit every budget, companies of all types will be able to find the space they need using Offices.net. Get in touch and we will do everything we can to help find your perfect office space.
Featured Brooklyn Business Locations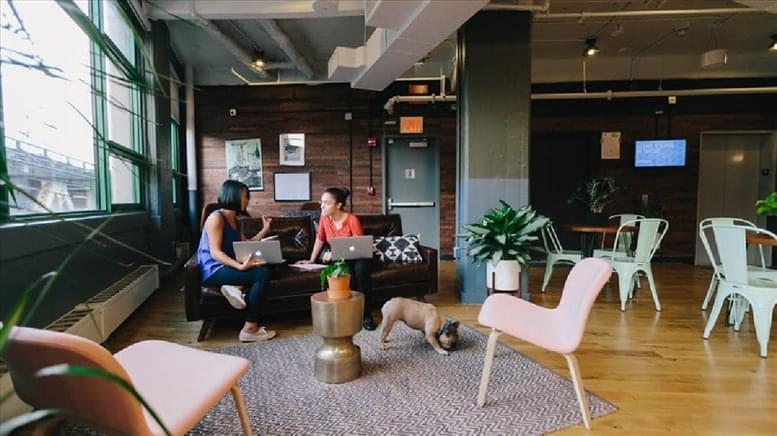 81 Prospect St
Brooklyn Office Space
This fun, lively and collaborative environment is the perfect place for your new office space. In an industrial-style building this nine floor coworking space offers so much more than just your... Read More >>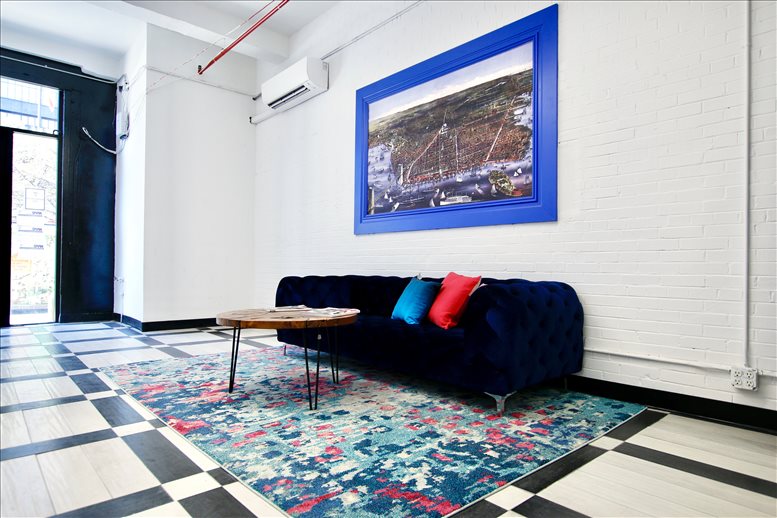 7 Marcus Garvey Blvd
Brooklyn Office Space
With private offices, gorgeous event space, artistically curated conference rooms and a state-of-the-art recording studio planned - this center is an entrepreneur's dream! This beautifully artistic... Read More >>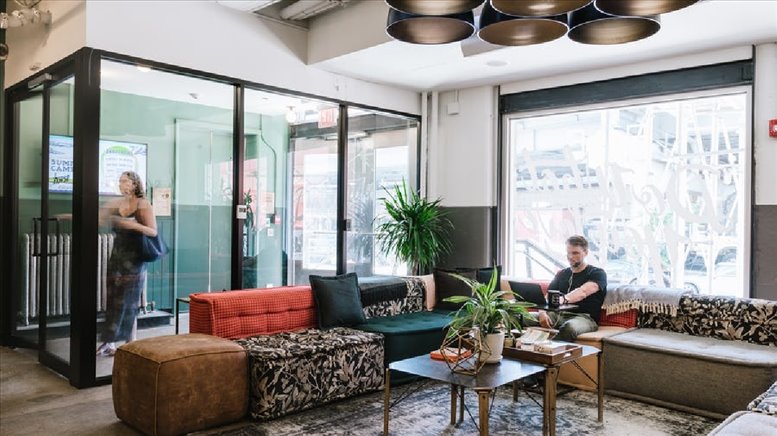 109 S 5th St
Brooklyn Office Space
This collaborative workspace is based in a newly renovated garment warehouse, incorporating an industrial vibe through all seven floors of coworking and office space. Based in the one of Brooklyn's... Read More >>