View listings for other types of office space in and around Philadelphia.
See more offices in and around Philadelphia.
Coworking Space Philadelphia | Shared Workspaces | Startup Offices
Coworking Space Locations: With several hubs, the original location for coworking space in Market Street remains popular due to its proximity to mass transit stations, public parks, shopping and eating venues, and the city's riverside. But growth is also obvious in other parts of the city, and recently flexible office space operators have been opening up space outside of the downtown area.
Shared Workspace Providers: The most important operators of coworking office space in Philadelphia are WeWork and MakeOffices, but an increasing number of providers are already committed to opening new spaces in central locations. What's more, some of the largest mixed-use developments already under construction are to include dedicated coworking space, and this is expected to become the norm in the near future.
Coworking Space Costs: The cost of a dedicated desk typically starts at $350 / month, and hot desking is priced slightly lower at $250 /month. Private offices average $600 / month / person, and there are also part-time offerings, including day passes ($30) or monthly passes that allow access for a specific number of days or hours.
Coworking Space in Philadelphia, Pennsylvania
The coworking space model appeared for the first time in the Philadelphia office market in 2007. From that point on, the model kept gaining popularity and ten years later Philadelphia has around 30 coworking spaces managed by 16 different service providers including:
Indy Hall (Colonial Penn Building)
Makeoffices (at Center City and 17th & Market)
Benjamin's Desk (Old City and Rittenhouse)
Innovation Center @ 3401 (incubator in University City)
The Philadelphia Design Center (Grays Ferry)
Old City Collective (Old City)
THRIVE Philly (N 3rd St, Callowhill)
Camden CoLabs
Exchange PHL (nonprofit, philanthropy and social impact)
Pipeline Philly (Center City)
Pennovation (research hub and incubator in Grays Ferry)
Industrious Philadelphia (Avenue of the Arts)

WeWork (Northern Liberties, Market and Walnut St)

Philadelphia Real Estate: Coworking Office Space Sub-Market

To understand the rise and popularity of the local flexible office market, it is useful to put it in context by looking at figures like the percentage of space over the city's total office inventory. The latest research suggests that coworking accounts for nearly 2 percent out of the 41 million square feet of office space in Philadelphia. The percentage is increasing at a steady pace, and some market researchers suggest that coworking space in Philadelphia could soon reach 30 percent of the city's total office space if the current demand continues to grow stronger.

The growth of the coworking office space market is not surprising, as Philadelphia's commercial real estate is often defined as bullish. Moreover, landlords are increasingly realizing the potential of coworking space and many are choosing to devote some of their existing inventory to coworking purposes, allowing business owners to transition to traditional office space in the same building as and when required.

The changing office market landscape is also reflected in the tenant base. While more than half of coworking space users in Philadelphia are companies with 1-4 staff members, large corporates are also making use of the city's flexible office space model and benefiting from the lower capital costs and flexibility that characterizes this type of office space.

Many tenants are facing increasing difficulty finding Class A office space at affordable rates, so high-end coworking hubs meet that need with what amounts to trophy office space in prime downtown locations.

Grow Your Business with Coworking Space in Philadelphia, PA

Offices.net can help you find creative spaces and shared workspace in Philadelphia. These office spaces offer day passes / dropin days, coworking memberships, dedicated desks and hot desk rental as well as private offices, studios, virtual offices and event space.

Most of Philadelphia's coworking spaces include high speed internet, private phone booths and meeting space, regular upcoming events, cafes and kitchens with complimentary beverages, bike storage and community managers. Some are dog friendly, have Mother's Rooms, massage chairs, games rooms with ping pong and other cool perks.

If you don't see what you want above give us a call on 972-913-2742. Our shared office space search service is free and our experts know the local coworking market well. We've got Philadelphia coworking spaces to suit every budget and requirement and we look forward to helping you find the perfect shared workspace in Philadelphia, PA.
Featured Philadelphia Business Locations
Graham Building
Philadelphia Office Space
The Graham Building is a 25-story, class A office with a prime location at 30 S 15th St opposite Philadelphia City Hall. The trendy coworking hub on the 15th floor features floor-to-ceiling windows... Read More >>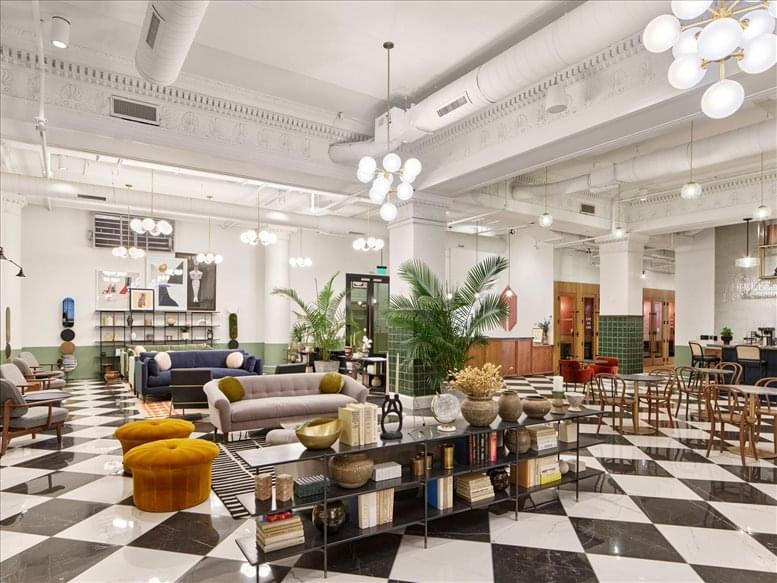 100 East Penn Square
Philadelphia Office Space
Built in 1911, this building is a landmark that originally housed one of the first department stores in America. This new location has approximately 42,000 square feet of flexible office spaces,... Read More >>
Hale Building
Philadelphia Office Space
Built in 1887, the iconic Hale Building at 1326 Chestnut St has been restored into a mixed use creative hub for restaurants, retail stores and offices. Situated in the thriving Midtown Village... Read More >>