View listings for other types of office space in and around San Diego.
See more offices in and around San Diego.
San Diego Coworking | Shared Workspace | Creative Space
San Diego's "live, work, play" vibe reflects the relaxed but productive environment that characterizes much of California and that has drawn talent from all over the nation in search of better quality of life and attractive work/business opportunities. As a result, the local business community features a healthy mix of large corporations and smaller business that have made the most of the city's supportive startup environment.
The city's economy has notable strengths in pharmaceutical, medical device manufacturing, and biotechnology, and is expected to grow even more solid in areas like clean tech and cyber-security. Since these are office-using sectors, it's hardly surprising to see that the local coworking market has gone from strength to strength.
The Growth of Coworking Space in San Diego
Coworking in San Diego is no longer a commercial real estate trend, but rather a solid option for businesses of all sizes in the competitive office market of the 21st century. The vast majority of coworking spaces in the city were built in the early 2010s, during a period that coincided with the growth of the local gig economy.
The city's case in this respect is particularly remarkable, since in a short period of time San Diego has gone from having one of the lowest per capita revenue in freelance jobs to being one of the top 10 cities in the United States in terms of the number of freelance gigs available. It's also one of the places where independent contractors earn the most. This has brought about growing demand for creative office space both downtown and in suburban locations, and by 2018 San Diego County had more than 1 million square feet of space devoted to coworking.
Coworking San Diego | Operators & Locations
The largest operators are Regus and WeWork, but there is also a fair share of smaller coworking space providers, such as Boxer Workstyle, Union Cowork, and Premier. Most coworking hubs are in downtown San Diego and in the Financial District areas, which are home to approximately 20 percent of the total coworking inventory. Other large hubs are Carlsbad and University City, with 25 percent of the total.
Westfield UTC is emerging as an alternative location for coworking space, mostly due to the growing amount of life science, pharmaceutical, and bioscience companies that set up here. There are other large projects in Little Italy too, where multi-story buildings are being redeveloped to accommodate collaborative workspace, and a similar trend is evident in East Village are North Park.
Coworking San Diego | Trends & Costs
As happens in other US cities, San Diego's coworking hubs are moving towards specialization, catering to specific industry sectors like technology, life sciences, non-profit, film, and legal services. As an example, BioLabs offers shared office facilities and collaborative space for life sciences companies. Others (like Oootbox) offer support and equipment to startups that focus on producing tangible goods, as it gives access to specialized equipment like 3D printers, sewing machines, and die-cutting machines.
Future trends will also focus on increased collaboration. Steps in this direction have already been taken with the creation of projects like the San Diego Coworking Alliance, which was created in 2011 to bring market leaders together and strengthen local business community, fostering innovation through annual events and entrepreneurship programs. Similarly, a coworking network has been created to give business owners access to multiple coworking facilities in the San Diego area and beyond.
Approximate costs for coworking memberships in Greater San Diego are as follows:
$200 to $300 / month for hot desk / unallocated membership plans
Dedicated desks average $400 / month
Private offices rates average $1,000 / month depending on occupancy numbers and location
Featured San Diego Business Locations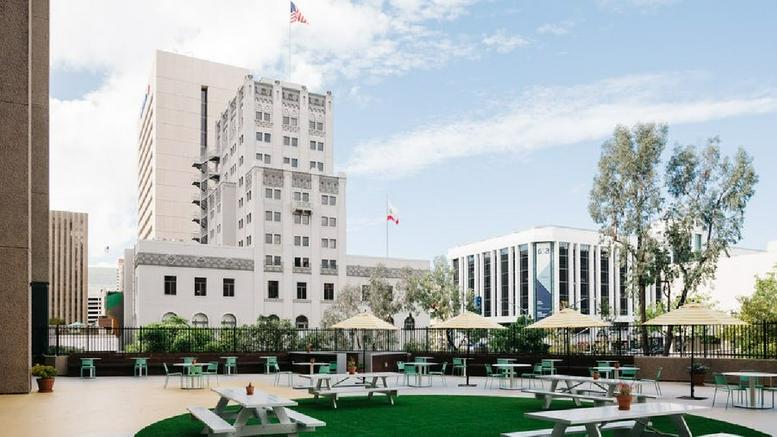 600 B St
San Diego Office Space
600 B St is a 24 story skyscraper situated in Downtown San Diego. The building offers 6 floors of brand new, state-of-the-art coworking space, providing hot and dedicated desks and private offices... Read More >>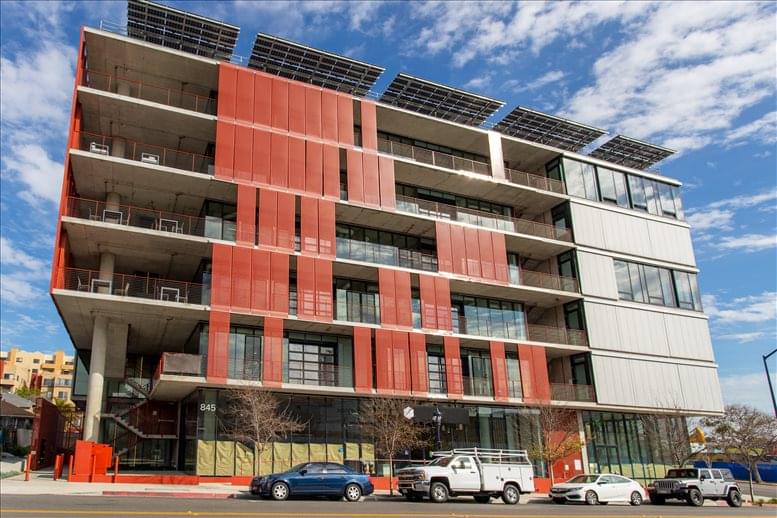 Makers Quarter
San Diego Office Space
A stellar example of high-quality office space in San Diego, Makers Quarter gives professionals in SoCal a modern, well-developed location to live and work. Part of a sprawling 60,000 square foot... Read More >>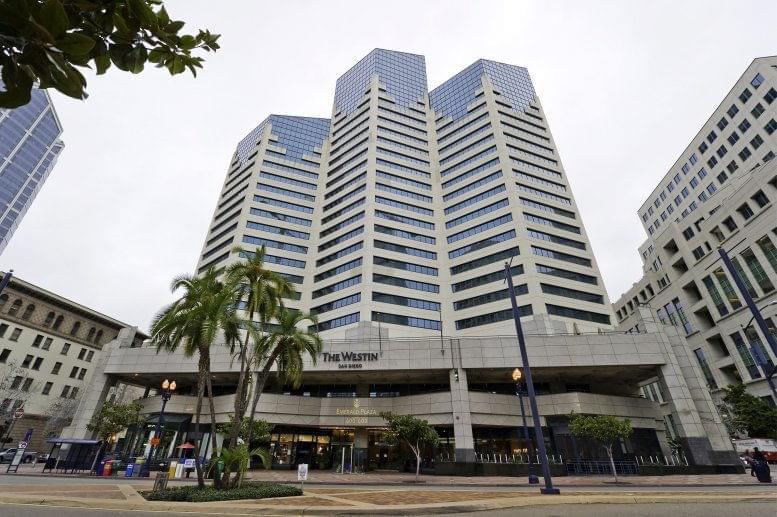 Emerald Plaza
San Diego Office Space
Emerald Plaza is a class A, 30-story skyscaper situated at 402 W Broadway in the heart of the Core-Columbia neighborhood. It is the city's fifth tallest building and features a unique hexagonal... Read More >>