13 Office Buildings in Downtown Los Angeles, California
1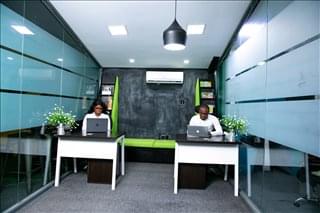 A premier Class A glass and stone building, this is the tallest building west of Chicago and east of Hong Kong. Located on the 28th floor, this center has sweeping 360-degree views of the city. This building provides 24-hour, seven day per week access with complete security. Five conference rooms are available as well as two copy rooms and two cafés where... Read More >>
Serviced from $600 per person per month

A premier Class A glass and stone building, this is the tallest building west of Chicago and east of Hong Kong... Read More >>
633 West Fifth Street, CA 90071
---
2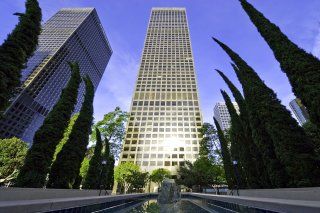 This prime business center benefits from a number of high-quality services and facilities such as state-of-the-art Internet and network access, professional reception services, modern fully furnished offices and spacious meeting and conference rooms. Previously home to Atlantic Richfield and Bank of America, this landmark building is undergoing a $100... Read More >>
Serviced Offices - Call for latest price

This prime business center benefits from a number of high-quality services and facilities such as state-of-the-art Internet and network access, professional reception services, modern fully furnished offices and spacious meeting and conference rooms... Read More >>
515 S. Flower Street, CA 90071
---
3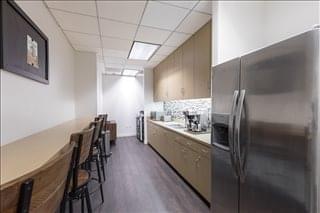 Quality serviced offices are available now in this award-winning building, which contains a three-story, glass-enclosed atrium linking the two towers. Showcasing one of the most significant sculpture collections in Southern California, as well as an extensive array of restaurants and specialty shops. Read More >>
Serviced from $600 per person per month

Quality serviced offices are available now in this award-winning building, which contains a three-story, glass-enclosed atrium linking the two towers... Read More >>
355 South Grand Avenue, CA 90071
---
4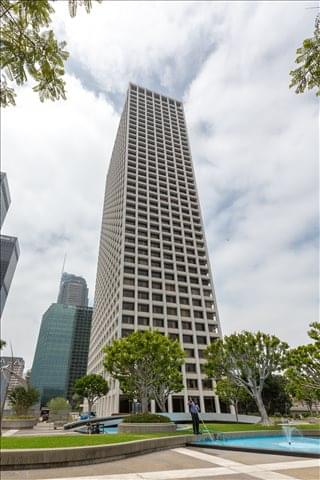 This corporate-style center offers elegant offices boasting the best views in Los Angeles. Clients benefit from the use of conference rooms overlooking the city and full support services. You will enjoy stunning views of Los Angeles including the Hollywood sign and city scenery. Read More >>
Serviced from $600 per person per month

This corporate-style center offers elegant offices boasting the best views in Los Angeles... Read More >>
445 South Figueroa Street, CA 90071
---
5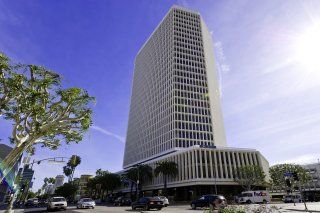 This stunning business center impresses inside and out. From its prime Wilshire Boulevard frontage to its renovated marble-lined walled lobby, the 27-story building is every inch a landmark. It occupies a corner lot between Masselin and Hauser, giving this eye-catching white tower extra prominence. The high-ceiling offices from the 18th floor offer sweeping... Read More >>
Serviced Offices - Call for latest price

This stunning business center impresses inside and out... Read More >>
5670 Wilshire Blvd, CA 90036
---
6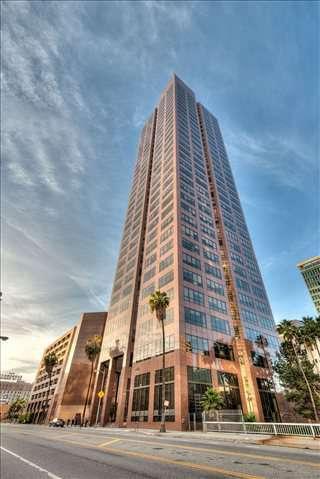 This center combines the hospitality and business industries to create a working environment that is comfortable, productive, and customizable to each client's comforts and business goals. The space has been custom designed specifically for executive suites with privacy, comfort, technology and luxury in mind. The offices are virtually sound-proof with... Read More >>
Serviced from $699 per person per month

This center combines the hospitality and business industries to create a working environment that is comfortable, productive, and customizable to each client's comforts and business goals... Read More >>
---
7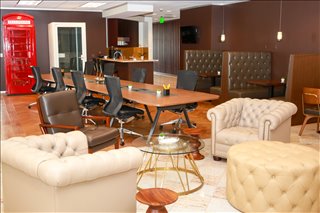 The one million square foot skyscraper towers over the Los Angeles skyline and resides in the heart of L.A.'s cultural and financial center. Boasting a dominating architectural presence, this prestigious tower is situated on the corner of Wilshire Boulevard and South Figueroa Street, just a few minutes drive from the L.A. County Municipal Courts and the... Read More >>
Serviced from $1540 per person per month
Coworking - Call for latest price

The one million square foot skyscraper towers over the Los Angeles skyline and resides in the heart of L.A.'s cultural and financial center... Read More >>
Figueroa At Wilshire, CA 90017
---
8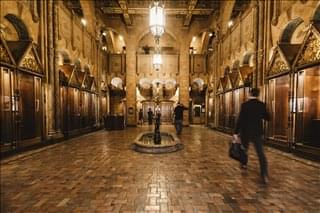 Based in one of the area's most beautiful buildings, this center occupies five floors in this Downtown location. The stunning entrance hall transports you back to the 1920's with its towering arched windows and intricate metalwork. Ample conference rooms overlook the beautiful lobby that doubles as an art gallery. The offices themselves are firmly in the... Read More >>
Serviced from $218 per person per month
Coworking from $375 per person per month

Based in one of the area's most beautiful buildings, this center occupies five floors in this Downtown location... Read More >>
Fine Arts Building, CA 90017
---
9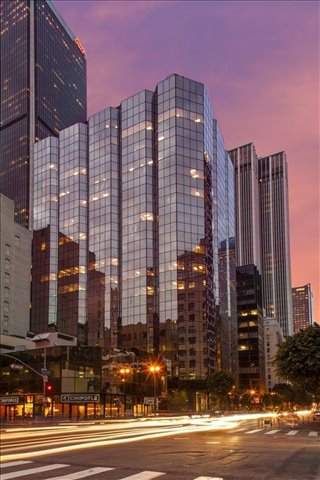 This inventive workspace offers private coworking spaces and a collective workspace that covers a variety of business requirements, catering to growing businesses as well as established professionals. The private glass offices and beautiful common spaces offer a distinct working style suitable for all. The center is located within a modern building with... Read More >>
Serviced from $400 per person per month
Coworking from $360 per person per month

This inventive workspace offers private coworking spaces and a collective workspace that covers a variety of business requirements, catering to growing businesses as well as established professionals... Read More >>
600 Wilshire Boulevard, CA 90017
---
10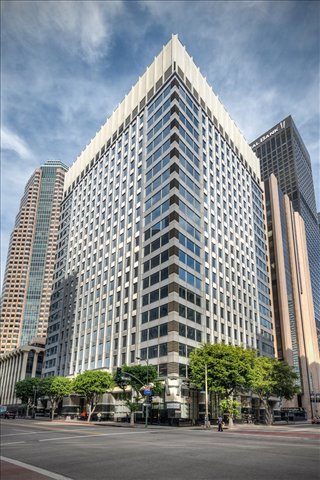 This center is an amazing property. The views are irreplaceable! Offices will be brand new. With such fantastic amenities, the space will be very welcoming environment for you, your staff and your clients. Includes on-site parking. There is access to a rooftop restaurant and lounge. Just a walking distance from great shops, restaurant and sights. Class A... Read More >>
Serviced from $600 per person per month

This center is an amazing property... Read More >>
811 Wilshire Blvd, CA 90017
---
11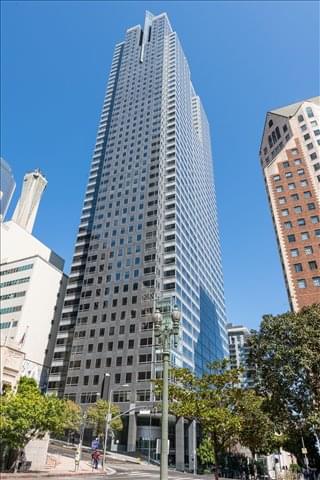 With its refined yet creative vibe and great Downtown location, this center offers serviced and coworking space, high above the city. Spread over four floors, the majority of which is dynamic coworking space, there are tables scattered throughout the common areas where you can tap away at your laptop or meet with your team. With huge windows lighting up the... Read More >>
Serviced from $313 per person per month
Coworking from $350 per person per month

With its refined yet creative vibe and great Downtown location, this center offers serviced and coworking space, high above the city... Read More >>
Gas Company Tower, CA 90013
---
12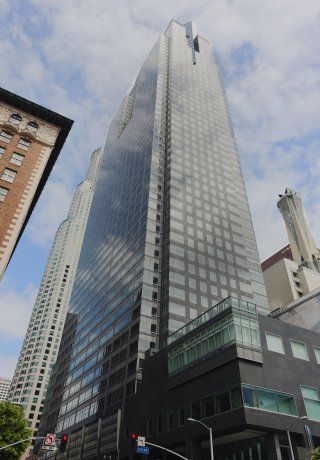 Located in an award-winning building, used in many films and an easily recognizable Los Angeles Landmark. Over 40 stories tall, it has sweeping 360-degree views of the city. 175 offices with an average of 190 sq ft per office. Five conference rooms are available as well as three copy rooms and two kitchens and a café where clients can enjoy networking,... Read More >>
Serviced from $600 per person per month

Located in an award-winning building, used in many films and an easily recognizable Los Angeles Landmark... Read More >>
555 West 5th Street, CA 90013
---
13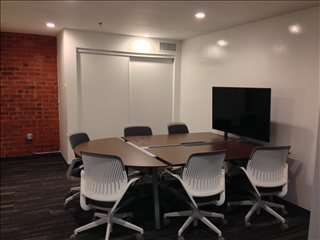 A coworking community of entrepreneurs, freelancers, and start-ups, where you decide how you want to work. On offer is dedicated spaces such as private offices and work stations for 1 ,3, 6 and 12 month leases. Dedicated offices receive weekly meeting room hours, mail and phone services and a creative environment to collaborate and network. Read More >>
Serviced Offices - Call for latest price
Coworking from $525 per person per month

A coworking community of entrepreneurs, freelancers, and start-ups, where you decide how you want to work... Read More >>
---
---
Find your perfect office space in Downtown Los Angeles with Offices.net's fast and friendly service. Our comprehensive knowledge enables us to find the property you require from a broad selection of prestigious locations and office building options. Many of our offices offer easy, short term and flexible rental agreements, meaning that your business can gain the benefits of a wide range of facilities and a prestigious business address in Downtown Los Angeles, with an agreement that is tailored to your needs.
Offices.net provides companies of all sizes with prime executive office suites and office space solutions in Downtown Los Angeles, California on flexible rental agreements to suit your needs. With an extensive range of business support services and amenities included, you can be assured of an easy transition into its new Downtown Los Angeles premises.
A number of the business centers come inclusive of a wide range of office support services, with professional and friendly reception staff, security and IT personnel, WiFi and internet services. Many of the office buildings provide video conferencing services, spacious conference rooms, and kitchens.
All you need to do is choose one of the well situated Downtown Los Angeles offices for rent listed above. The professional office suites, shared work space and virtual offices on Offices.net are located in prime Downtown Los Angeles business areas, and are available to rent on easy, flexible terms to suit your individual business needs.
Just contact us using the number or form above and we'll be happy to show you some offices in and around Downtown Los Angeles.
Featured Downtown Los Angeles Business Locations
633 West Fifth Street
Downtown Los Angeles Office Space
A premier Class A glass and stone building, this is the tallest building west of Chicago and east of Hong Kong. Located on the 28th floor, this center has sweeping 360-degree views of the city. This... Read More >>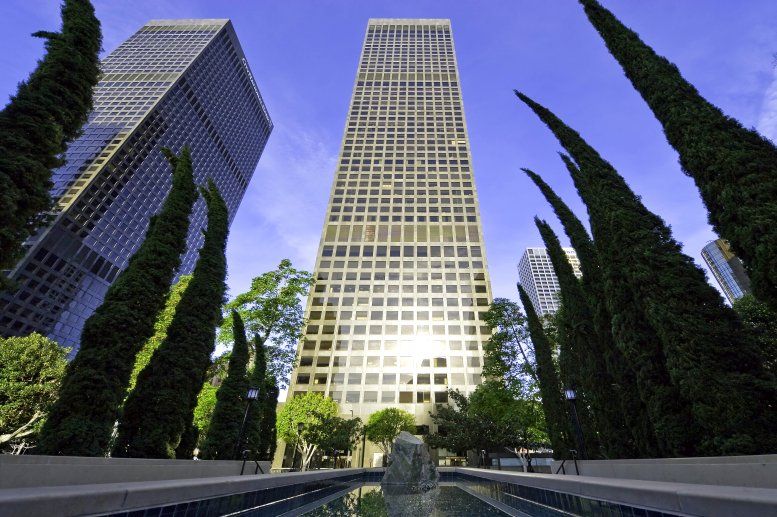 515 S. Flower Street
Downtown Los Angeles Office Space
This prime business center benefits from a number of high-quality services and facilities such as state-of-the-art Internet and network access, professional reception services, modern fully furnished... Read More >>
355 South Grand Avenue
Downtown Los Angeles Office Space
Quality serviced offices are available now in this award-winning building, which contains a three-story, glass-enclosed atrium linking the two towers. Showcasing one of the most significant sculpture... Read More >>