View listings for other types of office space in and around Los Angeles.
See more offices in and around Los Angeles.
Shared Workspace | Creative Space for Rent | Startup Office Space
As the country's creative capital, LA is home to a thriving media and entertainment sector and boasts some of the best coworking spaces and shared offices to be found anywhere.
Typically housed in fully serviced office buildings or dedicated cowork spaces, the Los Angeles coworking and creative office space for rent on Offices.net comes with a host of included facilities, amenities and services as standard, with optional extras that you can pay for as and when you need them. Experience the ultimate in workplace flexibility with these collaborative and creative workspaces.
Coworking Space in Los Angeles, CA
Downtown LA is the most popular location for coworking in the city.
Hollywood and El Segundo / Beach Cities are the favorite locations outside of central LA.
Suburban Los Angeles locations are typically 10 and 30 percent cheaper than in Downtown LA.
Day passes range from $20 to $40.
Weekly costs range between $100 to $200
Monthly hot desking solutions cost from $200 to $350
Private offices start at $600 / month.
Coworking in Los Angeles is no longer the exclusive domain of individuals or micro-enterprises in their early stages. Now it is not unusual for established companies to sign up for entire floors in coworking spaces, an option increasingly popular among large corporates and firms in entertainment, media, and technology.
As happens in other cities with an important coworking scene, in Los Angeles there is a correlation between the number of coworking spaces and the strength of the information - knowledge sector, which is a firmly established industry in the local area.
Shared Office Space & Coworking Los Angeles, CA
According to a 2018 report on the office real estate uses in the Greater Los Angeles area, there are approximately 3 million square feet of space devoted to coworking. This makes the LA coworking market the second largest in the nation, after Manhattan. The importance of coworking goes beyond the market's size, as Los Angeles has a coworking culture that reflects the city's willingness to adopt innovation and set new trends.
Coworking is Cheaper: Tight market conditions and high prices of traditional office space have been determining factors contributing to the popularity of this type of office space. Los Angeles is a prime office market, so coworking is a cost-effective solution.
Downtown LA: Although coworking spaces are very popular across the entire Los Angeles metro area (stretching as far as Long Beach, El Segundo, and Santa Monica), downtown Los Angeles remains by far the most popular location for coworking, with almost a quarter of the total shared space footage for the metro area. Here we observe high occupancy levels that keep increasing year after year, especially so in Little Tokyo, South Park, Fashion District, Historic District, the Arts District, and Central City West.
Other Popular Locations: Despite the above, there is also a clear trend involving a preference for coworking space outside of central Los Angeles. Hollywood is a popular hotspot for coworking, with almost 300,000 square feet of space devoted to this use, followed by El Segundo / Beach Cities area with a similar amount.
Occupiers cite shorter commute times, proximity to the airport, more relaxed environment, and less traffic issues as the main reasons to move into coworking spaces in these areas.
Operators of Coworking Space in LA: All major coworking space operators have a presence in the area, and new players are emerging every year. You'll find boutique spaces (Village Workspaces in West Los Angeles), artist communities (Epiphany Space in Hollywood), local coworking pioneers (Indie Desk) and spaces for small business owners (LAX Coastal Chamber of Commerce's LAX Coworking). LA coworking space comes in laid back (Cross Campus in DTLA, Santa Monica, South Bay & Pasadena), trendy (Dots Space in Beverley Hills), women only (Paper Dolls in Brentwood) and creative (CTRL Collective in Downtown Los Angeles, Playa Vista, Pasadena and Manhattan Beach).
Costs for Coworking Space in Los Angeles: Pricewise, daily drop ins start at $20 at the lower end of the scale, and average $40 for mid-range options. Weekly costs range between $100 to $200, and monthly hot desking solutions usually start at $200, going up to $350 at the higher end of the scale. Private offices start at $600 / month. Coworking space in suburban Los Angeles locations are more affordable, usually between 10 and 30 percent lower than in the downtown area.
Find Coworking Spaces in LA
Offices.net can help you find shared workspace throughout Los Angeles. If you don't see what you want above give us a call on 972-913-2742. Our shared office space search service is free and our experts know the local LA coworking market well. We look forward to helping you find the perfect coworking space in Los Angeles.
Featured Los Angeles Business Locations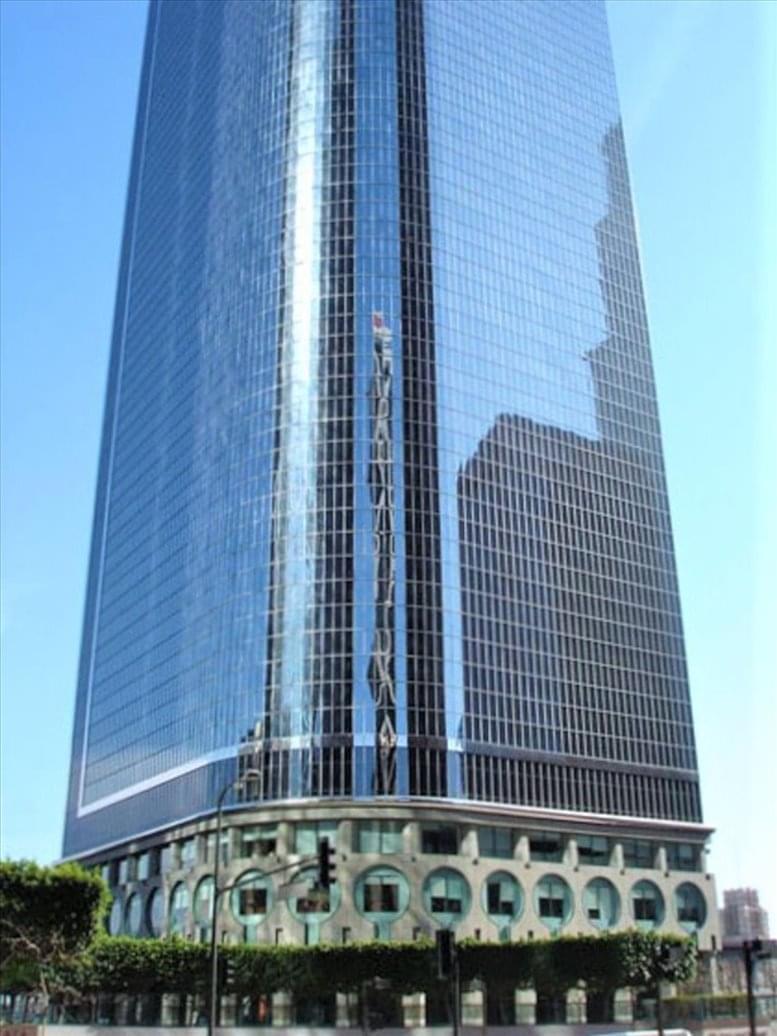 Two California Plaza
Los Angeles Office Space
Two California Plaza is a 52-story, class A skyscraper situated at 350 S Grand Ave in the Bunker Hill neighborhood of Downtown Los Angeles. Flexible coworking and office space with views overlooking... Read More >>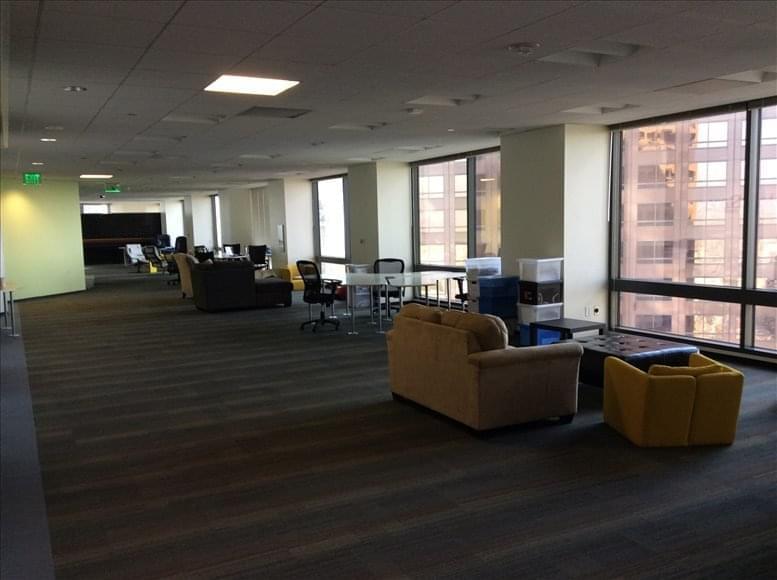 Wells Fargo Center North Tower
Los Angeles Office Space
333 S Grand Ave is a 54 story class A office tower, and is the taller of two skyscrapers that make up the iconic Walls Fargo Center complex in the Bunker Hill neighborhood of Downtown Los Angeles.... Read More >>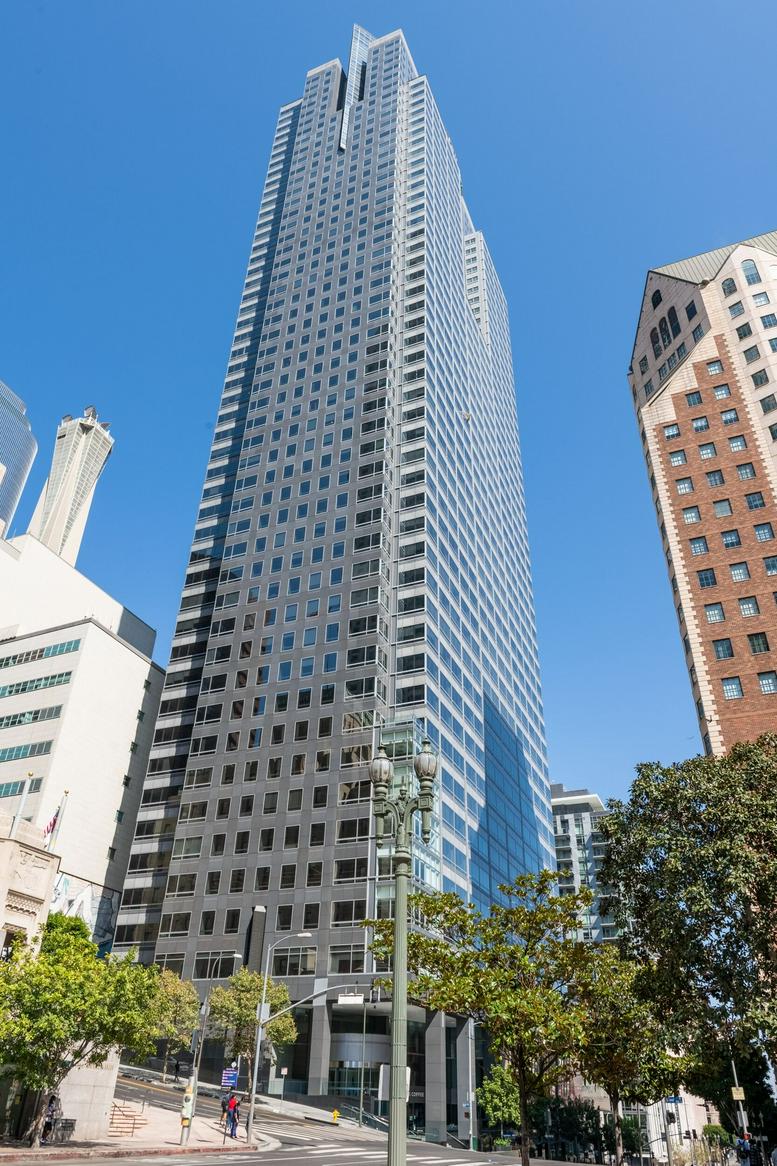 Gas Company Tower
Los Angeles Office Space
Gas Company Tower at 555 W 5th St is a 52 story, class A skyscraper in the Bunker Hill neighborhood of Downtown Los Angeles. Coworking and office space is available across three floors of this iconic... Read More >>