Setting Up A Business In Venice, Florida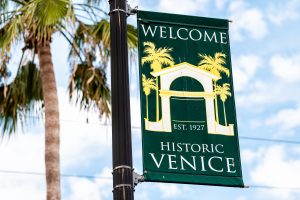 The city of Venice is located on Florida's west coast, approximately 20 miles south of Sarasota and 60 miles away from Fort Myers. Administratively, Venice is part of Sarasota County and has a permanent population of over 22,000 people, although this figure increases during the winter months, when many snowbirds move to the city temporarily.
Key Industries and Employers in Venice, Florida
In its origins, the city's economy relied on agriculture, fishing, and trade, but currently Venice has a diverse economy that has so far been able to weather the global economic downturn. The largest industries are healthcare and educational services, followed by retail, trade, accommodation and food services, finance, insurance, and manufacturing. Tourism and recreation are also essential to Venice's economy due to the city's seaside location and proximity to several natural reserves.
Key employers in Venice include manufacturing firms PGT Industries, which was named one of Florida's best employers by Forbes (with over 2,800 employees) and Tervis Tumbler, Venice Regional Bayfront Health, Bon Secours Venice Healthcare, and Publix Supermarkets.
Venice has seen a marked increase in the job market over this last year (2019) of 2.6%, with only a slightly lower unemployment rate (3.3%) than in the rest of the US (3.9%). Predictions show future job growth over the next decade to be just over 42%. Venice resident's average income comes in at just under $40,000 a year, which is higher than the average income across the US and currently stands at just under $30,000 annually.
The highest number of jobs involve healthcare, retail and trades, accommodation and food services, management, business services and the art, services, and office-based professions construction, natural resources, and transportation.
Business Incentives in Venice, Florida
Some local factors that may be of interest to business owners and entrepreneurs looking to set up a company in Venice include the low cost of doing business and a friendly regulatory environment. Sarasota County (to which Venice belongs) has been ranked in 2nd place in a KPGM Study in terms of cost of doing business, and there is a wide range of business incentives offered by the local authorities that aim to foster job creation, assist with financing, and support workforce development plans.
You can find helpful information at the City of Venice Government website and the Venice Chamber of Commerce.
Finding Office Space In Venice, Florida
The real estate market in Venice is dominated by the residential sector, although a growing permanent population is driving demand for businesses offering their services locally, and this in turn is contributing to the expansion of the office sector in Venice.
Downtown Venice is subject to strict building and renovation codes, meaning that newly built office properties coming onto the market are highly sought after. The majority of offices are located along South and North Tamiami Trail Roads in the Nokomis and Laurel areas, located to the north of downtown.
The Sarasota office market trends show investor demand is high and indicators are stable, and office sales have had a strong streak over the last few years.
Find out more about office and business space opportunities in Florida.
Sources:
http://www.bestplaces.net/economy/city/florida/venice
http://suncoastjobs.com/top-employers-sarasota-bradenton-venice-lakewood-ranch.html
https://livability.com/fl/venice/business
http://www.bestplaces.net/economy/city/florida/venice
https://www.scgov.net/
https://www.valbridge.com/amass/doc-get-pub/article/507/2016%25204th%2520Qtr.%2520Sarasota-Manatee%2520Market%2520Report.pdf
http://www.loopnet.com/Sarasota_Florida_Market-Trends