October 6th, 2015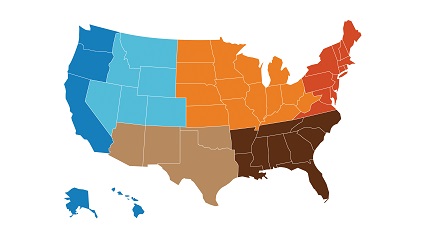 Centered on the north-central region of the country, the Midwest United States includes 12 states including Illinois, Indiana, Iowa, Kansas, Michigan, Minnesota, Missouri, Nebraska, North Dakota, Ohio, South Dakota and Wisconsin. Although major urban centers such as Chicago are known around the world as key economic drivers, the Midwest is also home to several smaller cities that provide promising conditions for new businesses. WalletHub's 2015 ranking of the best cities to start of a business in the United States included six Midwestern cities in the top 20. The ranking used a number of metrics, from the five-year survival rate of businesses to the affordability of office space.
Springfield, Missouri
Springfield, Missouri ranked as the best Midwestern city to start of business in the United States, according to the 2015 study. The city also placed first nationally in terms of access to resources, including financing and affordable office space. Known as the Queen City of the Ozarks and the Birthplace of Route 66, Springfield is home to the Missouri State University and Drury University. The third largest city in Missouri is the economic hub of an area that spans 27 counties in Missouri and neighboring Arkansas and is home to some 1 million people. The economy is based on health care, manufacturing, retail, education and tourism. The city has also been recognized for its high quality of life, and in 2008 it was among the best communities for young people by the America's Promise Alliance and relocating families by Worldwide ERC.
Sioux Falls, South Dakota
The same ranking found that Sioux Falls was the sixth best city to start a business in the US. With a growing population, the city also ranked second in terms of the best business environment in the United States. It was also named as the next big boom town by The Atlantic in 2013. The largest city in South Dakota, Sioux Falls is a diverse economic center focused on financial services, health care and retail. Sitting on the crossroads of interstates 90 and 29, the city is within a day's drive from many major cities in the Midwest. The lack of a state corporate tax has helped attract a number of financial companies to Sioux Falls, including Wells Fargo and Citigroup. Read the rest of this entry »