New York Central Business District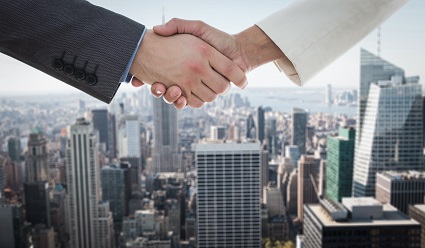 New York City's Central Business District is the largest of its kind in the United States and is one of the world's most prosperous and resilient business hubs. Although there are several designated business districts in New York, the city's primary Central Business District (CBD) refers to the area consisting of Midtown and Downtown Manhattan. This area has been an influential economic and financial center since the 19th century, mainly thanks to the presence of the New York Stock Exchange and other important financial institutions.
Key Facts & Figures
The CBD consists of three sub-districts: Midtown, Midtown South, and Downtown, which are further divided into 18 submarkets. 2022 data from the NY State Comptroller shows that the city is home to more than 250,000 registered businesses, including 43 S&P 500 corporations.
The CBD has more than 617,000 residents and local companies provide employment to 1.5 million people.
NYC attracts more than 30 million visitors per year, including leisure and business travelers. Visitor numbers are projected to exceed 70 million by 2025.
Transportation
The CBD is well-connected to other city boroughs via mass transit, as the area is served by 18 subway lines and more than 40 bus lines, which work in tandem to keep the area accessible 24/7. Overall, the Metropolitan Transport Authority serves more than 5.6 million passengers per day.
The PATH railway system links the CBD with Greater New York and New Jersey, offering frequent services to an annual ridership of 32+ million passengers. 
Mass transit connections are used by 1 million commuters, which account for 20% of the city's total workforce.
Airport connections are available directly to and from the New York CBD to La Guardia (bus and subway, 9 miles, 30 minutes), Newark (train and bus, 20 miles, 45 minutes), and JFK (train and bus, 14 miles, 1 hour).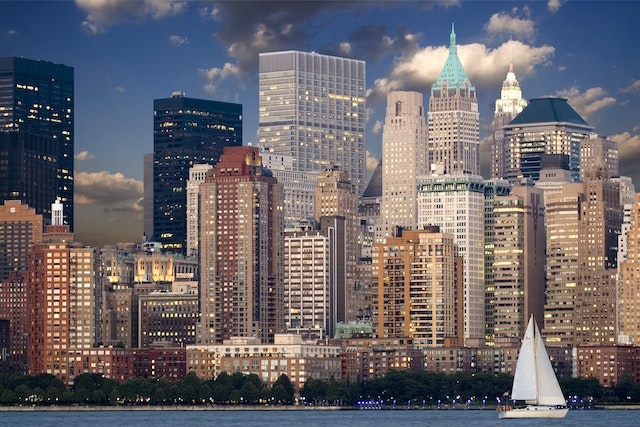 Key Industries & Employers
New York's CBD is a global business hub that features a diverse industry base in which every sector is present. According to 2021 data, the most significant industries are:
  Banking and financial services, which contribute to the New York CBD's status as a global financial powerhouse, with projected growth rates of +5% through 2028. Especially important are tech-oriented sub-sectors like FinTech, whose

growth rates have overtaken Silicon Valley's

. The New York City Financial District, otherwise known as FiDi,

  Construction, whose growth is bolstered by major infrastructure projects like the expansion of the Second Avenue subway and the Northeast Corridor – Gateway Program, as well as a number of new office supply deliveries through 2024.

  Information services, whose growth estimates are in the region of 50% in the ten-year period to 2028. The city, itself dubbed

"The Capital of the Information Age"

, is not only relevant to media and advertising companies, but increasingly to

tech-oriented ventures

that provide information services, such as Google, Microsoft, Amazon, and Salesforce, all with hubs in Manhattan.

  Professional and technical services, who have easily adapted to the current remote work paradigm and thus have been able to sustain momentum. Projected growth rates for this sector are 10% by 2028.

  Leisure and hospitality, which encompasses travel, retail, and entertainment. These industries are traditionally based in Times Square, Lower Manhattan, and Broadway, and have benefited from the resurgence of travel and the return to the office. Top landmarks in these areas receive

300,000 visitors per day

, nearly at pre-pandemic levels. 
Post-2020, the CBD has also witnessed the growth of certain sectors that didn't have a particularly strong presence in the city, including warehousing and storage, courier and messenger services, and e-commerce.
Jobs in the Central Business District account for more than 55% of total employment in New York City. The largest companies and top private sector employers are IBM, Deloitte, and Bank of China, each with over 300,000 staff. Also in the top 10 are PwC, PepsiCo, J.P. Morgan, Citigroup, and Verizon.
In addition, there are 73 Fortune 500 companies based in NYC, and most of them are headquartered in the CBD.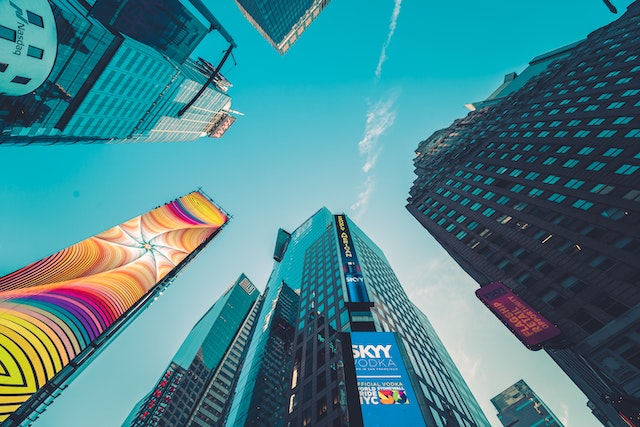 Commercial Real Estate in New York's Central Business District
Office Space
New York's CBD is a prime real estate location. With an approximate size of 500 million square feet of office space (463 million of which are in Manhattan alone), it is one of the world's largest CBDs by area and bigger than any other office market in the United States. 2022 data show that the total market value of all office assets sits at roughly $28.6bn. 
CBD offices have proven more resilient than other sectors, and despite employment losses, office-using companies still account for more than 30% of all private sector jobs in the city.  
The main occupiers of office space in New York's CBD are FIRE (financial, insurance, and real estate) businesses, with nearly 50% of all office market activity, followed by TAMI (technology, advertising, media, and information) businesses. 
The increased proliferation of remote and hybrid work models from 2020 onward has had a significant impact on office space use and demand. As of September 2022, roughly 50% of CBD employees were back working from their office when compared to pre-2020 data, however, only 10% consider themselves back in the office full time. 
Vacancy rates stabilized post-pandemic at an average of 18%, although the figures are lower in select areas like the West Village, City Hall, and the Upper East/West Sides. 
Average asking rents for all asset classes in the CBD sit at $74, being highest in Midtown South (with averages over $100/sq ft) and lowest in Downtown ($60/ sq ft). 
Value-wise, the most robust assets are Class A trophy spaces, whose rents remain mostly unchanged post-pandemic. There is strong demand for this type of commercial space in Hudson Yards, Manhattan West, Hudson Square, and Greenwich Village, areas which stand as some of the priciest office submarkets. 
Retail Space
There are approximately 56 million square feet of retail space in Manhattan and adjacent CBD areas.
After significant losses and a generalized slowdown in 2020 and 2021, demand for top-quality retail space has returned, especially in the most prestigious submarkets, such as Fifth Avenue, Soho, and Madison Avenue.
Generally, rental values for retail space dipped after the pandemic. However, these losses were less pronounced in areas such as the Flatiron District, Madison Avenue, and Union Square. Across the entire CBD, values average $600/sq ft per year, and oscillate between $215 in Third Avenue to over $2,500 in upper Fifth Avenue, which holds the title of the world's most expensive retail location. 
Overall, the best performing submarkets are those that are not office dependent, mainly the Upper East Side, Hudson Yards, and Madison Avenue.
Future Outlook
Looking ahead, it appears that the commercial real estate market in New York's CBD will undergo further polarization in terms of demand and value. While assets in prime areas will continue to generate activity, properties in other parts of the CBD may lose value due to lower tenant demand – a side effect of remote and hybrid work models. This may be more evident in upper Third Avenue and in older office buildings that haven't been upgraded. 
Overall, it's expected that a flight to quality will continue to define the performance of Downtown and Midtown Manhattan real estate market in the short to medium term.
Are you looking for office space in New York City? We list a wide range of world-class office solutions in NYC, Manhattan, Union Square, SoHo, and FiDi. You can also call us on 972-913-2742 to have a discussion with one of our New York City office space experts, who can connect you and your business to corporate offices, private workspaces, and executive office suites in the New York City Central Business District.