What is a Walking Score? Walk Score Meaning & Benefits of Walking to Work
The concept of walkability is becoming increasingly discussed in urban planning and design environments, as it impacts well-being, health, livability, and real estate economics. In this article, we discuss the walkability trend in relation to the office market, and explore its benefits, as well as the amenities, data, and calculations used to generate a property's walking score.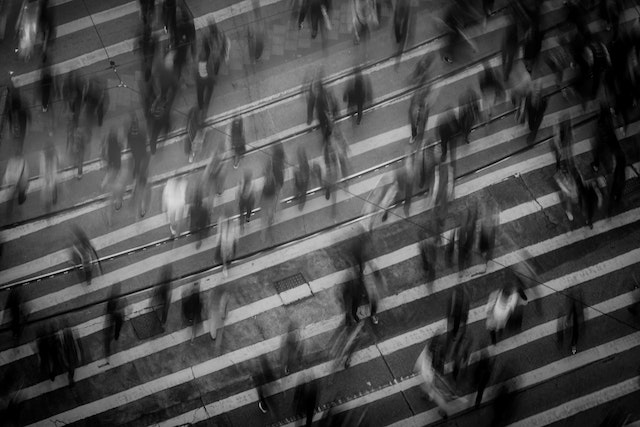 About the concept 
In the United States, walking scores for real estate were first published by WalkScore, a company developed in the mid 2000s by former Microsoft developers that understood the importance of walkability and its connection to quality of life. 
These WalkScore founders developed a tech-supported system that generated walkability scores for any given postcode. The overall score shows how easy and convenient it's to live or work in a location without needing to drive or use mass transit. 
Initially, walking scores were one of the criteria used to choose a residential property, but eventually they were applied to all kinds of real estate, including offices. Nowadays, it's common to see walkability scores displayed in real estate listings. As time went by and people became more familiar with the importance of walkability and its connection to real estate, different walkability tools and calculators appeared in the market.
How do walking scores affect real estate economics?
There's a strong correlation between walkability and commercial real estate economics. Researchers analyzed property price trends over a decade and uncovered wide gaps in price increases between highly walkable CBD real estate (which experienced 125% price increases) and those in car-dependent areas, where prices only rose by 20%. 
Another study determined price premiums for walkable office product in 35 US metro areas, and found that in some cities these premiums were as high as 105%. In addition, it's not a coincidence that the US cities with the best walking scores are also hubs for Fortune 500 companies.
There are different reasons why walkability determining real estate prices. In the first place, it's a matter of scarcity and how this concept drives value and prices up. In many US urban settings, the amount of office buildings with a highly walkable score is very limited, with a national average of 49 out of 100. As a result, properties with high walking scores have a competitive advantage over others. 
Secondly, walkability scores are associated with dynamic business environments, as these areas attract higher foot traffic levels that can help local businesses thrive. A study in Washington D.C. found that offices located in mixed-use neighborhoods performed consistently better both in downtown and suburban areas. We also know that areas where walkable urbanism is implemented account for a significant share of total GDP. 
What's more, people-oriented streets offer more conveniences to workers, residents, and visitors as they're able to find the services they need on a daily basis without going far, so they can make a more efficient use of their time.
Safety is another concept associated with highly walkable streets. Evidence from law enforcement agencies shows that making streets more walkable can lead to significant decreases in street crime, burglary, and vandalism. Obviously, this is reflected in property values. 
Lastly, walkability indexes can be used to attract top talent. This is particularly true for younger generations, since being able to walk or bike to work reflects the lifestyle and preferences of Millennials and Gen Z professionals.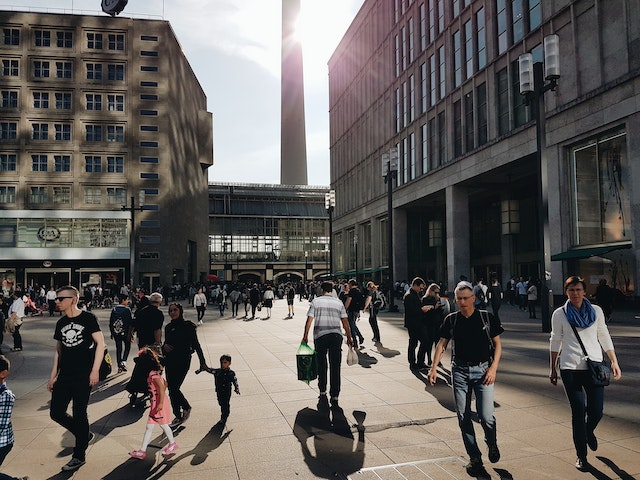 Benefits of walking to work
The United States is primarily a car-dependent society, but recently, employers and employees have become increasingly aware of the benefits of walking to work, which include:
Reducing the stress typically involved in the daily commute.

Boosting creativity, since staff can spend more time alone to think instead of being hyper-vigilant about what happens on the road.

Moderate physical activity like walking has a positive impact on mental health and well-being, which can lead to higher staff morale and a healthier work atmosphere, all whilst boosting individual physical health.

It's kind on the budget too. 2022 data show that the average US worker spends nearly

$8,500 a year commuting to work by car

, whereas there's no charge for walking.

Walking to work fits within sustainable lifestyles, as it reduces carbon emissions and contributes to reducing traffic noise and pollution, which makes cities more livable.
How walking scores are determined
Programs like Walk Score analyze the amount and type of amenities located within a certain radius of an address by looking at different walking routes. Amenities are chosen based on how necessary they are in everyday life, and include grocery stores, shops, restaurants, schools, entertainment venues, errands, parks, etc. These programs use data from Google Maps, the US Census, and other sources.
The highest amount of points is awarded to amenities within a 5-minute walk or ¼ mile from a specific address. The farther away the amenity is, the fewer points it accrues, and no points are given for amenities that require a 30-minute walk or longer. 
Total points are displayed on a scale of 1 to 100 and the results are grouped in five categories, ranging from walker's paradise to car dependent. Since 2019, in addition to numerical scores, heat maps can help visualize the walkability of a work location. These maps use a color scale from green to red to categorize walking scores, making it easier to envision how walkable a given area is.
In addition, Walk Score analyzes hundreds of walking routes by measuring population density and road metrics, this is done to measure pedestrian friendliness.
In summary, areas with a high walking score are economically productive, safe, and convenient, which adds value to office real estate located in them. You can find a walking score calculator here and a walk score heat map here.
Looking for office space in a walkable location?
The United States is home to plenty of walkable cities, with major urban hubs such as New York City and Chicago being well known for their walkability. Visit Offices.net today to view our extensive range of private offices and coworking spaces, available on flexible terms to suit businesses and freelancers on the move.