Spotlight on Business in Denver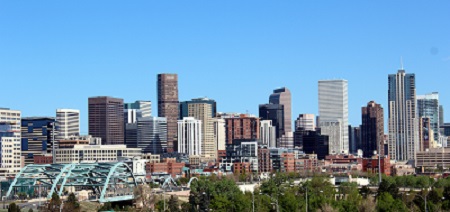 Overview of Business in Denver
Over the past few years, Colorado's capital city has been making great progress in diversifying its economic base, attracting an increasing number of new businesses in a variety of industries. As a result, Denver is currently considered one of the key commercial real estate markets to watch. A survey published by the Denver Business Journal in 2014 revealed that more than half of the interviewees gave a good rating to the city's office and retail property market, classifying them as definite 'buys'. The same report cites industrial diversity as one of the most attractive features of the local economy and as the principal driver of business in the city. These factors have positioned Denver as one of the best US cities for small-sized businesses, as the city ranks as high as New York and Miami in terms of business per capita, industry variety, and net growth.
Major Industries and Key Economic Drivers in Denver
Since the 1990s, new technologies have been driving growth in the local economy. High-tech companies are mainly clustered around the business parks located to the northwest of the city centre, such as the Westmoor Technology Park, Centennial Valley, and the Interlocken Advanced Technology Park. According to Forbes, over the past five years industry sectors like renewable energy, telecommunications, and aerospace have grown in importance and now constitute key economic drivers for the local economy.
The oil and gas industry plays an important role for Denver's future expansion plans. Experts at the University of Colorado affirm that this sector will continue to thrive in the local market despite the generalised decline in oil prices. This sector employs more than 31,000 workers in the state, although indirectly provides employment to over 93,000 people. In turn, the growth of the local oil and gas industry has a positive effect on other industry sectors, such as corporate hospitality.
According to recent data published by the US Department of Labor, other important economic sectors in the Denver-Aurora corridor include professional and business services (238,000 employees) the public/government sector (191,000), education and healthcare (175,000), and leisure and hospitality (147,000).
Office Rental Statistics
Denver's favourable economic climate benefits the commercial real estate market in general and the office market in particular. The most recent office property market published by CBRE shows that during the first quarter of 2015 the Denver office market kept expanding. Vacancy rates for downtown office properties are down from 12.5 per cent this time last year to 12.3 per cent. Office floor space in suburban and metropolitan areas has experienced a slight increase in vacancy rates, which average 13.9 and 13.5 per cent respectively. Currently, the Denver office market ranks 11th in terms of its size, right behind Atlanta and San Francisco.
Market analysts at Colliers International highlight the strong demand for office space in Denver, which was evident in the high absorption rates that exceeded the 2 million square feet mark by the end of 2014. Increased demand has prompted a surge in new office developments in Denver, where approximately 2.6 million square feet of office space is under construction. Average asking rental rates increased during the past 12 months, going from $23.35/sq ft to $23.69/sq ft during Q4 2014 alone. Class A space in Metro Denver is priced at higher rates of $29.25/sq ft and can be as high as $34.35/sq feet in the CBD/Lodo area. On the other hand, the lowest rates for class A office space can be found in suburban Denver, particularly in Aurora ($21.69/sq ft) and the northeast ($22.67/sq ft).
For information on available office accommodation in Denver click here.
Sources:
(1) http://www.bizjournals.com/denver/blog/real_deals/2014/01/cre.html
(2) http://www.forbes.com/places/co/denver/
(3) http://www.bizjournals.com/denver/blog/earth_to_power/2014/10/oil-and-gas-industry-pays-3-2b-to-31-900-colorado.html
(4) http://www.bls.gov/eag/eag.co_denver_msa.htm
(5) http://www.cbre.us/research/Pages/US-Reports.aspx
(6) http://www.colliers.com/en-us/denver