Top Ten Things to do in Las Vegas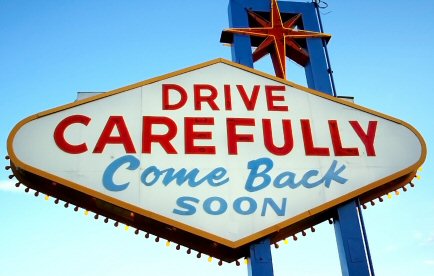 It's easy to put the 'sin' in Sin City, even for busy corporate travelers in town for a convention or a meeting. But once you're tired of the cocktails and card games, what else is there to see and do to truly get the Vegas experience?
1. See the whole world in less than an hour: Vegas is the only place where the Eiffel Tower is within walking distance of downtown New York. Travel the globe on a budget without leaving the Strip.
2. Shopping: check out the Forum Shops, Fashion Show Mall, Showcase Mall or any of the other massive fashion outlets Vegas has to offer. They're even open until midnight on weekends, the perfect time to find a new suit.
3. Take a thrill ride: visit the Stratosphere and ride the X Scream, Insanity: The Ride and Big Shot. Any of these rides, or even all three, is a guaranteed good time. That's better odds than you'll get at the tables.
4. Eat all you can eat: Vegas is known for its buffets just as much as its nightlife. Try Bally's Sterling Brunch, Le Village Buffet at the Paris or any of Vegas other volume eateries for a unique experience and a voluminously full belly.
5. Get out of town: take a break from the neon and flashing lights and see the natural wonders of the actual state of Nevada. Nature trails, gardens, museums and stunning rock formations await you.
6. Take a cheap tour: two to five bucks can't get you much in the casinos, but it can buy a full tour of the Strip and downtown one of Las Vegas famous double-decker tour buses.
7. Take in a famous freebie: the world-renowned Bellagio fountain costs nothing at all. Stroll on up to the lavish gates and watch the celebrated jumping fountain, accompanied by Sinatra tunes and others, for as long as you like.
8. Go to the Cirque: Speaking of world famous, there's the breathtaking entertainment troupe Cirque du Soleil. There are so many Cirque shows in Vegas that you really can't miss. The favorite right now is O.
9. Visit the aquarium: card players aren't the only sharks in Las Vegas. The Mandalay Bay's Shark Reef Aquarium features a huge selection of aquatic predators and other marine wildlife on breathtaking display.
10. Treat yourself: when the shopping, thrill rides, walking and riding are over, unwind with a spa treatment. Pamper yourself at the Venetian's Canyon Ranch or any of the city's numerous hotel-based spas for one final, yet relaxing, splurge.
Find office space in and around Las Vegas, Nevada on Offices.net