Atlanta's Tech Square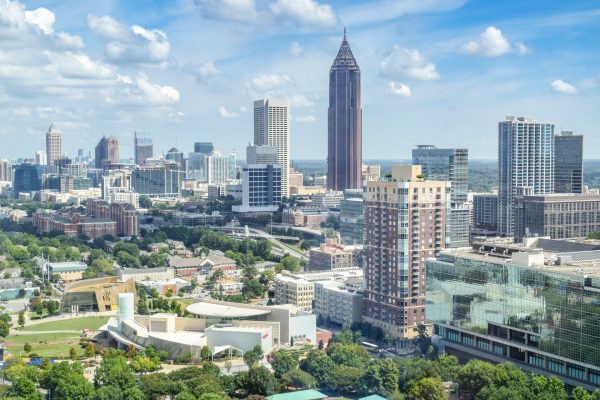 Tech Square is a rapidly developing neighborhood covering a total of approximately 8 acres. The area is located in Midtown Atlanta, between 3rd and 8th Streets in their intersection with Williams and West Peachtree. Approximately 3 miles north of downtown Atlanta, Tech Square can be accessed via bike lanes, mass transit, and two interstate roads.
The development of Tech Square is part of a revitalization project that has been transforming the face of Midtown since the early 2000s. Today, the area is known for its bustling character and high business density, especially in the creative and tech sectors.
The creation of this new district has put Atlanta's office market in the spotlight. The city is now considered a robust secondary market with strong fundamentals and millions of square feet under construction. The largest sub-markets are the CBD, Midtown, and Buckhead. Approximately half of Atlanta's total office inventory is Class A space, which is particularly abundant in Tech Square.
The Growth of Tech Square
Tech Square was developed by tvsdesign, an Atlanta-based architectural design firm, and was inaugurated in 2003. The project continued to expand with the 2008 acquisition and refurbishment of the Academy of Medicine Building and Atlanta Biltmore, both on West Peachtree. Further expansion involved the construction of the 770,000 square feet Coda Building, one of the tallest mixed-use structures in the city. In the 2010s, the project welcomed several innovation centers and received a handful of awards for the quality of its facilities and contribution to the economic development of Midtown. By 2020, the number of corporate innovation centers had increased to 25.
Tech Square's expansion is still underway. In 2019, the project's third phase received the go ahead with new developments being planned to be built along West Peachtree and Fifth for educational and research purposes.
What Kinds of Businesses Are Located Here?
Tech Square is one of Atlanta's most startup-dense areas. In 2020 there were approximately 100 startups based in the area, although they only represent a small part of the area's vibrant ecosystem. Tech Square is also home to Fortune 500s and multinationals, including Coca Cola, Google, Equifax, AT&T, and Anthem. Offices in the area are known to be popular for businesses involved in the creative, financial, insurance, legal, and technology sectors.
Tech Square offices are also in high demand among educational and R&D organizations. Due to its strong tech and research component, many companies have relocated to Tech Square to capitalize on the presence of big players. These big players include Boeing, Emerson Climate Technologies, UCB Pharmaceuticals, Thyssenkrupp Materials Services, Panasonic Automotive, and Siemens.
Types of Office Space in Tech Square
Conventional office space in Tech Square is in high demand due to its quality, connectivity, and easy access to talent. Businesses setting up an office in the area are spoilt for choice with Class A offices, collaborative and co-working spaces, and offices in research labs and innovation centers all providing ample opportunities.
In addition, because the area has become a hub for innovation and startup activity, there are several accelerators and incubators ready to offer space to local entrepreneurs. Some examples include the Technology Association of Georgia, Google for Entrepreneurs, Enterprise Innovation Institute, and Venture Lab.