Choosing the right furniture for your office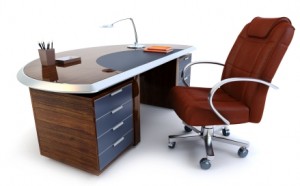 There is a lot to think about when choosing office furniture and making mistakes can end up costing you both time and money. A well thought out plan, and very importantly budget, needs to be created.
One of the main things to think about is space, take measurements of the floor space, windows and doors. You don't want to purchase a desk only to find it won't fit through the door. Are you going to carpet the floors? Tile? Floorboards? How many people do you need to cater for, and do any of your employees have special requirements or disabilities?
You need to assign the correct allowance of space per workstation, allow room for lamps, chairs, filing cabinets. Electrical equipment needs to be safe, and wires out of the way to prevent anyone tripping over and harming themselves.
It is a good idea to actually -see the furniture before you order it. Try out the chairs, will they be comfortable for ten or twelve hours of use a day? Remember not all your employees will be the same height, they don't come out of a factory, so their personal needs need to be taken into account. Adjustable chairs are a good idea.
Lighting needs to be adequate, not too dim but not glaring lights that hurt your eyes. Check safety standards and legal requirements.
If you have a kitchen area, this will need to be stocked with the usual coffee machine, fridge, coffee cups, etc… Are you going to have a microwave? Make sure everything will fit and is safe and hygienic or it will end up being nothing more than an accident waiting to happen.
Proper planning can save you money in the long run, if needed there are companies that can help you with this, so you can get busy with the important job of running your company.