Setting Up A Business In Los Angeles County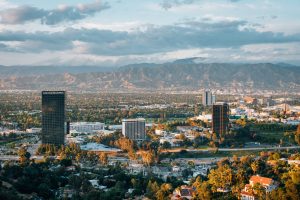 Los Angeles County is home to the nation's second largest metropolitan area and to one of the world's most powerful economies. The county is made up of 88 cities and has approximately 300,000 employers, which provide jobs to a workforce of nearly 5 million people.
Major Industries and Employers in Los Angeles County
Key industries include entertainment and media due to the presence of highly successful companies like Walt Disney, Warner Bros, and Paramount Pictures. Trade is also a strong economic driver due to the location of the Port of Los Angeles, situated in the southern part of the county, which is one of the state's largest employers with over 800,000 employees.
Education and healthcare have been paramount to the local economy since the mid 20th century, as the county is home to prestigious institutions that include the University of California, California Institute of Technology, and Loyola Law School, as well as to healthcare corporations like CareMore, Health Net, and Molina Healthcare.
Other sectors worth mentioning include pharma, fashion, hospitality, tourism, financial services, and publishing. Tech-related activities have grown fast and now employ nearly 400,000 people, but the creative industry is by far the sector with the highest growth rates, supporting more than 740,000 jobs.
Key employers include CBRE, Metro-Goldwyn-Mayer, Snapchat, and Universal Pictures (Los Angeles), Walt Disney (Burbank), Riot Games and Hulu (Santa Monica), Toyota and Honda (Torrance), Isuzu Motors (Cerritos), and Avery Dennison (Glendale).  
With an active workforce of nearly 5 million and the highest number of PhD graduates of all US states, LA County benefits from a diverse talent pool and from several partnership schemes between universities and the county's Economic Development Corporation. In addition, the Los Angeles County Workforce Development Plan was approved to ensure all businesses have access to skilled employees and boost strategic business engagement, particularly in designated priority growth sectors like construction, advanced manufacturing, entertainment, infotech, trade and logistics, and hospitality. For information on business support, get in touch with the LA County Office Of Small Business.
Approximately 25 percent of California's population live in LA County, providing local businesses with easy access to a large consumer market. The county is also known for its business diversity and has more female and minority-owned businesses than any other state.
Finding Office Space In Los Angeles County
The office market is divided into five sub-markets: Central, East, West, North and South. The Central and Southern areas of the county have the highest concentration of office inventory, since this is where the largest sub-markets (Los Angeles city, Tri-Cities, and South Bay) are located.
The sheer size of the creative and high-tech sectors fuels demand across the county for both conventional space and shared / flexible premises which suit the growing number of contractors, freelancers, and self-employed professionals. Space in the county's CBDs is dominated by insurance, finance, and real estate companies, which show a preference for conventional office space. Further expansion is planned in areas like Venice, Santa Monica, and Playa Vista.
The county's prosperous economy sustains the growth of the office market, as evidenced by key indicators like leasing activity levels and vacancy rates, which are below 14 percent. Particularly buoyant markets within the county include Silicon Beach, Westside, and Hollywood, with over 1 million square feet under construction. County-wide, rents average $38 / sq. ft. / year, and are expected to continue a slow but steady climb in the near future.
Sources:
(1) http://www.labormarketinfo.edd.ca.gov/
(2) https://www.linkedin.com/pulse/los-angeles-creative-capital-us-scott-wetzel
(3) http://laedc.org/wtc/chooselacounty/skilled-workforce/
(4) http://css.lacounty.gov/DailyNews/LA%20County%20Draft%20WIOA%20Local%20Plan_forPublicComment.pdf
(5) https://www.lacounty.gov/business
(6) http://osb.lacounty.gov/
(7) http://www.colliers.com/-/media/files/united%20states/markets/greaterla/market%20reports/q2_2017/2017-Q2-Office-Central-Report-GreaterLosAngeles-Colliers.pdf
(8) http://laedc.org/wp-content/uploads/2014/10/High-Tech-in-LA_20141006_FF.pdf
(9) http://www.latimes.com/business/la-fi-office-market-20161004-snap-story.html
(10) http://www.latimes.com/business/la-fi-office-market-second-quarter-20170711-story.html