Setting Up A Business In The Empire State Building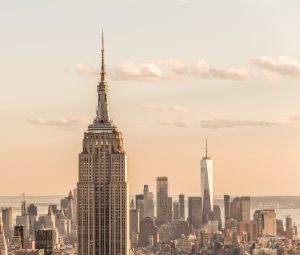 The Empire State Building, situated in vibrant Midtown Manhattan, was inaugurated in 1931 and soon after it became one of the most iconic high rises in the city of New York. The 102-storey art deco style skyscraper is located within walking distance of Herald Square and 33rd Street subway stations and is within easy reach of 16 subway lines.
As well as being a major tourist attraction, the Empire State is a commercial building that accommodates office occupiers mostly involved in banking, technology, and advertising and offers one of the most prestigious business addresses in the city of New York. The building's antenna is also a broadcast tower that serves the media sector, and there are several radio and television stations that broadcast from their offices in the building. Moreover, the Empire State's observation deck is one of the most visited tourist landmarks in the city, generating approximately 40 percent of the building's revenues, and attracting around 4 million visitors a year.
This 102-story building is has been occupied by a diverse mix of highly successful companies over the years, and major tenants have included prestigious businesses like LinkedIn, Bank of America, Shutterstock, Expedia, Media General, BNP Media, Qatar Airways, Unipharm, Bonten Media Group, Walgreens, Noven Pharmaceuticals, and Orion Energy.
Finding Office Space In the Empire State Building
The Empire State Building has a total floor area of more than 2 million square feet and includes a fantastic portfolio of small, mid-size and multi-floor units, pre-built offices and built-to-suit premises occupying full floors. Floor sizes range between 12,900 and 100,000 square feet.
Parts of the building have been renovated several times over the years in order to better accommodate the needs of modern-day office occupiers, and included fitting out state-of-the-art-technology while still retaining many of the original historic features. One of the most notable improvements entailed the energy retrofit that was approved in 2009 to bring the building's carbon footprint and energy efficiency up to today's standards.
The building itself is part of Midtown office sub-market, an area that has ranked as one of the most expensive office markets in the world.
Detailed information about the office space available in the building can be obtained from the management office Empire State Realty Trust, which is located in Suite 300.
Further office space opportunities in Manhattan.
Sources:
(1) https://www.cnbc.com/2013/10/02/empire-state-building-goes-public-here-are-its-tenants.html
(2) https://property.compstak.com/350-5th-Avenue-New-York/p/1066
(3) http://www.empirestaterealtytrust.com/properties/office/empire-state-building1/facts-figures
(4) http://www.esbnyc.com/esb-sustainability/tenant-initiatives
(5) http://www.colliers.com/-/media/files/united%20states/markets/new%20york%20city/2017-q2-office_midtown-marketreport-colliers.pdf
(6) http://www.businessinsider.com/the-most-expensive-office-markets-in-the-world-2017-9
(7) http://www.empirestaterealtytrust.com/properties/office/empire-state-building1