United States Office Space Rental Rates 2020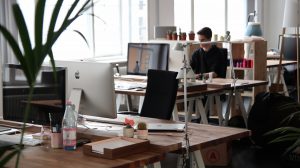 The United States office market is characterized by its wide range of properties, ranging from affordable shared spaces to expensive trophy offices in some of the world's most desirable business locations. In mid-2020, average gross rates for offices nationwide stood at $35 per square foot with the priciest offices located in New York and California. Within these states, the sub-markets commanding the highest rates are:
  New York: Midtown Manhattan at $87 per square foot, specifically in Chelsea, the Plaza District, and Gramercy Park.
  California: The Shoreline/Mountain View area, in which prices reach $130 per square foot, followed by Santa Monica and the SoMa district of San Francisco.
Average asking rates in other prime office markets are as follows:
  Seattle: $70 per square foot, higher in Lake Union and the CBD.
  Washington DC: $55 per square foot.
  Cambridge and Boston: $40 and $80 per square foot, respectively.
  Los Angeles: Averaging $45 per square foot.
  Chicago: Exceeding $40 per square foot in the West Loop.
  Raleigh-Durham: $35 per square foot for CBD properties.
Rental Rate Trends over the Years
The health of the US office market is linked to macro-economic trends. Until Q1 2020, the national economy had experienced its longest expansion period in history. This sustained prices in the most buoyant office markets, which for many years were New York and California.
Going back to the early 2010s, average rates nationwide were just over $20 per square foot, so price trends have been clearly upwards for almost a decade. At the same time, take up volumes increased consistently, particularly in cities with strong tech, utilities, and creative industries, which heightened demand and drove rates up.
Impact of COVID-19 on Rental Rates
The most obvious effect of COVID-19 has been the surge in vacancy rates and declining take up levels, which so far has only had a moderate impact on rental rates. However, some markets are more resilient than others. For example, North Carolina's Triangle saw rates increase in comparison to 2019, mainly due to the strength of the life sciences sector.
Prices in Boston followed the same path, with only Class B office rates experiencing a minimal decline. In Washington D.C., the strength of government and other essential sectors meant that the local office market had an extra layer of insulation against the generalized economic slowdown. Additionally, prices held steady in Los Angeles due to the weight of the entertainment sector and the increasing demand for media and streaming services in the face of the pandemic.
On the other hand, some traditionally strong sub-markets that had grown steadily for over a decade faced a downturn due to the pandemic. This is the case of Dallas-Forth Worth and Austin, in which office asking rates are expected to decline sharply and tumble well below the average of the previous 10-years.
Looking Ahead
In most office markets rents are holding steady, however, the full impact of disruption is likely to become evident in the coming quarters. The most immediate effect could be an increase in rent-free concessions designed to maintain leases set to expire soon or to attract new tenants.
Short and mid-term forecasts contemplate a scenario where growing amounts of vacant space materialize into losses and could damage fundamentals. This is likely to happen between Q4 2020 and Q3 2021. It is also expected that a permanent shift to remote work will knock down rental rates, resulting in them not returning to pre-pandemic levels until 2025.