December 22nd, 2020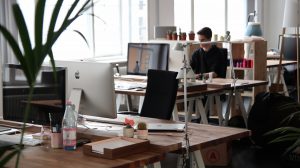 The United States office market is characterized by its wide range of properties, ranging from affordable shared spaces to expensive trophy offices in some of the world's most desirable business locations. In mid-2020, average gross rates for offices nationwide stood at $35 per square foot with the priciest offices located in New York and California. Within these states, the sub-markets commanding the highest rates are:
  New York: Midtown Manhattan at $87 per square foot, specifically in Chelsea, the Plaza District, and Gramercy Park.
  California: The Shoreline/Mountain View area, in which prices reach $130 per square foot, followed by Santa Monica and the SoMa district of San Francisco.
Average asking rates in other prime office markets are as follows:
  Seattle: $70 per square foot, higher in Lake Union and the CBD.
  Washington DC: $55 per square foot.
  Cambridge and Boston: $40 and $80 per square foot, respectively.
  Los Angeles: Averaging $45 per square foot.
  Chicago: Exceeding $40 per square foot in the West Loop.
  Raleigh-Durham: $35 per square foot for CBD properties.