Mid-2022 Houston Commercial Real Estate Market Report
Houston Office Market
Latest data from Q2 2022 shows Houston's total office space inventory at 349.5 million square feet, a significant bump in supply from the mid-2021 figure of 173 million square feet. Despite the increase in stock, there have finally been gains in occupancy, with Q1 signalling this healthy marker for the first time since the start of the pandemic.
There were hints of this recovery at the end of 2021. The trend of last year's subpar market performance was bucked by Class A and trophy office space (Class A+), which accounted for more than 60% of all leasing activity in Houston during Q3 2021. This positive influence has continued into Q2 2022, with Class A demand being the sole driver for occupancy gains in roughly half of Houston's office submarkets.
Recently refurbished Class A offices, in developments built after 2005, are bucking the vacancy rate trends. These buildings report only 17% vacancy in Q2 2022, compared to the overall Class A vacancy rate of 25.6%. The new renovation programs undertaken by these mid-age office suppliers have clearly been a hit with Houston businesses, serving to satisfy post-pandemic amenity demands better than their newly developed A Grade counterparts.
Despite these low vacancy rates, the five largest leasing deals during Q2 2022 were for new and Class A CBD office space. This trend can be further illustrated by the newly completed Texas Tower, with occupancy already at 70% leased, despite only opening in the first quarter of 2022. As with the vast majority of major cities in the United States, the Houston CBD appears to be the focal point for the highest activity. 
Key Takeaways
Inventory – 349.5 million square feet
Overall vacancy – 23.4% (a slight decrease from Q1's 23.6%)
Net absorption – negative 90,000 square feet (due to coming off the back of the bumper mid-year figure of +641,7000 when several substantial tenants moved into newly completed offices)
Availability – 27.6%
Average asking rents – $30.80 (up 1.9% YOY)
Investment sales – $156 per square foot (up from $116 in Q2 2021)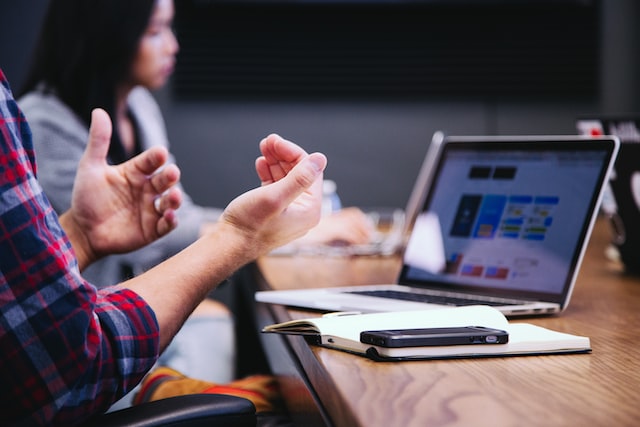 Houston's Office Space Market in Q2 2022 – By Class
Class A
Inventory – 140.3 million sq/ft
Total vacancy – 25.6%
Net absorption – 245,250 sq/ft (

YTD – 1.05 million sq/ft)

Under construction – 924,931 sq/ft
Average asking rents – $35.27 per sq/ft
Class B
Inventory – 86.6 million sq/ft
Total vacancy – 21.5%
Net absorption – negative 294,610 sq/ft (

YTD – negative 432,560 sq/ft)

Under construction – 276,245 sq/ft
Average asking rents – $22.70 per sq/ft
Class C
Inventory – 10.5 million sq/f
Total vacancy – 9.1%
Net absorption – 35,880 sq/ft (

YTD – 20,190 sq/ft)

Under construction – 0
Average asking rents – $17.35 per sq/ft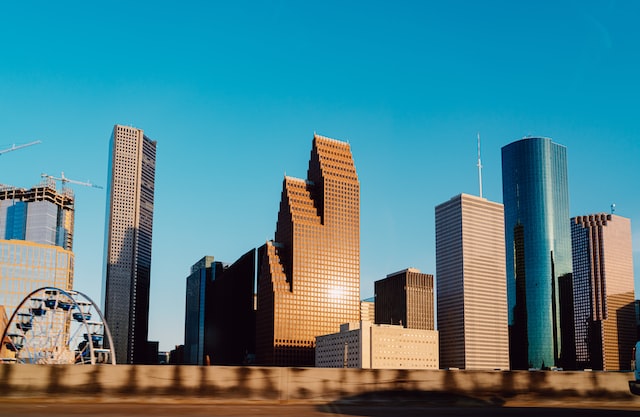 Business Viability
Houston has become an attractive option for companies to relocate, particularly from West Coast states like California, where high company tax levels, especially for large enterprises in the tech and energy sectors, acts to stymie growth.
Signalling faith in Houston, Axiom Space moved in to their new headquarters in Q1 2022. Not just a HQ, this innovative 400,000 square foot development in Clear Lake is the world's first commercial space station. Located in the thriving tech and aerospace hub, and near the NASA Johnson Space Center research institute, the choice of location was unlikely a coincidence. ExxonMobil has also relocated to Houston, and Chevron intends to sell off their enormous 90-plus acre HQ in California, shifting their entire operation south. Further signalling their investment in the Houston area, Chevron has offered to cover their employees' relocation expenses to the city. 
In a general sense, Houston is a great option for those looking to conduct business. Since the early 1980s, the dominant sectors were focused on energy – with over 80% of employment at least tangentially linked. However, diversification in industry variety has exploded in more recent times, with nearly 50% of jobs in Houston now being in non-energy related fields such as tech, aerospace, medicine, and manufacturing.
Highlighting its relevance as a corporate center, Houston is home to 23 Fortune 500 companies. Adding on to this, Houston's infrastructure is highly amenable to business. Boasting the sixth-largest airport system in the world, an expansive trucking and rail system, and the Port of Houston ranking as the largest in the U.S. (by measurement of international tonnage) it's anticipated that Houston's high relevance for commercial enterprise will only continue.
Costs of conducting business, too, are an attractive pull for those considering the move to Houston. Despite the average office asking rents in the U.S. slipping 2.3% YOY to $37.75, Houston remains an enticingly affordable option to set up shop – with average asking rents of only $30.80 per square foot.
Additionally, Houston offers a number of incentive programs for businesses looking to expand or relocate, including tax abatement programs, favorable taxation increments, as well as enterprise and reinvestment zones conducive to both general business operations and start-ups. 
Demand for Office Space
The observed flight-to-quality trend further expressed its influence with the increased relocation leasing activity in Q2 2022. Relocations accounted for almost 70% of the total leasing activity this quarter, a 32% increase YOY. Interest in new physical premises also contribute to this trend, with office space touring activity up almost 30% from Q2 2021 – as businesses consider different space options.
The biggest positive indicator of physical office space's continuing recovery in Houston is largely driven by demand in the energy sector. Along with the previously mentioned ExxonMobil, Fortune 500 natural gas company Cheniere Energy signed a new lease for 151,500 square feet of space at 845 Texas Ave in the Houston CBD, which completed construction in Q1 2022.
Cheniere promotes a full time, onsite work schedule, contrary to the trend of many firms acquiescing to remote or hybrid working models. Chevron is another non-follower, moving to reinstate in-office presence as an expectation for its Houston workforce.
Likely emboldened somewhat by rising energy prices, big players in energy continue to push for traditional in-office working models, going against the grain from general market consensus towards flexible and hybrid scheduling. This further signals physical office space's continued relevance for the Houston market, if only the Grade A, amenity-rich sort.
Continuing high demand for quality over quantity in office space (as big players who used to have large occupancy reduce their footprint), could indicate an emergent trend for current workspace providers in Houston to reconfigure their offerings – towards tenant-centric high spec space – to be more competitive in attracting those looking to relocate.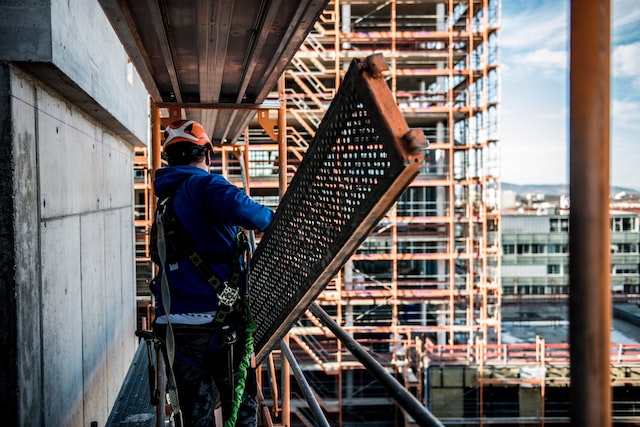 Office Space Construction 2022
Office production activity is limited and below average, and no new completions were reported in Q2 2022, unlike Q1's welcoming of Axiom's new 400,000 square foot HQ. At the time of writing, just over 788,000 square feet of office space is under construction, a below average figure for Houston. These new products include five office buildings, three of which are expected to be completed by Q3 2023, totaling just over 315,000 square feet of space. These weaker figures can be explained by recent high construction costs, due to continuing supply chain disruptions delaying project start dates, along with wider market inflation exerting downward pressure.
A handful of new developments on the horizon provide some positivity to the outlook, especially for the CBD. The largest new building development underway encompasses 386,000 of office space, with a lease commitment secured by the second-largest law firm in the U.S., Norton Rose Fulbright. Another in the pipeline is CityCentre Seven, which is expected to commence construction by year's end. Pre-leasing figures in the wider Houston market are down on pre-pandemic levels, however, with only 33% of the new office space construction securing lease commitments ahead of completion.
Average Office Rents
Across the entire Houston market, asking rental rates averaged out at $30.80 per square foot, closing out Q2 2022 1.012% lower than the $31.18 average at the end of Q1. This small movement is despite landlords generally stretching concessions in efforts to attract more tenants.
For Class A office space in particular, asking rents hold at $36.70 in Q2 2022, a 1.011% decrease from Q1's $37.13 average figure. The Katy Freeway East, CBD and Galleria/West Loop submarkets represent the highest asking rent figures for Class A office space, with values of $44.72, $44.31 and $41.34 respectively. Class B asking rents have remained steady compared to the previous quarter, holding at $25.03.
The CBD, Midtown, Galleria/West Loop, Greenway Plaza and Woodlands have the highest average asking rents in Houston, across all workspace types, at $41.21, $36.62, $34.83, $34.11 and $33.06 respectively.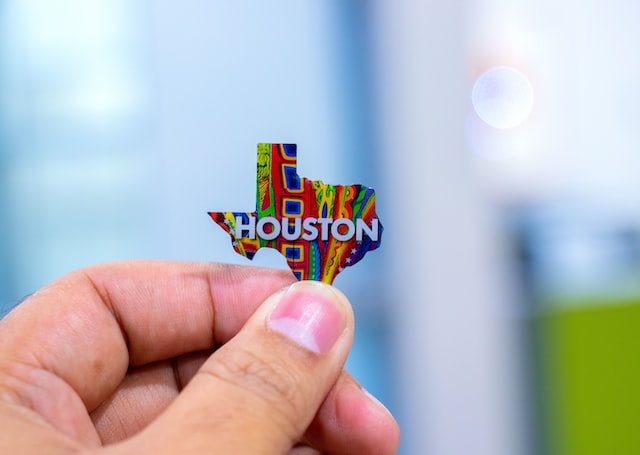 Office Vacancy Rates
Q2 2022's vacancy rates are holding at Q1's level of 23.4%, a slight reduction on 2021's year-end figure of 23.6%. Tiny positive movement here, when inspected in isolation, doesn't instill much confidence in the market. However, when compared against last year's historical highs in direct vacancy of 25%, Houston's gradual recovery becomes more apparent and less snail-paced.
Only last year, Houston was leading U.S. rankings for office space vacancy, mostly due to negative absorption rates when 1.8 million square feet of space was released back on to the market in mid-2021. Vacancy rates were touted to continue their upward trajectory, since there was over 3 million square feet of office space under construction and nearing completion, but only 60% of it was pre-leased at year's end.
Despite the influx of newly constructed office space at the start of 2022, optimism for the market's continued recovery is encouraged by the increased occupancy YOY, away from the historical vacancy highs of the previous year. 
Take-up Levels
In a similar state to last year, average take-up is yet to return to normal pre-COVID levels for Houston's office space market, though it's not as sluggish as 2021. Class A office space is again the big mover in this metric, with YTD leasing activity showing a healthy 3.32 million sq/ft uptake. Class B has not been as strong, with only 1.92 million sq/ft of space leased, and Class C leasing activity was very tepid in comparison to the rest of the market, with only 126,373 sq/ft of space leased YTD.
Class C's poor showing over the year is almost surely due to low inventory levels (10.5 million sq/ft) and low vacancy of just 9.1%, likely indicating those already holding long term leases are continuing their occupancy. Take-up may have reached a stagnation, especially since the flight-to-quality trend towards Class A and trophy office space in Houston has been well established.
Last year's hesitancy of office space occupiers has lessened, with potential tenants no longer postponing decision-making by 6 to 12 months. Much of the increased optimism is likely due to Houston's increased employment rate, with 3.2 million people entering jobs YOY. Also, though still above the U.S.'s overall 3.6% figure, Houston's unemployment rate has dropped to 4.7%, down from last year's 6.5%, and is forecasted to continue dropping.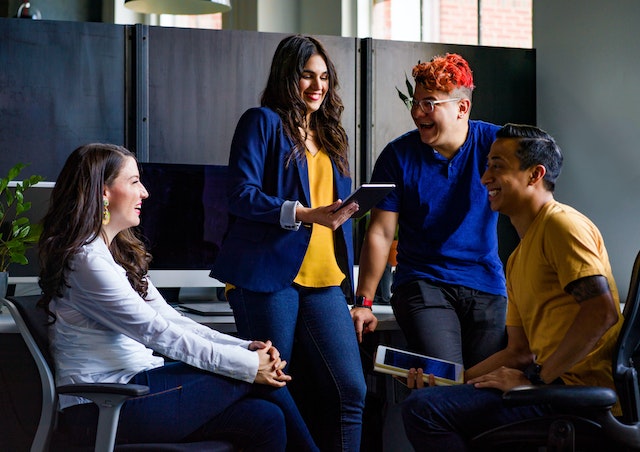 Houston Coworking Space Market
Flexible occupancy has reached 40% in Houston, despite much of the rest of the U.S. still showing only piecemeal returns to the office. This is most likely due to Houston's suburban and car-centric infrastructure which, similar to Dallas, has helped encourage roadway commutes – as workers in more densely populated cities still show hesitancy to commute into CBDs via requisite public transport. Exemplifying this continued public transport trepidation, utilization rates for coworking space in dense urban centers, like Manhattan and San Francisco, are only around 15-20%.
The flight-to-quality trend observed for Houston's general office space market can also be observed in flexible workspace. Compounded with the continued hesitancy around resuming attendance to densely packed, traditional office spaces, Houston's workforce has more readily embraced flexible occupancy in Class A, amenity-rich developments in urban centers slated for coworking.
These spaces are more affordable, especially for SMBs and start-ups who can't afford long-term leases for private Class A space in CBDs, and are additionally more budgeting-friendly; since most coworking spaces are offered at all-inclusive rates, with rents usually due on a month-to-month basis.
Flexible space providers have been leading the way in terms of quick adoption of new and emerging best practice, with regard to office space design and amenities that are most appropriate for the new, post-pandemic world of work. These office space advancements have proven to be necessary for enticing workers back to the office, for at least part of their workweeks – after long stretches of working remotely – and are only just trickling into adoption by traditional Class A providers after proving their worth in the flexible market.
In terms of monthly cost, Houston is the second least expensive for single seat offices in the top 10 flexible space markets in the United States, followed only by Chicago. For fixed workstations, Houston is the third cheapest at a cost of around $270 per month.
The risk-averse market has had a negative impact on conventional offices over the past couple years, but it's been beneficial to the flexible office market. Demand for this type of office accommodation is continuing to rise, because the pre-pandemic office has somewhat lost its appeal, and companies require flexible solutions available at short notice and without restrictive lease terms.
Looking back, the Houston coworking market experienced record highs in demand in 2019, becoming the fastest-growing office submarket that year. Although demand was subdued during some of 2020, as well as 2021, the end of the Great Resignation, coinciding with Houston's drastically increasing levels of employment, and the rise of hybrid models, are fueling demand once again.
Anticipating future growth, new coworking players have come into the market, with mixed-use developments releasing in the former Barbara Jordan post office building, reconfigured to become the mixed-use POST Houston project, and in the recently opened 47-floor Texas Tower.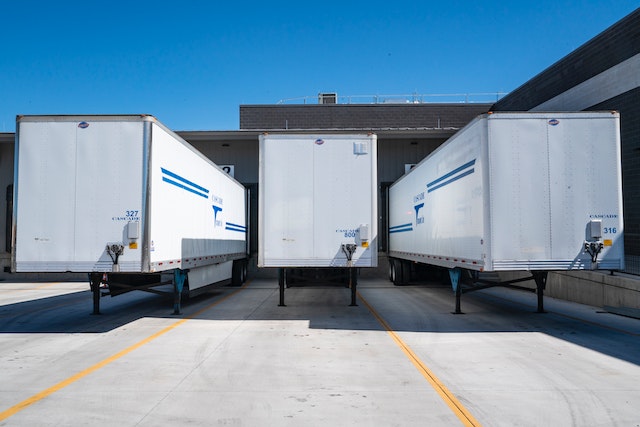 Houston Industrial Market
The amount of industrial real estate under construction in the Greater Houston area has increased since Q1 2022, with take-up continuing to outpace new project openings in Q2. This disparity between higher demand against slower product deliveries has pushed total industrial space vacancy under 6%, which hasn't been achieved since pre-pandemic 2018. Demand is continuing to overtake supply, and combining this with higher-cost facilities slated for release onto the market, the result is a continued increase in rental prices. This climb is expected to continue for the next year to 1.5 years.
At Q2 2022, Houston's industrial space market has a vacancy rate of 5.4%, with average rents of $8.30 per square foot (a jump from $8.15 in Q1), and space that sells for $100 per square foot. There is currently 22.6 million square feet of industrial space under construction in Houston, and market inventory sits at 743.5 million square feet.
Almost like clockwork, every quarter, Houston's industrial market sees a significant expansion in activity. The spaces and buildings under construction are being pre-leased at higher rates than ever before, with mega retailers like Walmart and Target leading the charge in take-up – occupying a higher number of warehouses and distribution centers to more quickly accommodate consumer demand. Houston's increasing population and heightened activity through the Port of Houston have served to spur growth in both e-commerce, physical product deliveries, and industrial space occupancy.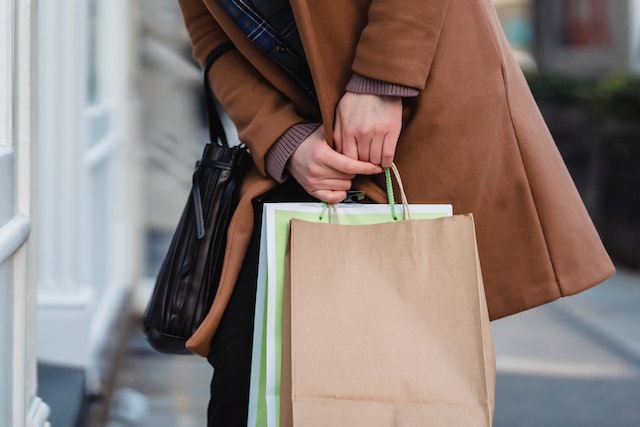 Houston Retail Space Market Trends
Across the U.S., brick and mortar retail spaces have continued to make significant gains on e-commerce. This is likely due to the lingering novelty of in-person shopping, which was heavily restricted during COVID-19. The continued and future-proofing optimism for physical shopping is especially evident in Houston, which tops out the country for the most retail space currently under construction – 4.42 million square feet. Houston also breaks into the U.S. top 5 for inventory size, with a whopping 425.58 million square feet in the market, a figure almost approaching LA levels.
Less rosy are Houston's retail vacancy rates, however, which stand at 5.1% in Q2 2022. This figure is diminutive and healthy looking compared to CRE vacancy rates broadly, but for the U.S. as a whole, retail vacancy is only 4.4%.
Out of all US metros, Houston ranked number 2 from June 2021 to June 202 in retail space absorbed. Also, net absorption is projected to reach its highest level in 6 years by the end of Q4 2022. In addition, Houston recorded the highest ever Q2, with over $1.1 billion in sales. This will only continue to increase over the next 3-5 years, surpassing all previous records not just within the metro, but also setting a new standard for other metros across the States.
Retail is assuredly on the upswing in Houston. Over the previous year, 2.5 million square feet of new retail space was built as a result of the COVID pandemic's pent-up demand. Not since 2016 has Houston expressed such healthy retail metrics, and Q2 2022 has been the best performing quarter in Houston's resilient retail space market – with around 80% of the projected 2.5 million square feet of retail space already leased, along with the nearly 4.5 million square feet presently under construction. Houston also holds the fourth-largest inventory of retail space in the country by units, at 663,094 at the end of Q2 2022.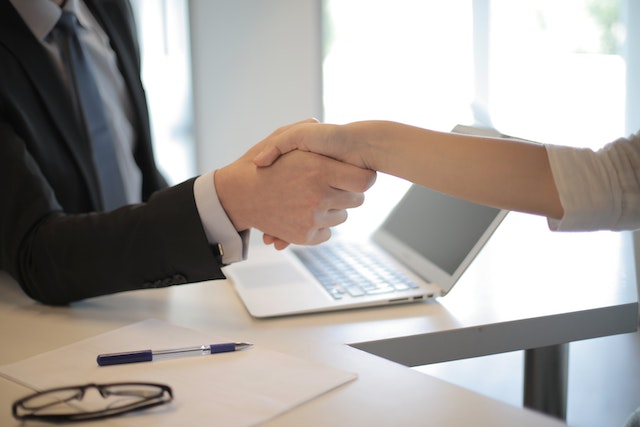 Influence of Employment Figures
Houston has recouped all the jobs it lost during the epidemic, and has surpassed pre-COVID employment levels. This has been achieved by the addition of 397,000 non-farm positions since April 2020, for a gain of 38,000 jobs compared to February 2020. In May 2022, Houston's non-seasonally adjusted unemployment rate was 4.3%, already 1.2% lower than January 2022 reports.
The office-using sectors of Houston only have slightly more jobs than the number in pre-COVID February 2020, at around 720,000 positions, likely since there are still many people working from home. With more widespread adoption of hybrid work models and a shortened work week for some of the workforce, physical office occupancy is only at 56%. The transportation and warehousing sectors did see an 11% growth in jobs compared to other sectors, which can be credited to opportunities arising from e-commerce.
According to Oxford Economics, Houston will return to pre-COVID employment growth and add nearly 300,000 jobs over the next five years. The largest increases are expected in white-collar industries, particularly in professional and business services, health, and education.
The workforce in Houston is growing even more diverse, and the metro area has been outpacing the nation in employment growth. In addition, white-collar jobs grew by 2% quarter over quarter, somewhat bolstering the continued viability of traditional office space, and more assuredly the Class A kind – continuing the flight-to-quality we've seen.
In terms of employment outlook, Houston has a large pool of highly-trained, multilingual, multicultural employees. A quarter of adults have received at least four years of university-level education, exceeding the national average, while the median age is three years younger than the national average and suggests longer-term labor resilience. Furthermore, Houston boasts a workforce comprising more than 90 languages, attesting to its diversity credentials as well as its continuing role as a center for global commerce.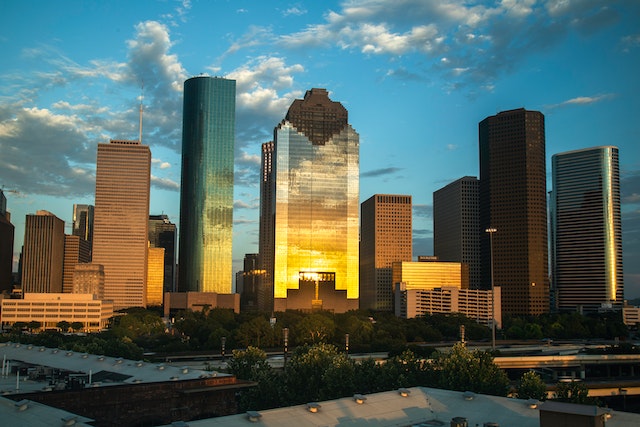 Outlook for Houston's Office Market
Houston's office space market didn't do as well in Q2 2022 as was forecasted from some quarters and pundits, mostly because firms are worried about a potential recession and another COVID outbreak, which caused resistance in terms of lease signing and other longer-term financial decisions. Even though things look good for job growth in Houston, there are still going to be vacant offices, with current and near future unused space representing more than 25% of the total office market.
Many workplaces are also vacant due to the currently widespread business strategy of streamlining operations with lower space footprints in the wake of COVID, and the uptake of hybrid. The overabundance of lower quality space on the market, clashing with the general flight-to-quality from businesses taking tentative steps towards again occupying physical office space, makes finding good options difficult and results in higher rates, as well as inflated costs for tenant improvements. However, investment in the energy sector is expected to boost activity and balance out quality supply in the Houston office market.
The Houston office market has shown some positive signs of recovering this quarter, with new construction being included in the pipeline and a small rise in total leasing volume. The increase in activity is attributable to opportunistic office tenants signing contracts ahead of their lease deadlines, in order to take advantage of the current occupier-friendly market conditions.
In the near-term, the currently observed flight-to-quality will continue to exert its force as the primary driver for Houston's office space market – as high-volume occupiers will only consider amenity-rich, Class A spaces to satisfy demands of their current employees and future highly sought talent. Current lack of quality assures the continued slow pace of recovery, though occupancy gains are expected to continue in a positive, if shallow, trajectory. Limiting factors to more rapid recovery in Houston's workspace market as a whole include residual economic uncertainty, continuing inflation, and insufficient investment in new developments.
Further Insights
Looking for more commercial property market research reports? Click here for our recent post outlining the state of the market in Atlanta, Georgia, and keep an eye on our Facebook and Twitter for more market reports. If you're looking for office space of your own, you can call us to have a discussion about your requirements on 972-913-2742.
You can also find a range of additional articles below:
Coworking Space for Students on U.S. College Campuses
How the Decentralization of Cities Has Changed the U.S. Office Space Market
US Office Market Trends 2022 – Statistics, Challenges and Outlook
January 2022 – U.S. National Office Market Report
The Great Resignation or the Great Retention? How Employers Yield the Power Heading into 2022
5 Ways to Create a Great Office Culture